I have always loved my birthday. Ever since I was a kid, I always knew that when August 18th rolled around each year, it was MY day. My birthday was the one day I was guaranteed to feel important and extra special. Growing up, we always celebrated birthdays in a fairly modest fashion. I remember having a few parties at Chuck E. Cheese's; one was at the local water/amusement park where I got to invite two friends to join me; others were picnics at the local parks, and then some just ended up being sleepovers at my house with a few friends. There was always food and cake, and usually presents, but for the most part, that was about it. The day was about me and what I wanted to do. And as you can see, I still remember those days years later.
Fast forward to today's world: thanks to the internet, and specifically Pinterest and social media, birthdays have turned into an all-out competition between moms who want to throw the "perfect" birthday party for their kiddos. This includes, but is not limited to, inviting crowds of people, spending hours cutting up food into cute little shapes and overdecorating to the max. Now, please don't get me wrong…I love and adore my children with everything that I have. I will celebrate their birthdays every single year alongside them because it was the day my life changed forever. But I refuse to get caught up in the rat race that becomes trying to throw a birthday party worthy of a Martha Stewart magazine spread or a Pinterest feature.
WHAT IT'S ALL ABOUT
I won't lie: I do peruse Pinterest for ideas on various aspects of my life, but kid birthdays are not one of them. I have seen some crazy, over the top ideas that go way beyond anything that I want to incorporate into a birthday celebration. Aren't birthdays supposed to be all about the individual who was born on that day? Instead, these parties are becoming more about the parents (mostly moms) who can throw the most lavish, perfectly decorated, excessive party that all other moms can only hope to live up to.
There are three reasons that I want to mention to help further explain my position on this issue. Reason number one: it's EXPENSIVE!! I have attended parties for kids under the age of 10 that have cost an upwards of $500 or more. Between decorations, food, entertainment, favors and various other details that were thrown into the party, that is an exorbitant amount of money (in my opinion.) Reason number two: it's setting a precedent for years to come as well as for others around. If I decided to throw an extravagant birthday party for one of my children, I can't help but feel like I would constantly be having to "outdo" myself in the coming years. That is just exhausting in and of itself. I don't want my kids to expect a glamorous party each year. Plus, if my children have friends who come to the party and their families can't afford (or choose not to) throw a Pinterest worthy party, how might they feel knowing they may never have a party like this one? And reason number three: birthdays are about celebrating the individual who was born on that day. Yes, as parents, we can celebrate too but in reality, a "birthday" is the one day that is all about the birth of that individual.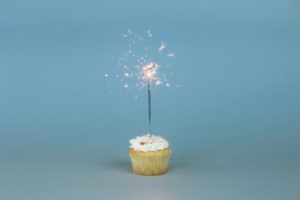 SIMPLE IS BETTER (IN MY OPINION)
My personal belief is "the simpler, the better" when it comes to children's birthday parties. As with everything in this life, I understand that there will always be people who insist on going over the top. And if you are one of those people, you go do your thing. I am just not one of those people, and I don't want to change just because my kid has a birthday coming up.
This particular post was inspired by the fact that my little man turns one in a few weeks and everyone has asked what we are doing for his "big birthday." From day one, I told my husband I wanted to keep it super low key, just a few family and friends and that was all. I had planned to do a Facebook invite but then my mom said "don't you want real invitations for his baby book?" so she ordered invites from Costco. A few balloons and a cake and we can call it a day. Favors for guests: nope. Cake for a cake smash: my sister is going to make it for him (I've seen people spend $50 on a cake that is just going to get smashed and drooled on!) Fancy outfit: ehhh, no. He'll just trash it anyways with frosting. Bounce house: absolutely not (we don't have room anyways). Fancy labels on drinks: no thanks. We'll just have punch with plastic cups or 2 liters of soda. Petting zoo: heck no! Amusement games: no way. Will my kids hate me for it? I don't really know; I hope not. But as they get older, I hope they will appreciate the simple things and know that I did my best to make them feel like the most special kid in the world on their birthday every year.