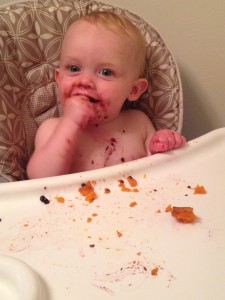 When our little guy was five months, I felt ready for him to start solids.  I had read all the books, done a mommy-and-me playdate to prepare a variety of purees, and knew that he had all the obvious signs of being ready: he could sit up independently, tried to eat off our plates, and often seemed hungry.
For the first three weeks of starting solids, I thought I was losing it because a) starting solids required a lot more clean-up and prep work than I anticipated and b) he screamed every time I put him in his high chair. After three weeks, my husband and I would take turns at dinner feeding him from our laps, and although that went OK, it was obviously frustrating and difficult to get through a meal.  Plus, after about two bites of his purees, he would scream to eat whatever we were eating.
Fast forward until he was 6.5 months, and I felt recovered enough to give solids another try.  I had wised up in my ways and started to prepare meals that I thought a baby without any teeth could enjoy.  He not only sat in his high chair like a big boy, but he also pounded on his tray for more when he was done.  Eating non-pureed foods was our answer.
People are often bewildered to hear all the foods our babe is capable of eating, especially since at 10.5 months, he still only has 2 teeth.  But, as we've learned, his gums do a great job chomping, and once he discovered where everything in his mouth is located, he quickly became very self-sufficient.  We didn't intend to follow baby-led weaning, and I don't claim to be an expert on it, but it's what worked for our family. The following is a list of foods baby Kev enjoys eating:
1. Brocoli (steamed)
2. Green beans (steamed or canned)
3. Raspberries (whole)
4. Blackberries (whole)
5. Blueberries (whole)
6. Pineapple (cut into bite-sized chunks)
7. Apple sauce
8. Spaghetti squash
9. Pancakes
10. Scrambled eggs
11. Waffles
12. Pickles
13. Meatballs
14. Cucumbers (sliced)
15. Bison burgers
16. Turkey burgers
17. Banana cake
19. Avocado (sliced)
20. Veggie burgers
21. Kale burgers
22. Quinoa burgers
23. Shrimp (cut in half)
24. Toast with a variety of add-on's
25. Cottage cheese
26. Greek yogurt
27. Hummus
28. Peanut butter
29. Veggie straws
30. Sweet potatoes (cubed and baked at 425 degrees for 40-45 minutes)
32. Popsicles
34. Toddler muffins
35. Rice
36. Quinoa
37. Oatmeal (we usually add blueberries)
38. Fish
39. Tomatoes (cut into bite-sized pieces)
40. Bananas (cut into bite-sized pieces)
42. Cauliflower soup
43. Shredded chicken
44. Cheese
45. Puffs
46. Oranges
47. Grapes (halved)
50. Avocado hummus