You know that diaper commercial where the new mom is making guests bathe in hand sanitizer and is using a nursing cover and doing all the 'right' new mom things? And then it shows her with baby #2 hanging off her hip and she hands it to the filthy guy at the auto place so she can dig through her purse to pay him? And the commercial voice-over is all, "By their second kid, every mom is an expert and more likely to choose Luvs (or Pampers or Huggies or whatever it was) than first-time moms."
I think this company pretty much nailed it all on the head with that commercial. I'm currently 22 weeks pregnant with my second daughter, and I'm laughing at my first-time mom experience.
Mostly, I'm laughing at what I thought I needed. Lord have mercy, my husband and I could have saved a lot of money. I suppose we knew that babies don't really actually need very much, but hello: NEW BABY. It was so much fun planning and setting up the nursery and buying all the teeny baby things.
And it still is this time around – don't get me wrong. Now that I've finally stopped puking my brains out 24/7, I'm thoroughly enjoying this pregnancy and the planning that goes with it. But the list of stuff that we thought we needed with our first baby is way different for Baby #2. Some of it, of course, is because we still have the load of stuff from Baby #1. So, maybe I'd be singing a different tune in a different situation. But apart from that, we honestly do just know better this time around.
As much as we want to scratch that itch to replace some of the baby items that we used the first time, we also know that Baby #2 (as well as Big Sister) will someday appreciate what we can do with the cash saved on buying a lot stuff that they don't really need or will only use a few times.
All the toys that I thought Kate needed so badly? Three years later, they're still barely used. She does love the books and puzzles, but is probably happier playing in a large cardboard box than she is hammering away at the LeapPad I thought that she really needed. And she absolutely without a doubt much prefers a walk to the park or a trip to the ice cream stand or a mommy/daughter dinner date at 'Bazoli's'.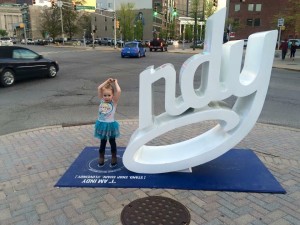 So when I think about replacing the baby swing that I had for Kate, I remind myself that her little sister isn't going to care about the type of swing she had as an infant – or if she even had a swing. Or whether or not we bought her that damn chewable squeaky giraffe. And I know that, while a new stroller would be awesome, the old one will be just fine. I suspect that my newest little girl will probably prefer to use our hard-earned cash on a family outing to that ever-loved 'Bazoli's' or a trip to the zoo.
So, what's at the top of my must-have list this time around? Tucks, Colace, nipple cream, and some heavy-duty overnight pads for me. (The super important stuff. Seriously. I'm going to be better prepared in December 2015 than I was in October 2011.) Pacis, a stockpile of diapers & wipes, and some new fluffy towels for baby girl.
And the most important must-have of all:
A better awareness for how the materialism that we can all find ourselves getting caught up in from time to time is far less important than the time we could be spending together with each other exploring the world around us.