Miss Isla James made her (very late) grand entrance into the world at 5:20 p.m. on Tuesday, December 22, 2015. She was 8 pounds, 11 ounces and 20.5 inches long. She has coal black hair like her daddy and his brown eyes, but she has my cheeks and the shape of her eyes are mine, too – the type of eyes that my mom says smile when I smile and laugh when I laugh. She has ten fingers and ten toes and she's absolutely perfect and one of the two most beautiful babies that I've ever laid eyes on (her big sister, Kate, being the other).
Her birth was ordinary – a scheduled induction at 41 weeks 3 days. I have no amazing birth story to share. My water didn't break in any magnificent way. I didn't go into labor in the middle of the night or walk around having contractions for two days. It wasn't a record-breaking fast labor.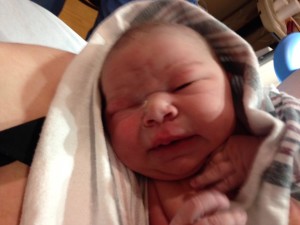 It was a warm (by Indiana standards), overcast day in December. We arrived at the hospital at 7 a.m. and the Pitocin had been started by about 7:30. My husband and I watched TV and chatted until contractions were too intense to chat anymore. By 1 p.m., my epidural had been placed, and I was feeling much more comfortable. By 3 p.m., contractions were nasty again and at 4:10 p.m. I started pushing. An hour and ten minutes later, our newest girl had finally arrived … 11 days late. I sobbed with relief as they laid her squirmy, wet body on my chest after she was out. Less than fifteen minutes later, I was nursing her for the first time. An hour later, we were in our recovery room.
And that, in two paragraphs, is Isla's birth story. Short and simple.
Shortly after she was born, someone told me that if all they had as a birth story was laboring for a while and then pushing and then baby, it just wasn't much of a story. I disagree. I've done birth this way twice – a scheduled induction. Laboring for a while and then pushing and then baby.
No, I don't have an incredibly exciting story or professionally snapped photos of my daughters' births. There was no doula or midwife or birthing tub. There was a doctor and a nurse and an epidural. Most importantly, there was me and my husband. And after all the laboring and pushing, there was baby.
Our beautiful black-haired baby with the eyes that smile. And it was the most intensely beautiful thing that I've ever done.
Welcome to the world, sweet girl. We're so glad to have you here.