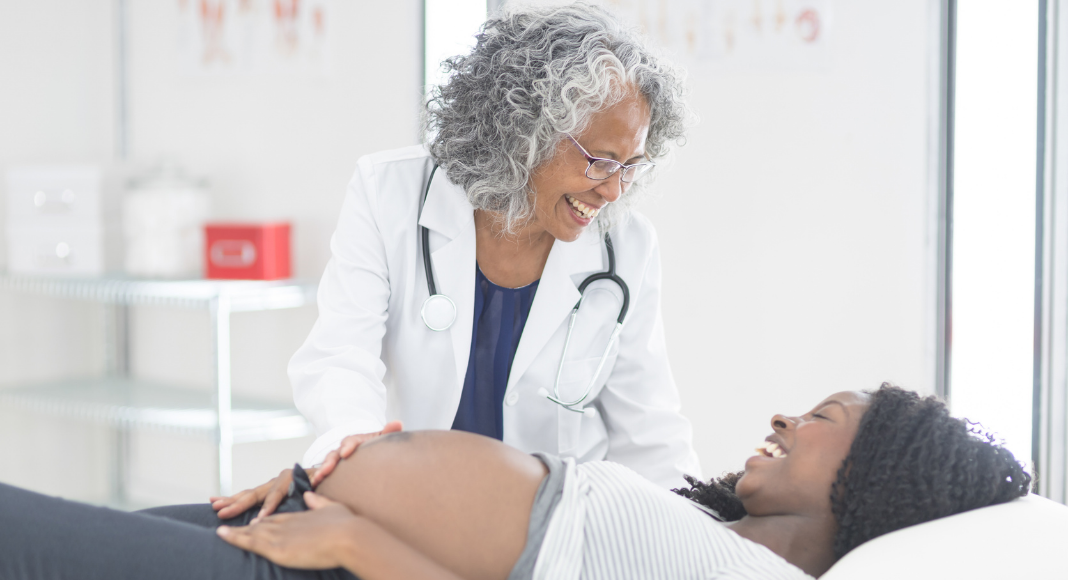 When you make the decision to grow your family, it can be extremely exciting. Along with that, you may have a growing list of questions, especially while we are still living in a pandemic. Indianapolis Moms understands – we've been there! We teamed up with IU Health North Hospital to answer your questions on pregnancy and postpartum. We recently spoke with Dr. Christina Scifres, the Medical Director for Maternal-Fetal Medicine at Riley Children's Health at IU Health North about all things pregnancy and postpartum at IU Health. And please view the video below to know what to expect at IU Health North Hospital during labor and delivery.
Vaccinations during pregnancy – As we move into flu season, do you recommend getting the flu vaccine? What about the COVID vaccine?
Yes, we strongly encourage both the flu and COVID vaccines during pregnancy. When pregnant individuals get either COVID or the flu, they are more likely to get very sick and end up needing to be hospitalized or admitted to the intensive care unit. We have admitted a number of pregnant individuals with COVID to our hospital, and many of them have been quite sick. Importantly, those who have been hospitalized or in the intensive care unit have not been vaccinated. When a pregnant individual gets sick, it can force us to deliver her baby early which can lead to health problems for the baby. Both the flu and COVID vaccines are safe during pregnancy, and they are the best thing that a pregnant person can do to keep themselves safe. For the latest updates regarding COVID19, visit iuhealth.org/covid19.
COVID Restrictions – We know this can change based on the current climate, but currently is a support person allowed during delivery?
Yes, every pregnant person will be able to have a support person with them. We encourage women to talk to their providers for up-to-date information on the number of visitors who are allowed.
Midwife or Doula – Are these additional support services allowed? Do you recommend a doula or a midwife?
Yes, these important support persons are allowed in addition to other visitors. Some women may elect to have their prenatal care with a midwife, and others may use a doula as a support person.
Becoming a new parent is an exciting experience! How often does a pregnant mother need to visit her doctor during her pregnancy?
The frequency of visits is individualized based on the health of a pregnant person and their baby. For most women, visits will increase in frequency as the time of delivery gets closer. Expectant parents should talk with their obstetrician to discuss the schedule of their visits in detail. At least one ultrasound is done in all pregnancies between 18-20 weeks, and additional ultrasounds will be recommended as needed.
Do you recommend any type of prenatal testing or screening?
This is individualized based on a mom's underlying health issues. All pregnant individuals will undergo lab work during pregnancy which includes assessing their blood count and screening for things like hepatitis B, syphilis, and HIV that can affect the health of both mom and baby. Screening for gestational diabetes is also performed during pregnancy, and we encourage pregnant individuals to have at least one ultrasound between 18-20 weeks of pregnancy to assess the baby's anatomy. Providers will talk with parents about screening for genetic issues such as Down Syndrome, cystic fibrosis (an inherited lung disease), and spinal muscular atrophy (an inherited neuromuscular disorder). These genetic tests are optional, and they allow parents to choose how much information they want about their baby's health prior to delivery.
Is it okay to continue to exercise during pregnancy?
Yes, we encourage pregnant individuals to stay active during pregnancy. Staying active can help improve fitness and assist with some of the musculoskeletal discomfort that happens during pregnancy. Research studies have also shown that regular exercise may help reduce the risk for gestational diabetes and delivering a big baby. Activities such as walking and swimming can be great during pregnancy, even for moms who did not exercise regularly prior to pregnancy. Women who engaged in more vigorous activity prior to pregnancy can likely continue their exercise regimens during pregnancy after consulting with their OB provider.
As we prepare for labor and delivery, are there things a mom can do to get ready?
First, moms should find a highly skilled OB/GYN they trust if they have not already chosen their doctor. Moms can also learn what to expect before, during, and after birth through the many childbirth education classes we offer, which are designed to educate and enlighten. At IU Health North Hospital, we are ready to provide excellent care for you and your baby. Learn what to expect when you give birth at IU Health North Hospital.
Postpartum Depression/Anxiety is very real and serious – What are some signs you should look for? What is normal and what is not?
Having a baby is a significant event in a woman's life. After delivery, many women are not sleeping well, and there are also big changes in hormone levels. New moms may notice that they cry more easily or that they have feelings of being overwhelmed. Up to 80% of women will experience a temporary dip in their mood after delivery that typically resolves by the time their baby is 1-2 weeks old. However, if moms have symptoms that last for more than a week or two, if their symptoms are interfering with their ability to care for themself or their baby, or if they have any thoughts of harming themselves or their baby it is important to seek help right away. Postpartum depression is a serious medical condition that affects the entire family.
Support Groups/Services – Are there any groups or services you recommend new moms look into after having a baby?
From new mother support groups to breastfeeding, postpartum, and toddler support groups – and so much more – our team is ready to care for you through every stage of your journey. Please visit iuhealth.org/childbirth to learn more about our childbirth education classes and to help answer your questions on pregnancy and postpartum.
---

About Dr. Christina Scifres, MD
Dr. Christina Scifres is the Medical Director of Maternal-Fetal Medicine with Indiana University Health. She is also an Associate Professor of Obstetrics & Gynecology at the Indiana University School of Medicine.

Indiana University Health
Named among the "Best Hospitals in America" by U.S. News & World Report for 22 consecutive years, Indiana University Health is dedicated to providing a unified standard of preeminent, patient-centered care. A unique partnership with Indiana University School of Medicine – one of the nation's leading medical schools – gives our highly skilled physicians access to innovative treatments using the latest research and technology. Learn more at iuhealth.org.