When you are expecting a child, finding a maternity center that you trust should be at the top of your to-do list. Look no further than IU Health North Hospital in Carmel. IU Health North Hospital has provided care to families since the hospital opened in 2005 and has been trusted by countless moms ever since.
But I'm not here today to talk about the exceptional care you will receive from their experienced healthcare staff, from preconception to postpartum care. What I am here to talk about are the additional services and amenities that are provided to you when you choose to deliver your baby at IU Health North Hospital.
An Updated Space for a Comfortable Stay
The first thing you will notice when you visit the hospital are the newly renovated maternity suites. The space was recently renovated to give you a calm and relaxing stay in their spacious labor-delivery-recovery (LDR) and postpartum suites, which also include queen-size bed options. The updates include refreshed paint, new furniture, doors, and flooring, beautiful new artwork, and large labor tubs.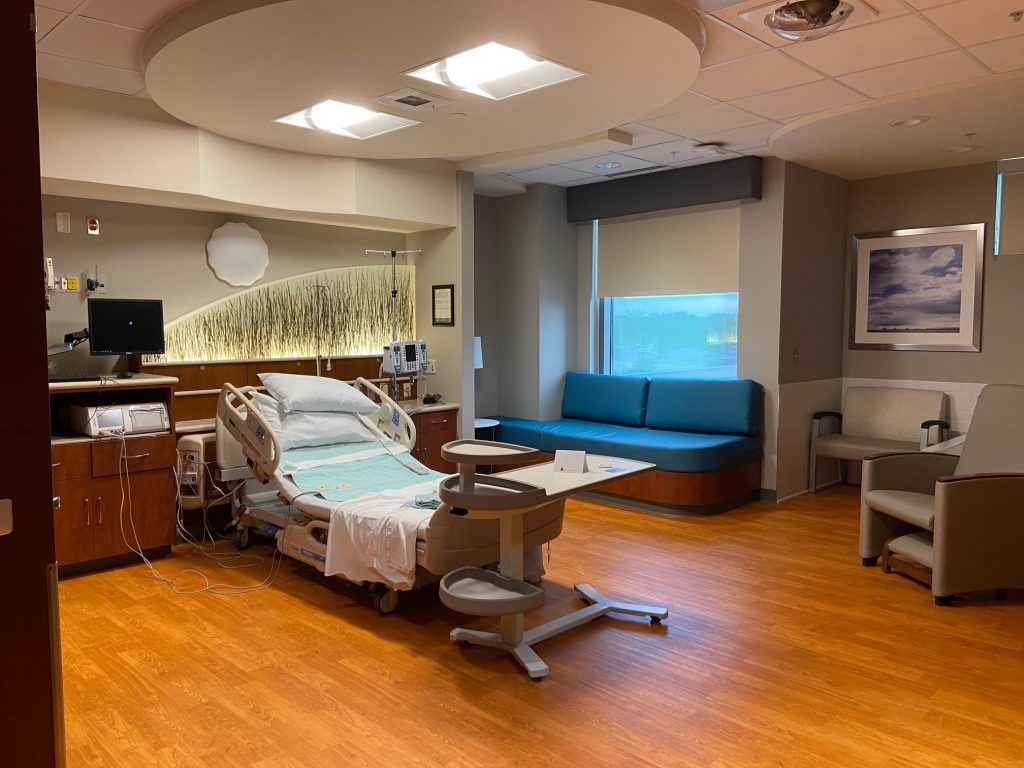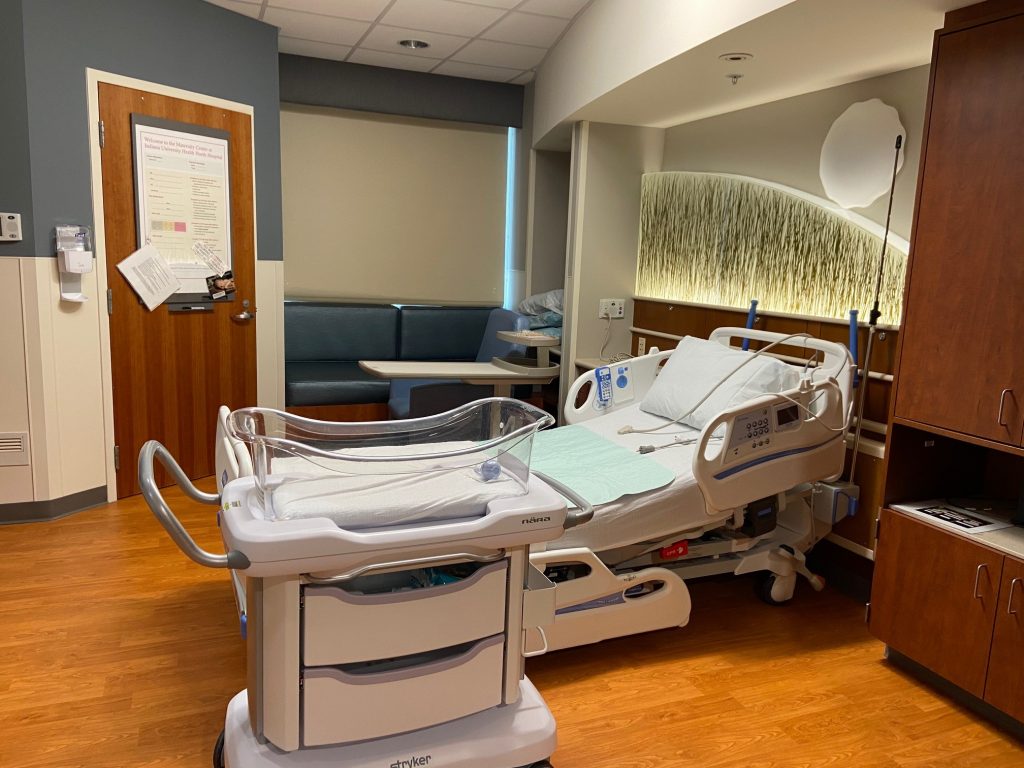 Virtual Tours
Take a virtual tour with a 360-degree panorama of the suites:
Childbirth Education & Support Groups
IU Health North Hospital provides educational resources to help expecting parents confidently care for a newborn after arriving home with a new bundle of joy. I personally took advantage of this while I was expecting both of my children, and it helped immensely. Their childbirth education classes include the following topics: Lamaze, Newborn Basics, Advanced Labor Support, Bow Wow & Baby, CPR, Marvelous Multiples, Prenatal Yoga, and more. They also offer classes for siblings and grandparents and support groups for breastfeeding, newborn and toddler support, postpartum depression, and bereavement. View upcoming classes and register here.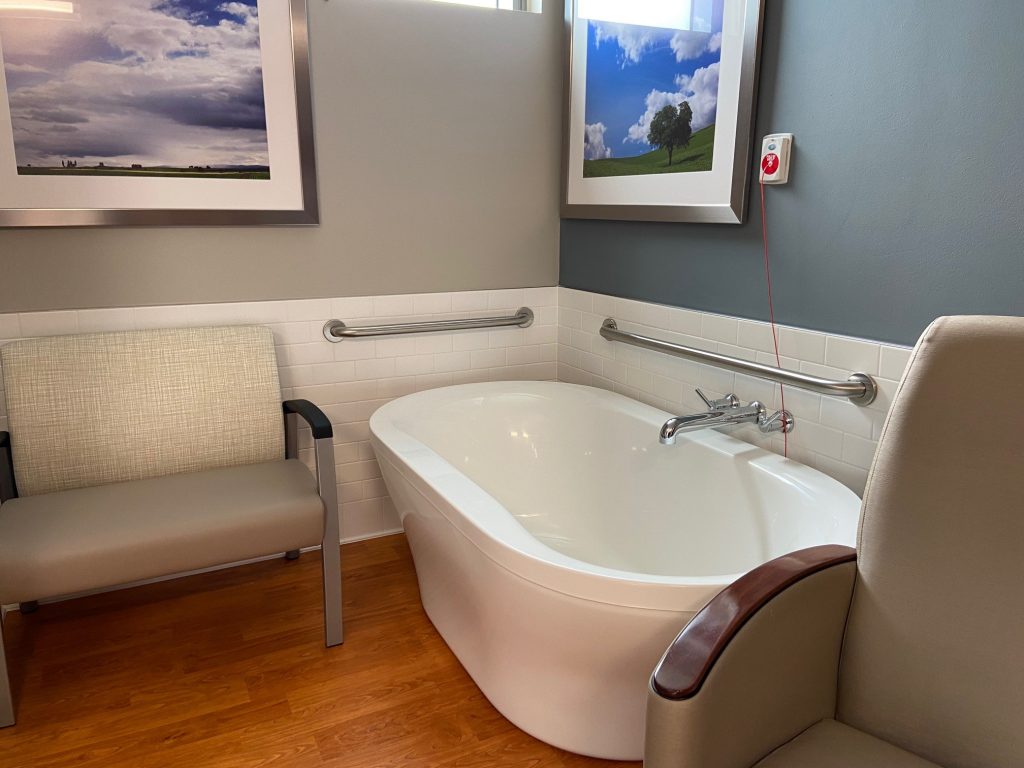 Breastfeeding & Lactation Consultant Support
If you plan to breastfeed your child, IU Health North Hospital offers wonderful support to help you ease into breastfeeding and help make it part of your regular routine. A certified lactation consultant will visit you during your postpartum stay to answer any questions and provide advice on breastfeeding. If you wish to speak to a lactation consultant after leaving the hospital, IU Health North Hospital offers an outpatient lactation clinic, open five days a week, along with a breastfeeding support group, which meets weekly. This is a great way to meet other moms who are breastfeeding, share tips for success, and discuss a wide range of topics led by an experienced educator. Also, along with the education services they offer, they can also help you choose what breast pump is right for you, with IU Health Expressions Home Medical Equipment.
The Milk Bank at North
Last year, the hospital launched the Milk Bank at IU Health North, where families of infants can purchase up to 40 ounces of pasteurized donor human milk (PDHM) from the Donor Milk Express Site without a prescription if families wish to provide breast milk instead of formula. For more information, call their lactation consultants at 317.688.2680.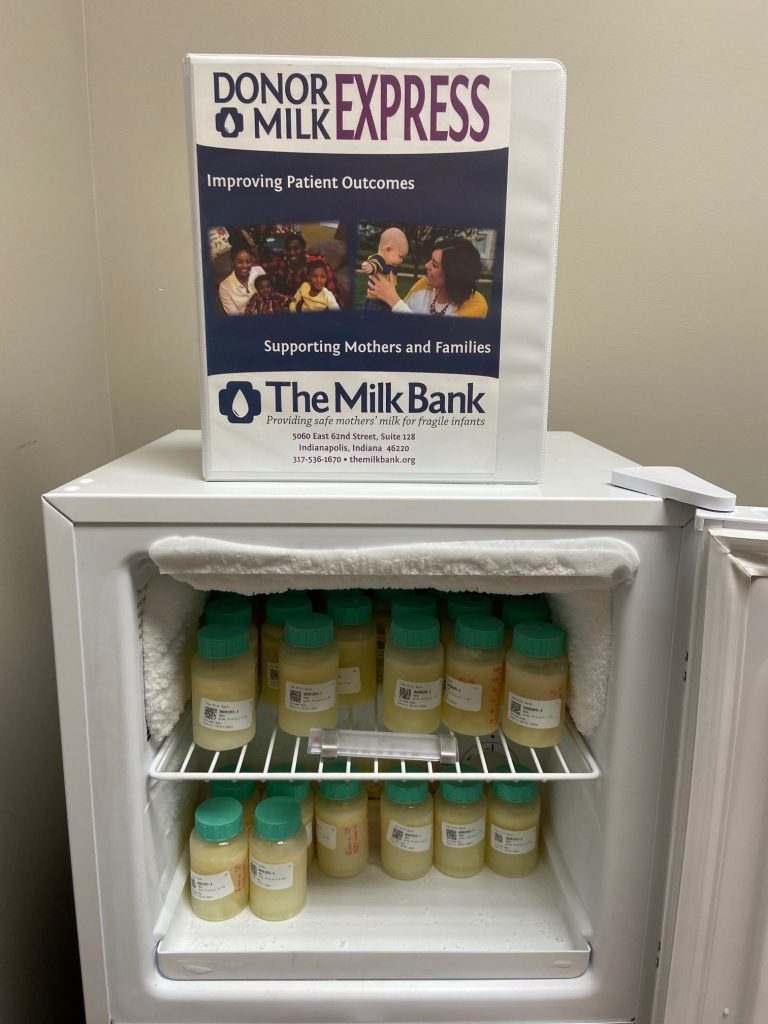 Maternal-Fetal Medicine
Expecting moms and newborns with high-risk medical conditions can access care from a Maternal-Fetal Medicine (MFM) specialist with Riley Children's Health at IU Health North. The MFM specialist, along with your OB/GYN, will guide you through your pregnancy and give you personalized care. They will assemble all the specialists needed to manage your and your baby's health.
Should your newborn require special medical attention, the neonatal intensive care unit (NICU) at Riley Children's Health at IU Health North has highly skilled staff who will provide the care that your baby needs.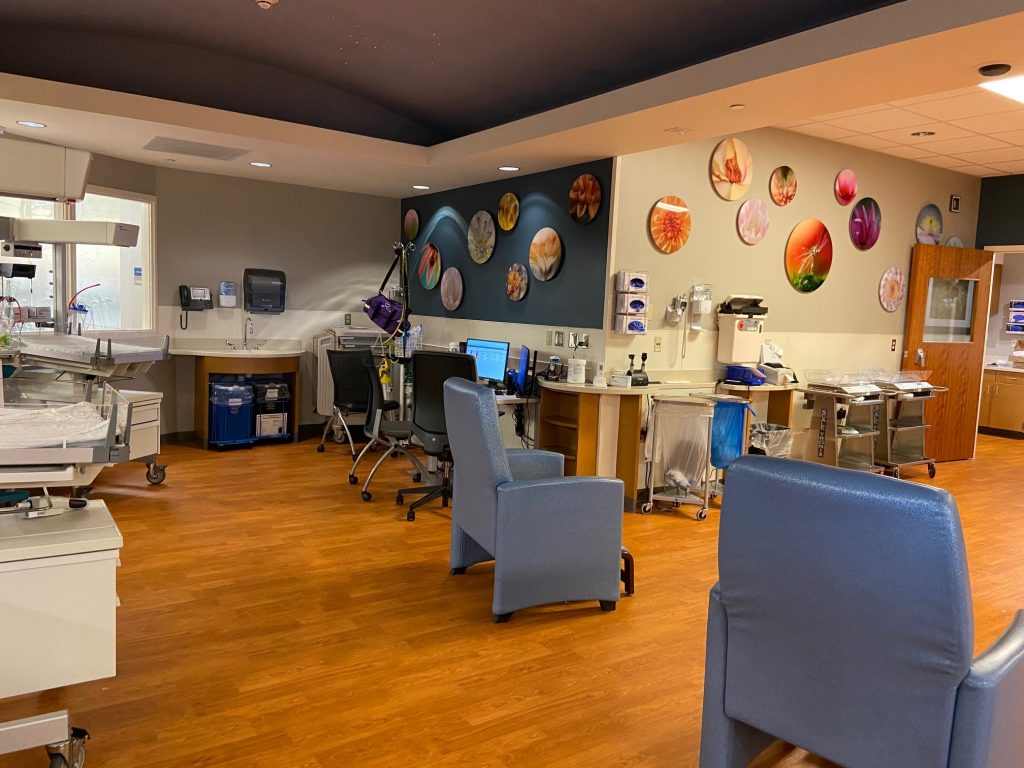 Nursery
Once you and baby are ready to retreat to a postpartum suite, the focus is on family-centered couplet care, meaning the baby remains with you throughout your stay, unless separation is required to provide medical care. Although couplet care is encouraged, your newborn can occasionally visit the nursery as well, allowing you to get some rest.
In-Hospital Newborn Portraits
There's nothing as precious as a newborn baby's first days. The Little Dreamers Studio at IU Health North allows you to capture these moments in a lasting way. Families can schedule an in-hospital portrait session at a nurse's station. When it's time for your appointment, the photographer will call your room and escort you and baby to the studio. It's as simple as that!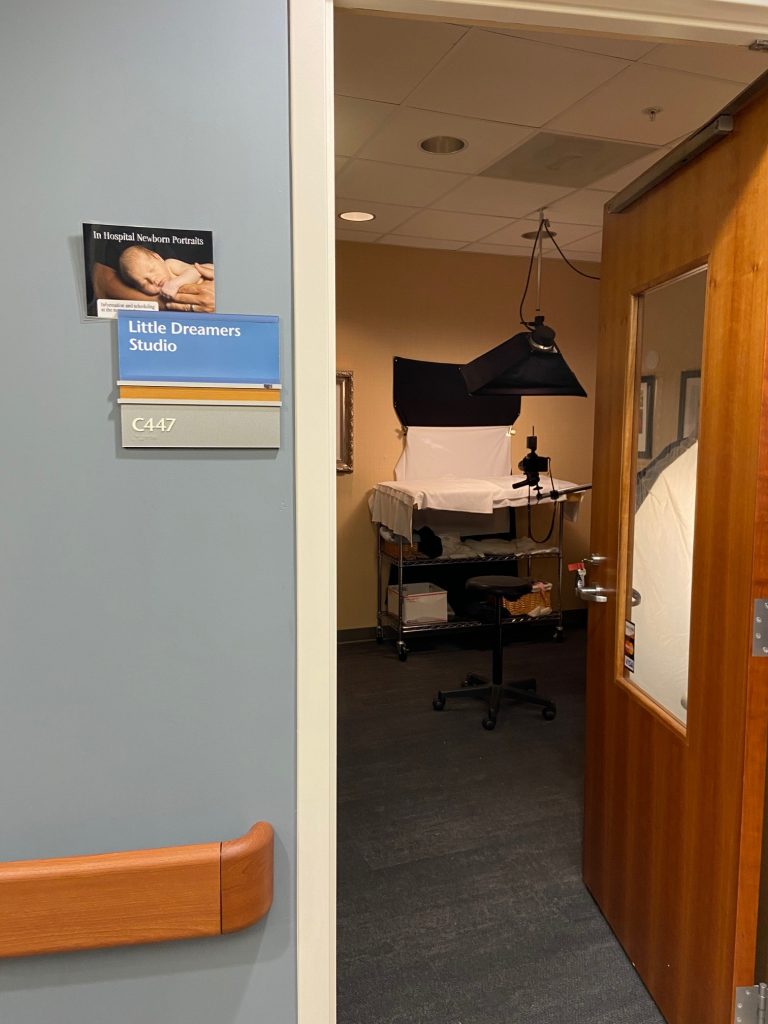 Alternative Therapies
IU Health North Hospital also offers a number of alternative therapies that can help relieve pain and activities that can help pass the time and provide a distraction. Patients can talk with their nurse about the following alternative therapies to decide which option is best for them.
Aromatherapy with essential oils
Guided Imagery
Music Therapy
Pet Therapy
Thermal/Cold Therapy
Reiki
Meditation/Prayer
Comfort Cart Activities (e.g. adult coloring books, craft supplies, etc.)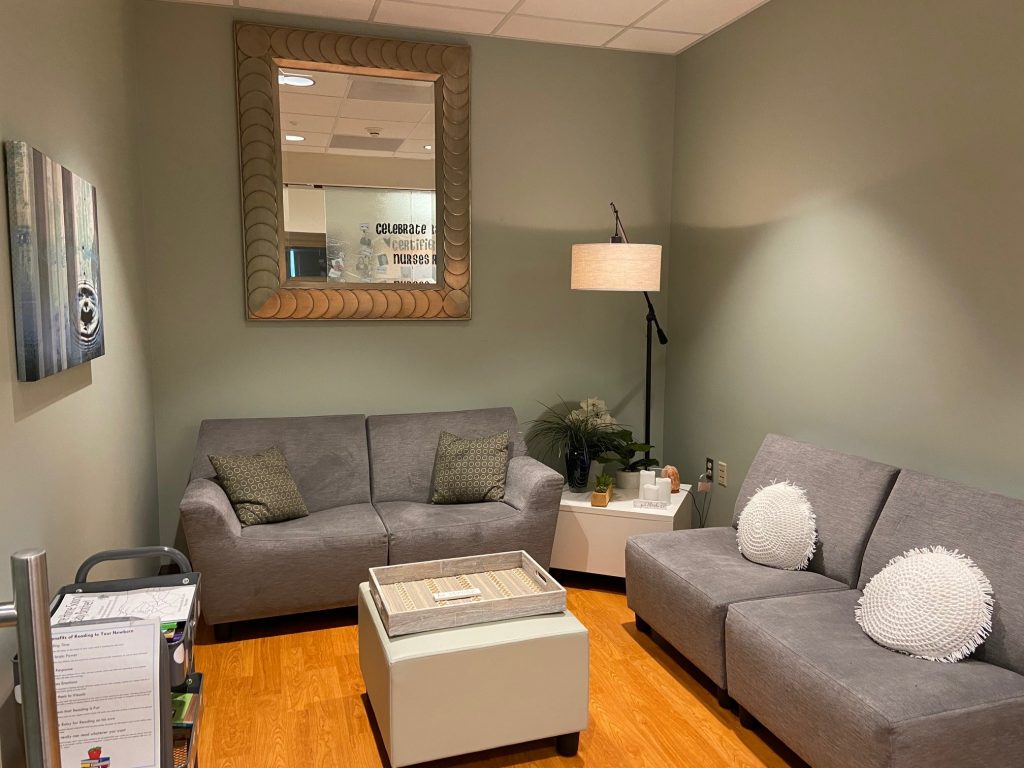 Atrio Café & Coffee Bar
Your partner and visiting family members will appreciate this one – the Atrio cafeteria and coffee bar offers food and drink options while staying at the hospital. You don't have to leave the hospital campus to grab a cup of coffee or breakfast, lunch, or dinner while you are visiting. A salad bar, made-to-order grill, fresh fruits and vegetables, gourmet soups, pizzas, and desserts are available daily. If you are staying with your partner in a postpartum room, you can call for room service and they will bring your food up to your room for you.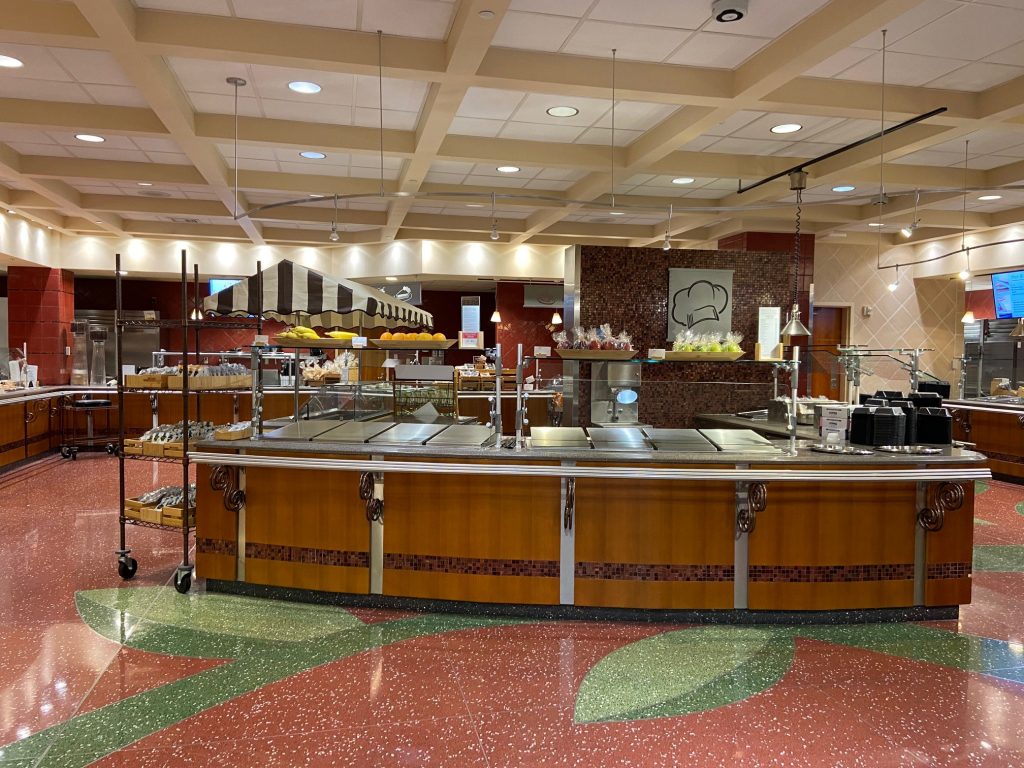 The Care You Deserve
The Maternity Suites at IU Health North Hospital offer a comfortable, personalized setting for one of life's most important events. Throughout labor, delivery, and postpartum, they offer the most advanced, customized, mother and baby care. There's no better first choice you could make for your child.
Visit iuhealth.org/maternity to learn more.
---

Indiana University Health
Named among the "Best Hospitals in America" by U.S. News & World Report for 23 consecutive years, Indiana University Health is dedicated to providing a unified standard of preeminent, patient-centered care. A unique partnership with Indiana University School of Medicine – one of the nation's leading medical schools – gives our highly skilled physicians access to innovative treatments using the latest research and technology. Learn more at iuhealth.org.