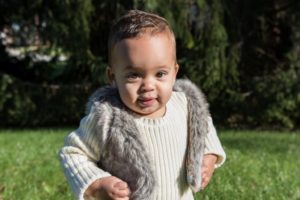 I struggled with the decision of keeping my baby in daycare or seeking out alternative care. First let me say how much I adore our current daycare. They have shown my baby so much love and taught me, a first-time mommy, so much about motherhood.
Disclaimer: I recognize how utterly ridiculous I am
What Kind of Mom was I?
I was the "my kid must speak five languages before she is 2" mom. I was the mom who would pop up at the daycare in the middle of the day, not because I didn't trust the teachers, but because I often missed my baby. To this day, I would not choose anywhere else, other than my mom's house, to leave my baby. However, that urge to have her speak another language never left me.
Accommodations on My Behalf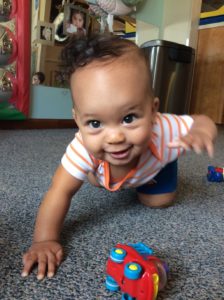 As a mom, I have learned that no matter what decision I make, I am screwing my baby up indefinitely. I accept and roll with that reality.
However, now that my baby is 1.5 and starting to speak I do the best I can to formulate what little Spanish I know into our daily commands. "No Tocas!","Te amo", "Come", "Vamos," and other basic phrases are commonplace in our household. We also only let her watch Spanish language cartoons, but I would constantly think there is more I can offer my future scholar. ( I know, I know… I am such a first-time mom.)
My daughter's daycare was so accommodating; they began using a few of the words we practiced at home during playtime at the daycare. When pointing to her nose, they would playfully say "nariz." When pointing to her mouth, they would smile and say "boca." Even with those accommodations, I knew that wasn't what they were there for, that wasn't their area of expertise, but I loved them for making sure I was comfortable.
So I began looking into tutors. Yes, I had a tutor for my 1.5-year-old. Her only job was to play with my baby in Spanish for four hours each week. And still, I wanted more. A friend told me about the government-based Au Pair program, so I reached out.
The Decision
Once I got to the website, the process of choosing, interviewing and hiring an au pair was very easy. Also, the price of having an au pair was relatively the same as (or less than) daycare. However, before my husband and I made the final decision, we needed to make sure taking my baby out of daycare was the right decision.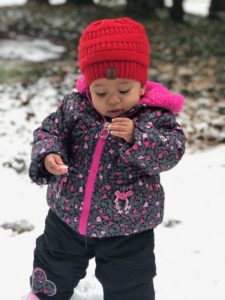 The love, care, attention and intentionality shown to us made my life easier. Did we want to give that up for Spanish?
Socialization on behalf of my baby and myself would be more significant. Would she thrive at home, alone with only one person to interact with?
Do I want a strange person living in my house for at least one year? All of this for Spanish!
As we compared the cost and did the most thorough cost/benefit analysis in the history of the earth, we determined Au Pair Care was the way to go. For almost the same yearly cost, we would have a person who would look after our baby and help when needed with my stepdaughters. She would be available to cook and clean after the children. She would offer us a more flexible personal schedule. In short, my husband and I would actually be able to go on a date night or two.
The bigger impact, I believe, is that my baby will learn Spanish. Not just, Spanish as a language, but she will be around a culture completely different than her own. She will eat different foods and understand different norms than what her dad or I could teach her.
With all that said, this could absolutely be the wrong decision! Who knows! However, I am told there are approximately 26 Au Pairs in the Fishers area and the host families LOVE them. I truly hope we have the same experience; if not, maybe her daycare will take us back.
What are your thoughts? Have you contemplated in-home versus daycare? What were your reasons?