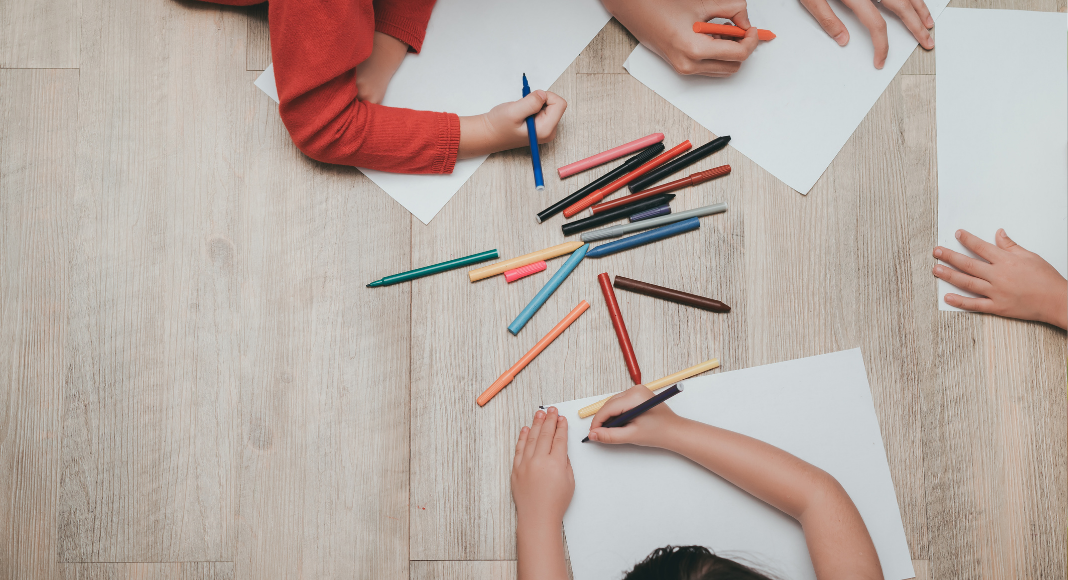 When our third and final child, a boy, was born in March of 2013, it seemed his academic timeline would mirror our daughter's path, who was born almost exactly four years earlier in March of 2009. When he turned two, he would start the one day a week Mother's Day Out program, just like his big sister did. Age three would have him in preschool two days a week, and at four, he would tackle Pre-K three days a week. That meant by five years old, he would be academically, socially, and emotionally prepared to enter all-day, every-day Kindergarten. That's what his sister did. That's what the traditional educational timeline said. So that's what he should do. Right?
Most mothers will agree that raising boys and girls is a very different experience. Not better, not worse. Just different. The youngest of our three happens to be our first (and only) neurotypical boy. Within our three children, after our daughter comes our son, who was born in 2010 and is diagnosed with Autism. And while I'm sure every child in every family is unique, raising my youngest boy felt like a whole new experience.
And so, in following the typical timeline, we sent him to Mother's Day Out and then preschool. He was (and still is) a very loving, energetic, and enthusiastic kid. He has an unquenchable love for life and learning. It's just who he is. But that energy in a toddler's body was a lot. He was never in trouble, per se, just a lot to manage. He was always kind, a friend to everyone. He was just always on the go and always had a lot to say. And for a mother who has an older child in therapy forty hours a week, desperate for language, his endless chatter was music to my ears. So I shrugged it off.
"He will outgrow it." "He is so sweet; he just needs to mature." "He has time." Those were the consistent comments at parent-teacher conferences. And so, I believed them. He was two and three years old for goodness sakes.
Then came a conference with his teacher in the winter of his Pre-K year. The year he was supposed to "graduate" and transition into Kindergarten. I sat down with his teacher (who forced him to write with his right hand when he was clearly a leftie, but that's a story for a different day), and she had a serious, grim look on her face.
"He is such a sweet boy," she began, "but he is still immature, and I have concerns about him going to Kindergarten next year." My heart sank. And my defensiveness flared up. How could this be happening? I was a former teacher, for crying out loud. We were working through nothing but delays and missed milestones with our older son. My heart literally could not bear going through anymore. I didn't say much, thanked her for her time, and went home to process the information.
In my heart of hearts, I felt the teacher was wrong about his potential success and challenges of his upcoming Kindergarten year. He may have been slightly immature, but weren't most boys his age? My husband and I wrestled with the "what ifs" for either situation – sending him to Kindergarten or the OTHER option. The controversial conversation among many kids approaching Kindergarten.
Redshirting.
For those who don't know, redshirting simply means holding an age- eligible child back, giving them a bonus year before Kindergarten. It's a hot topic, and there are many differing opinions on the subject. Some argue that parents choose to redshirt their children merely to give them an advantage with sports and/or academics. Some argue that redshirting a child that doesn't need it will result in boredom and then potential future behavior issues and a negative perspective on school.
On the opposing side sat my husband and me. While we certainly weren't ever planning on redshirting, the fear of our child not being successful in his Kindergarten year, and the domino effect that could have on the rest of his academic career, was enough for us to seriously discuss it. We eventually decided the benefits of redshirting outweighed the risks.
We began frantically researching options and touring schools for the following year. What programs existed between Pre-K and Kindergarten? For us, it was a half-day Kindergarten program at a nearby private school. The small class sizes and age-appropriate curriculum, five days a week, but for only half of the day, seemed like exactly what he needed.
And it was.
We explained our situation to his new teachers, and they assured us they would have regular benchmark meetings with us to discuss his progress. The first couple of months, they saw some of the concerns of his Pre-K teacher. But by winter break, he flourished. It's like it all just clicked for him. His teachers were so pleased, and all of the concerns seemingly melted away.
The following fall, we were faced with deciding whether to send him to Kindergarten or first grade at his public school. Technically, he had completed Kindergarten at his private school. But the fear and doubt about him struggling or falling behind again, about it being too much, pushed us to put him in Kindergarten full time at his public school.
And while it still stings a little bit that he is always the tallest, or when his birthday rolls around, and he realizes he is a year older than most of his peers, it is without a doubt the best decision we could have made for him. He LOVES school. He has an academic foundation that is setting him up for the best chance of success. We have no regrets about our decision.
Redshirting. It's not the right decision for everyone. But it was the right one for him.