Think traveling to Europe with a toddler is out of the question? It doesn't have to be.
In December, my husband and I packed up our 20-month-old toddler, somehow stuffed our 20 carry-on items into the overhead compartments of a stuffy 747, and departed for a week in France with our dear friends. We had a group of 12 and rented a gorgeous farmhouse about an hour north of Paris. It was an amazing value and gave us a lot more room for the kids to play.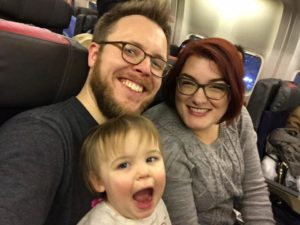 Our packing list included: Ergo carrier, portable high chair, convertible car seat, toddler backpack with leash (#noshame), clothes and shoes for all of us, toiletries, children's ibuprofen and Benadryl, sippy cup and lots of snacks, winter coats and cold weather gear, enough diapers to get us there, and of course, our daughter's Kindle Fire loaded with episodes of her favorite shows. We lumbered through the airport like pack mules, but we didn't have to check bags.
This was my daughter's first flight. Yes, her very first flight was a nine-hour leap across
the Atlantic. I thought I would freak out each time she cried out or threw a tantrum, but I was pleasantly surprised that I really couldn't care less what other passengers thought of us. I tried my best to keep her happy and quiet, and if she made noise, big deal. As someone who has always struggled with the urge to constantly please others, I'm delighted to find my mom self doesn't give a rat's behind what other people think. The flight turned out to be the easy part compared to managing full days of sightseeing with a toddler, and I learned some important lessons for future vacations.
Without further ado, here's my best advice for traveling internationally with kids.
Be ambitious but realistic. The whole point of visiting a tourist destination like Paris is to see as much as you can. There will be moments of stress and exhaustion that you just have to push through (the idea of "retrospective fun" applies here). Try to motivate yourself to maximize your time, but be aware of your family's limits. For example, we timed our visit to the Louvre for Lyra's nap time, knowing she would fall asleep in the carrier to let us enjoy an attraction that was only interesting to adults.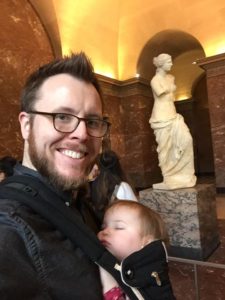 Know yourself. We found it was no problem to stay in the city until 9 p.m., then let Lyra fall asleep in her car seat and transfer her once we got home. We are night people, and our kid is pretty flexible. Our friends are more of the "early to bed, early to rise" temperament and preferred to head home in the evening. We each knew what we could handle and felt comfortable doing our own thing.
BRING A STROLLER. We heard that navigating stair-crazy Europe with a stroller can be a nightmare, so we brought an Ergo carrier and a leashed backpack, knowing our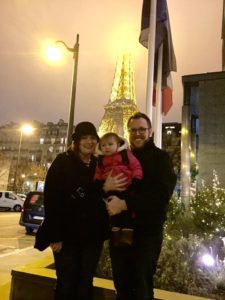 daughter loves to walk. That was a BIG mistake. Once she experienced the freedom of (extremely slow) walking, getting her back into the carrier was a nightmare. Without a stroller, we had nowhere for her to nap except on us, and we also had nowhere to stash our bags and coats.
Seek out kid-friendly experiences to balance the boring stuff. Even though much of our trip focused on activities that aren't super fun for kids, we built in some fun activities and allowed for flexibility if the kids found something they really enjoyed. We took a little train around the Montmartre neighborhood of Paris and the kids LOVED it. We spent a day at Disneyland Paris. And we also reveled in the unexpected fun. I'm pretty sure the highlight of our trip for my daughter was chasing pigeons in the square outside Notre Dame cathedral. We let the kids spend 30 minutes laughing and chasing those disgusting flying rodents pigeons, and it was a great memory for all of us.
Use your smartphone to its fullest abilities. We relied on our iPhones for everything during our time in France. We did not get international data plans, so we downloaded Google maps of Paris that we could use for driving directions. We also used the Google translate app to help us communicate. And our iPhones were even a huge help in managing toddler tantrums. We found ourselves stuck in gridlock traffic quite a bit, and the only thing that kept Lyra calm while trapped in her carseat was watching videos of herself on my phone.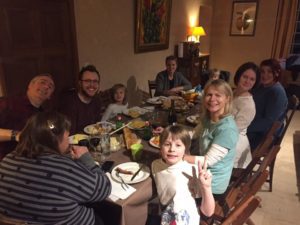 Stay somewhere that enables post-bedtime adult fun (that sounds wrong; stick with me). No matter how flexible your child, you have to put them to bed at some point, and then what? If you stay in a tiny hotel room, you're stuck chilling in the dark trying to stay quiet and keep your kid asleep. We stayed in an incredible seven-bedroom farmhouse with a full kitchen and dining room. It was a lot cheaper than staying in the city, even if we did have to suffer through some traffic to get to and from Paris. But having so much space allowed us to enjoy some much-needed adult time after the kids went to bed. Sitting around a table drinking wine and telling stories with friends is pretty much the best part of any trip, in my opinion, and if we'd stay in separate hotel rooms, this would have been really difficult to manage.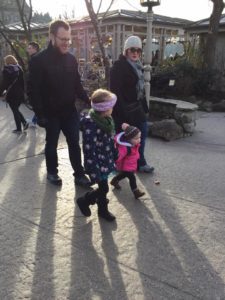 Build in some rest time. By Wednesday, I was exhausted and really needed a day off from the heavy sightseeing. We went to Disneyland as planned , and I spent the first part of the morning in a TERRIBLE mood (hopefully apparent only to my long-suffering husband). I couldn't fully enjoy that experience because I needed to recharge. The next day, unexpected car trouble gave us the rest day we needed, and I was able to actually enjoy the rest of the trip. There will be highs and lows during any trip. Fully enjoy the highs, and hope you can eventually laugh about the lows.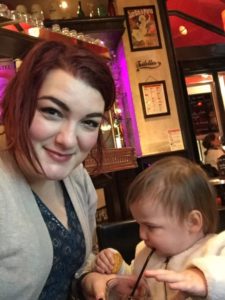 Just GO! Before we took the trip, quite a few friends and family members suggested it might just be easier to leave Lyra home with family. Why go through all the stress of traveling internationally with a child for a trip she won't even remember? And yes, we could have left her at home, and our friends could have gone without their kids, too. But I felt this trip was setting an important precedent for the future. I want us to be the type of family that goes on adventures together. I don't want our most memorable trips to be Mom and Dad only, with the kids stuck at home. Of course my husband and I plan on taking some trips just the two of us, but I want to create wonderful memories with our kids, too. This trip just wouldn't have meant as much without our girl there with us, and I feel like this was the beginning of many incredible memories.
Any other traveling-with-kids tips to share?