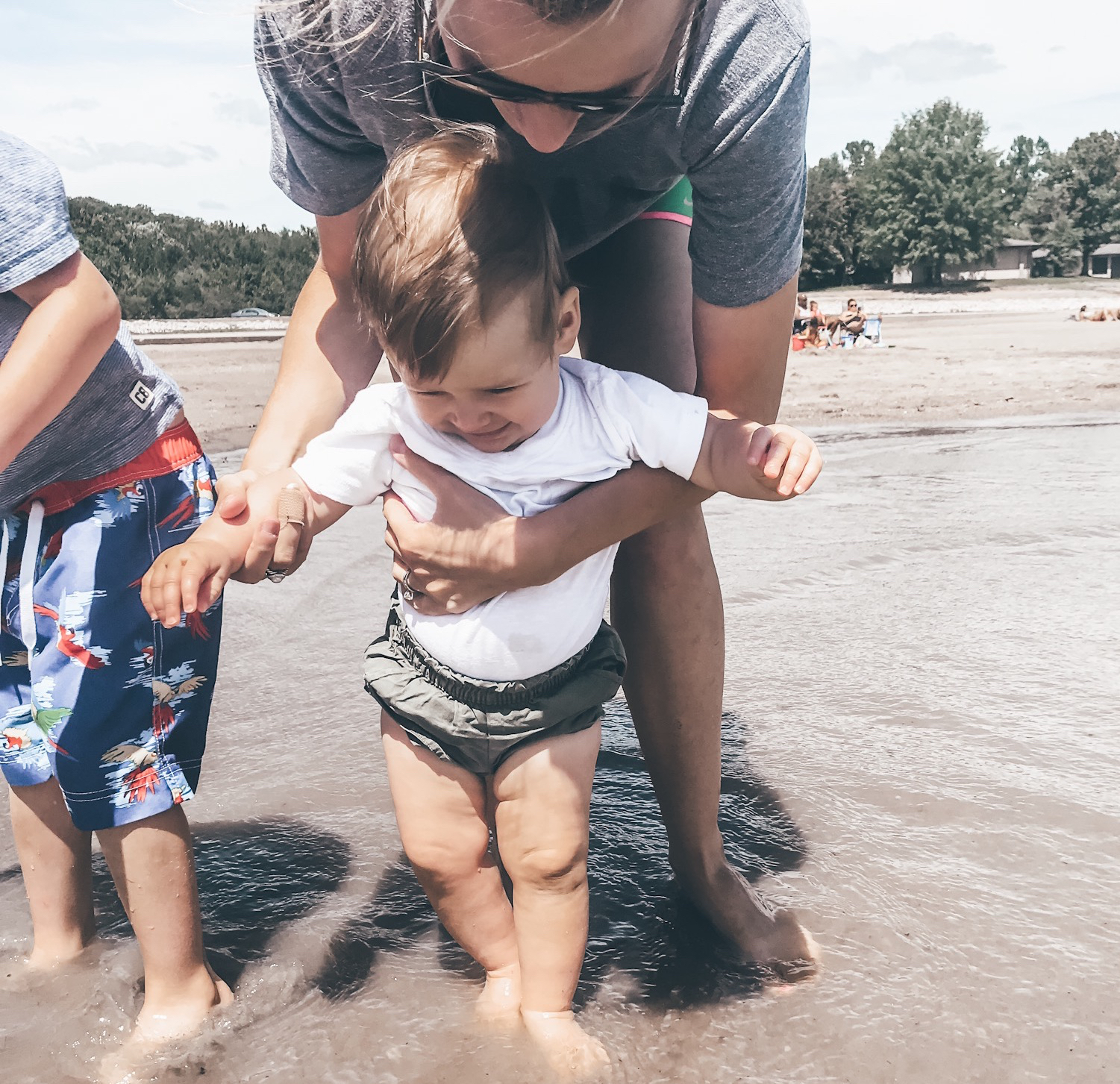 Have you seen the viral video of the latest Michael Buble song? If you haven't, grab the tissues. Know that you've been warned. If you're strong enough to hold out, just don't watch it. I caved last week and quickly dissolved into a pile of mush. Of all the times to listen to this song, I chose the exact wrong one – a week before my baby turns 1. I have spent endless hours holding my baby girl thinking of those opening lines – baby girl, "I just met you."
---
We booked an Airbnb at the last minute, desperate for one last weekend on a lake – any lake. We picked the kids up early, stocked the car with snacks, fishing poles, and luggage, and made our way into the woods. While we wanted a remote getaway on the lake, we weren't quite prepared for what awaited us. The last 4 miles of our trip were gravel roads to a tiny house tucked into the side of a hill in the middle of the woods. It took quite the effort to navigate trees and plants and steep slopes to walk down to the lake and there was no dock, platform, or grassy area once there, so the baby was immediately restricted to the 900 sq ft house with low ceilings, cozy quarters, and absolutely no baby proofing what so ever. We settled in quickly and the weekend was great, but I can't say we weren't questioning what we really thought we were doing when we booked this trip.
We rented a boat Saturday afternoon – prime nap time – and drove the 45 minutes hoping that the baby would get enough of a nap to take the edge off. It wasn't. My daughter hated her life jacket, pulling at the neck and acting like she was choking the entire time. I promise, she wasn't. It was a windy day, with lots of waiting, checklists, and a choppy ride out onto the lake. She screamed the whole time. She was exhausted and fighting every second of it. We were only 20 minutes into a 4-hour rental when we decided to head back. I told my husband to drop us off at the dock. I figured I'd jump in the car and drive around with the baby and come back to get him and our son a little later.
As we coasted back to the marina, my daughter suddenly settled. She laid back, face to the sun, and I raised my hand to shade her eyes. She snuggled in as the hum of the engine put her to sleep. I signaled to my husband to keep going, and he headed for the other side of the lake. After a few minutes, he idled to a stop so he could fish with our son, while I sat with bags and towels and whatever we could find, shoved under my arms and legs for support. I wedged into the corner, holding my sleeping girl. I looked out across the lake, the breeze in my hair, a cool 75 degrees, the perfect day. For an hour, I sat there, soaking it all up, in pure bliss, the moment I had been waiting for the entire weekend, maybe longer.
---
I can't remember the last time my daughter fell asleep in my arms. From a very young age, she was a wonderful sleeper, but that required a white noise machine, a dark room with a soft night light, a swaddle, and of course a pacifier within reach. I couldn't complain, for naps or bedtime I could put her down and walk away knowing that within a couple minutes she'd be asleep. But it also meant no naps in my arms, no long walks while she slept in a stroller, no naps on the couch. I'm mourning those days of snuggly sleeping.
Something has happened the last few weeks that every time I look at my daughter, she looks bigger, stronger, more like a child, less like a baby. She seems to grow multiple times in one day. I want to squish her baby belly and kiss those baby cheeks, but my girl is growing up. In just five short days, she will be 1, and while my brain can comprehend that, my heart isn't ready to. Baby girl, I just met you.
I'm living in denial, my mind reeling. The second one is growing up so much faster than the first. It felt hard to put my finger on precisely what it was – but it comes on so quickly and so often now that I've finally nailed it down. It's that uneasiness that only motherhood can prepare you for – that ability to simultaneously feel conflicting emotions. It's a strange combination that makes you dizzy some days when you're so proud of some new accomplish, but so quickly filled with sorrow that the old ways are gone.
---
My daughter is sitting on the floor, playing quietly with a toy. I head to the kitchen to grab a drink. When I walk back into the playroom she is clear across the room, hands and feet on the floor, bloomers sticking straight up in the air. Her head is on the ground, and she's peering at me upside down from between her chunky thighs. She laughs when she sees me smile, then turns herself upright, sticks our her chubby hand and coos "hiiii". While I feel the pain of her growing up travel through me, my eyes start to get misty, I choose instead to be thankful today. Thankful for this baby. Thankful for these times while she is small. Thankful that God blessed me to be a mother again and have any time with this baby at all. Thankful most of all baby girl, that I just met you.