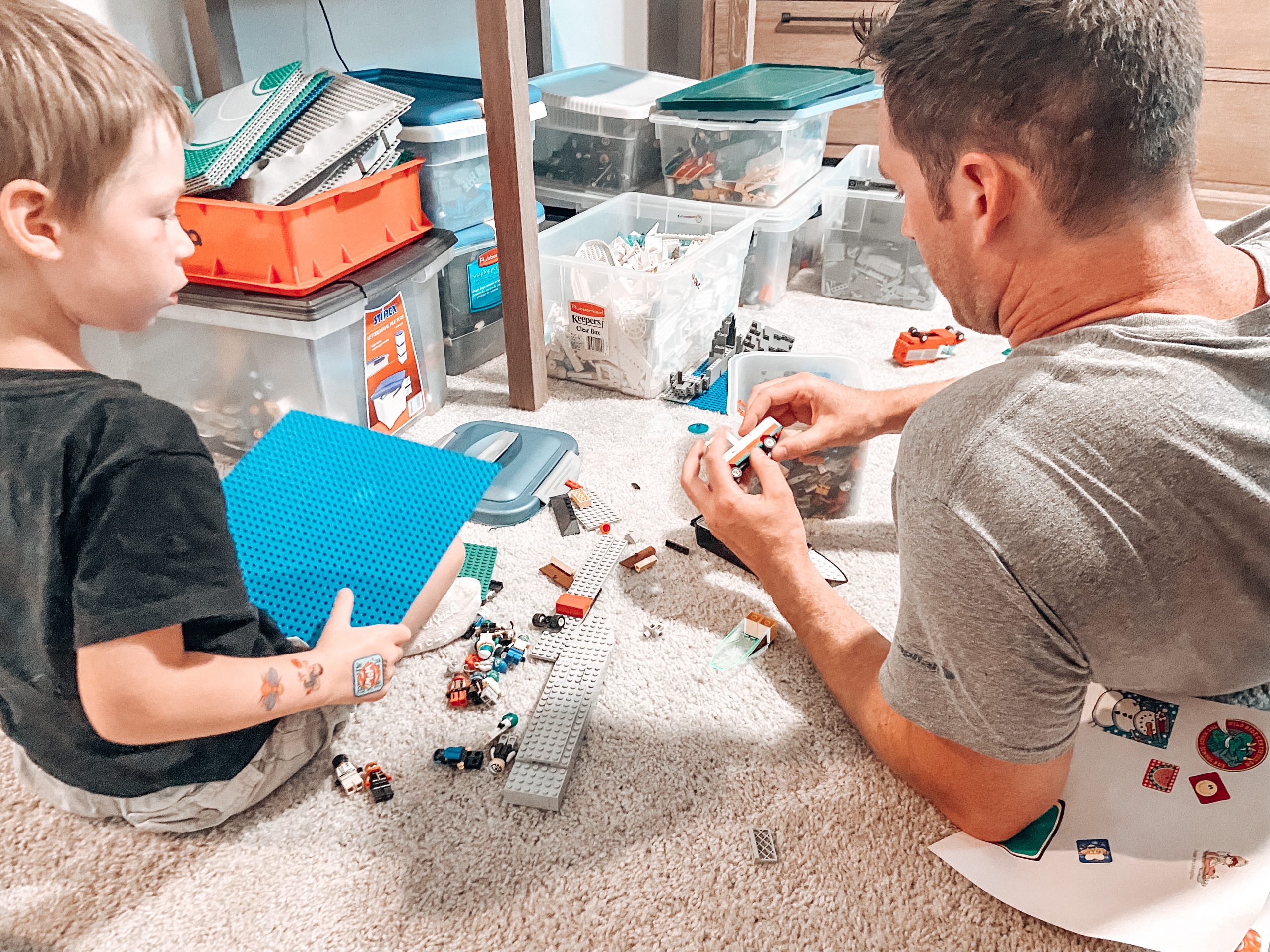 On a random day, some 20+ days ago, a boy sat on the floor of his toy room surrounded by bins filled with color-sorted LEGO blocks. Of course, there were also bins for "extra" pieces, for people, and one for all the small, easy-to-lose bits that are critical for creating whatever world he had dreamed up that day. I wasn't there, but I can almost picture the boy, head bent down over his lap as his small hands worked furiously to piece together his latest creation, extra pieces, and blocks scattered around him. A young boy, building blocks, building memories. The image vanishes, just a distant memory, a part of a story retold to be handed down through generations.
Just a few months ago my son found his love for building LEGO masterpieces (or anything an almost five-year-old can dream of). His own LEGO collection started to build, and on a recent trip to my father-in-law's house, my husband hauled those twelve category- and color- sorted bins of LEGO pieces back to our house. We unloaded the bins to our son's room, and as my husband started the unboxing, it felt like an unofficial passing of a torch. Each piece my son pulled out, he'd hold up and ask, "what did this make?!" and without skipping a beat my husband would know the answer. His eyes bright as the memories shook loose of all the trucks, boats, space ships, and castles he built as a boy.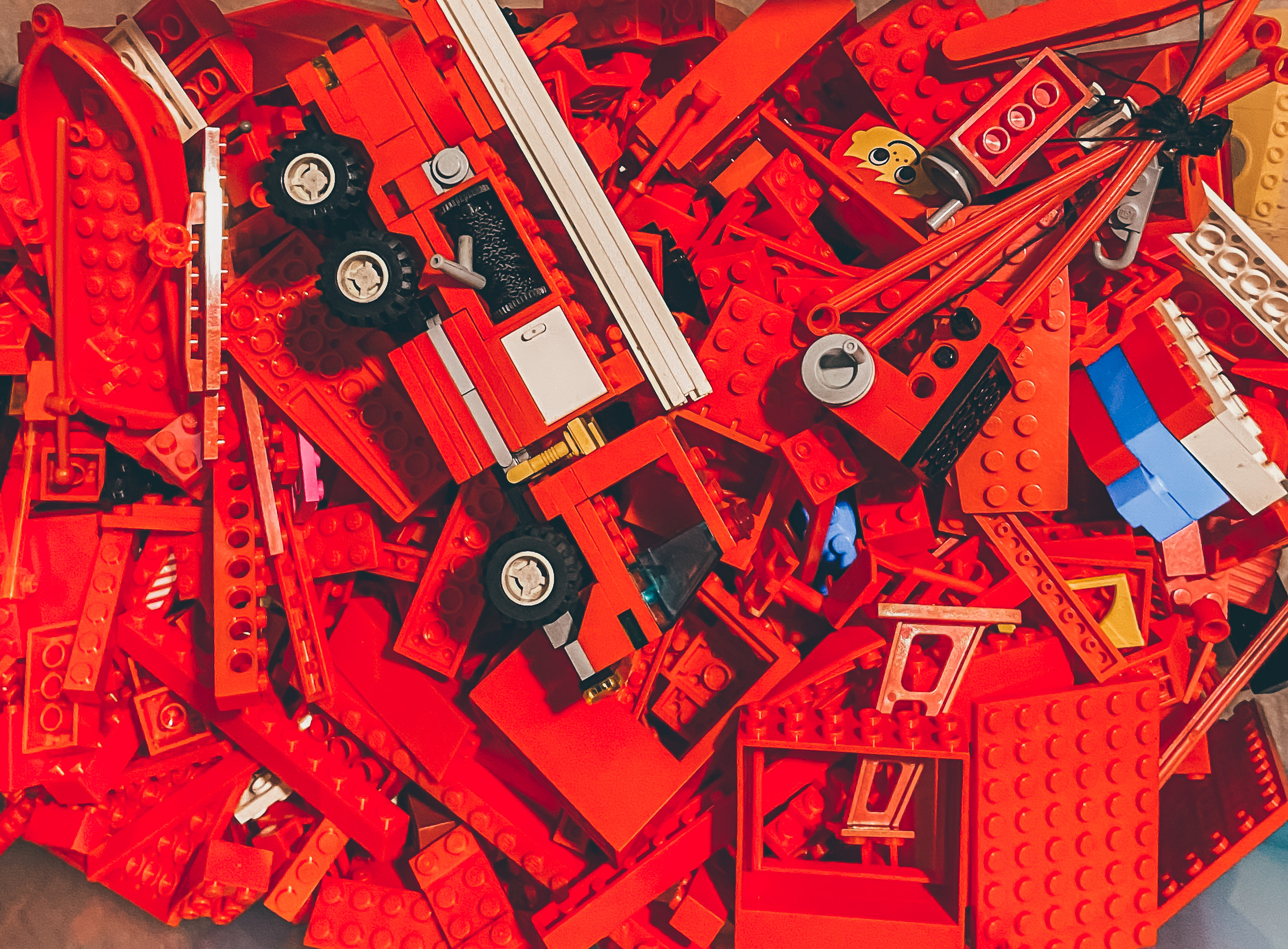 When we opened the first bin, full of red blocks, a fully intact fire truck sat on the top. I picked it up to see how it was made so we could make a few more if we wanted. A strange thought occurred to me as I held that fire truck. My husband and son kept digging, but I just sat, looking at that firetruck trying to remember my own childhood. One day, when my husband was a small boy, he built that firetruck, and when he was done, he put it in that bin, for the last time.
Did he know that was the last time he'd build a LEGO firetruck? Did he know it was sitting there waiting for his return?
Among those twelve bins, we found no less than six fire trucks, two ambulances, a tow truck, two swat trucks, and at least a dozen other vehicles and boats, still fully intact. We lined them up on our son's desk as he continued the search for what else he could find. Multiple times a day, he would find ways to sneak to his room to play or add "just one more piece!" He'd wake up early and start to play until we came to get him for the day. "Quiet time" became "independent LEGO building time" which often turned into, "Dad can you come build with me?" time.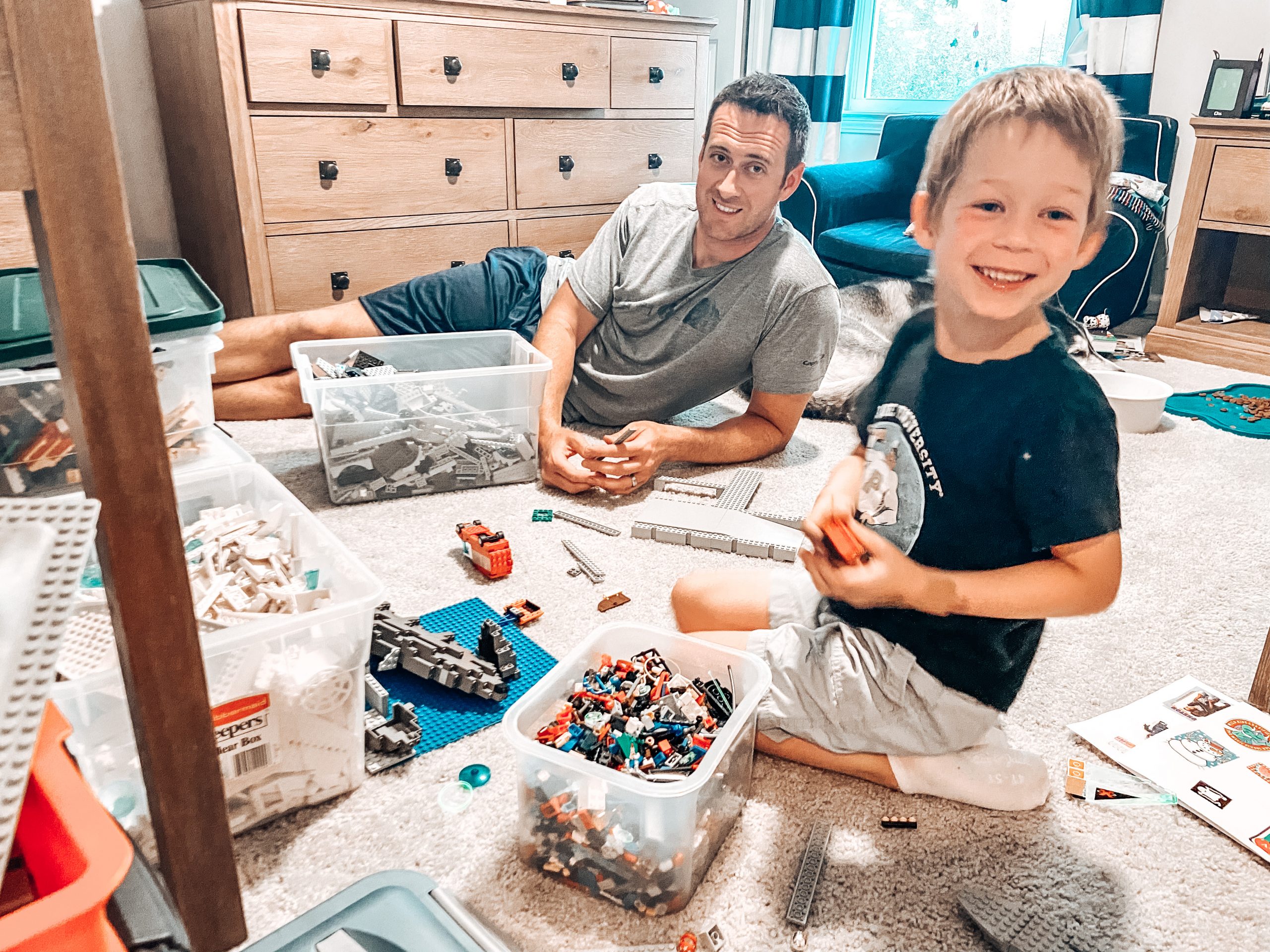 Those moments have spread out a little over the days, as the novelty of new toys and bins and bins of creative potential have been dug through, dumped out, and re-organized, but they still continue. The joy in seeing him play with his LEGO creations was almost unfathomable a few weeks prior. He was not a boy to play independently at home for very long. He would start projects (coloring, drawing, building) and end with nothing, protesting loudly that he didn't know "how" to draw, or build.
These bins of blocks have provided an outlet for him. He has endless opportunities to create and it's allowed him to confidently play on his own. He has learned to pretend more, create more, dream up anything he wants, and bring it all to life. He has a new bond with his dad and a new love of hearing stories from when we were young.
I can't remember the last time I played with some of my toys. Did I know it was the last time? Did I care? What will my son create that will get boxed up and sit in his closet until his kids are ready for them?
As we sit building all the LEGO creations, we are also building memories. We're building stories that we can pass down. One day we will put our latest creations back in these bins, and close them up. We will put them away one last time, until someone else gets to discover them and create stories of their own.