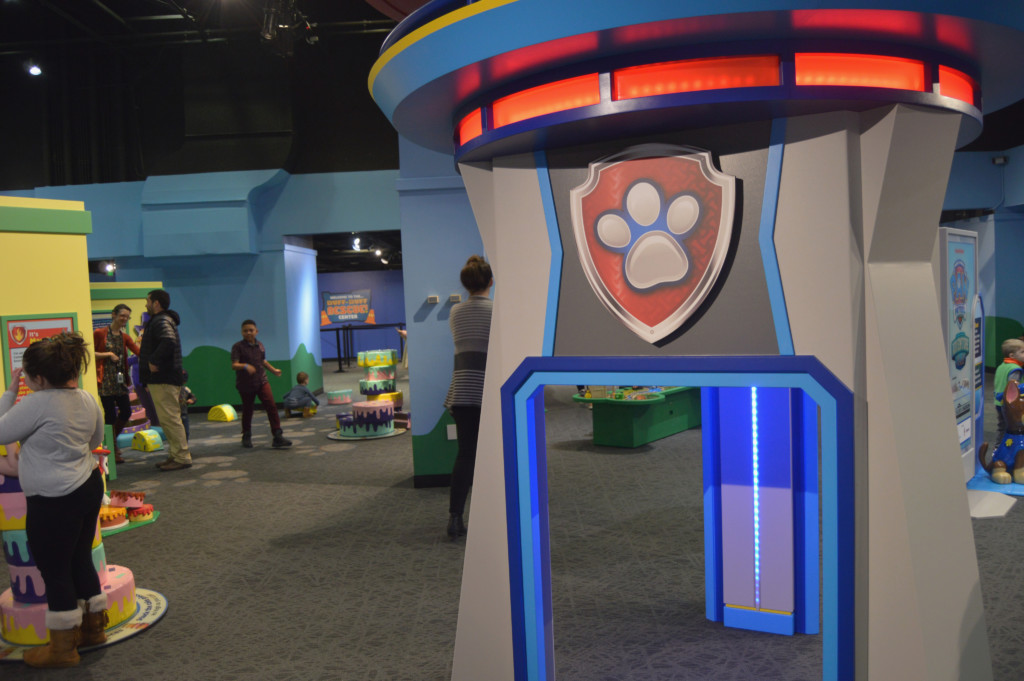 Beginning tomorrow, your favorite pups are ready for adventure at The Children's Museum of Indianapolis! This temporary exhibit runs from February 23rd until July 28th and offers a variety of fun activities for your kiddos! We had the opportunity to explore it all last night and here are our 5 reasons you need to visit this fun exhibit.
1. It's Huge!
No, seriously – this exhibit is a great size and one you can easily spend an hour or more just exploring and enjoying with your family. I plan on taking my girls back just to spend time here and since we have a membership pass, it is totally worth the trip!
2. Appropriate for All Ages
When we left last night, my 8 year old son even told me he had a blast exploring the Paw Patrol exhibit. There are activities for kiddos of all ages, so don't worry about your older kiddos – they will appreciate it too!
3. Sensory and Motor Skill Fun
There are so many sensory friendly activities and ones that practice motor skills for kids. One of our favorite activities was building our cake with the soft cake pieces. It was fun to stack them high and then of course knock the down as fast as possible. There are also puzzles and mazes that are perfect for little fingers and stretching those growing brains.
4. Stretch their Imagination
Porter's Cafe was another favorite area where kiddos can bake and make pretend food. There are also several pretend ships and vehicles for kids to drive and have fun pretending they are working with Ryder to save the day!

5. Hands-On Cooperative Play
The small play tables that are filled with Paw Patrol figures and toys are perfect for all ages and encourage sharing and playing with others.

Check out more details about the Exhibit:
Based on Nickelodeon's top-rated animated preschool series PAW Patrol the new exhibit opens February 23, 2019, and will give families and children the opportunity to travel alongside Marshall, Chase, Skye, Rocky, Rubble, Everest, Zuma, and Tracker as the PAW Patrolovercomes obstacles to helps others.
In different exhibit areas including Adventure Bay, Jake's Mountain, and the jungle, youngsters will team up to overcome challenges, take heroic action, and help others. During the ruff, ruff rescues, visitors will participate in pretend play and hands-on interactives that encourage self-confidence, critical thinking and problem-solving.
Get your pups excited, Indy Moms! PAW Patrol: Adventure Play is absolutely PAW-some!