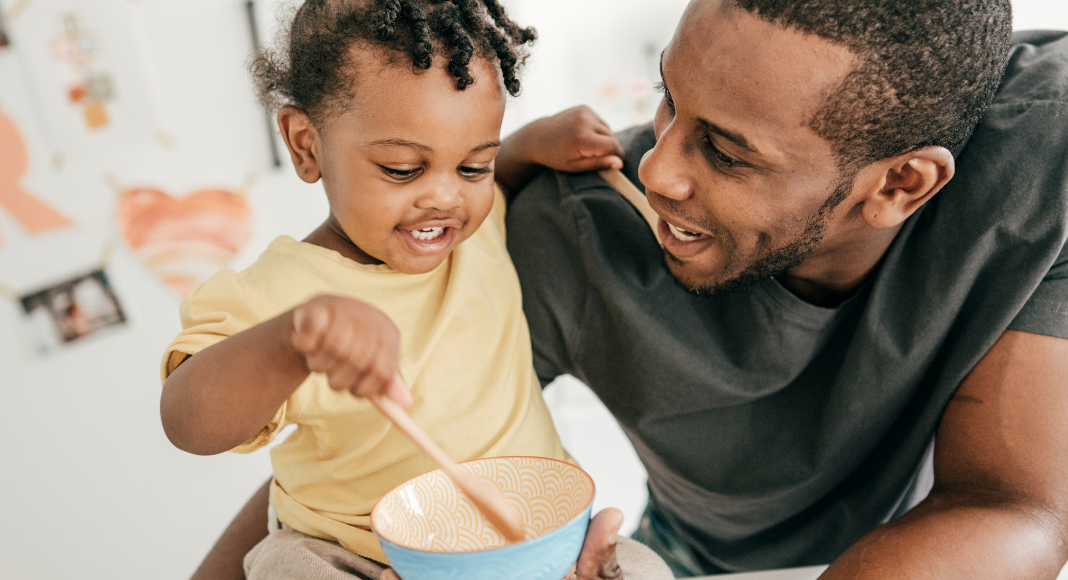 Is there anything quite as good for your self-esteem as being at the top of a toddler's list?
They're tiny but their opinion is mighty; when you're the one they want, the one they ask for, it can make you feel like a million bucks. It's good to be on top of that pedestal.
Until it isn't.
The hardest part of being atop the pedestal is seeing your husband at the bottom. And as much as it may please my Momma heart to have my toddler ask for me specifically at bedtime or when we bump a knee or we've found a story we want to be read to us, there's a bittersweet moment that comes along with it. I know how hard the toddler rejection can be – they may only be a few feet tall, but toddlers can be savage in a way that very few others can. Their adorable nature makes that sharp refusal cut to the quick and their inability to listen to reason only makes it harder to hold them accountable for said savagery. And so one parent is left in the dust to lick their own wounds and wait for the tide to turn.
As an infant, it was me left in the dust. The changing of the guard came at about a year old and since then, Momma's been number one. And while it's good to have my spot cemented, it's led to some struggle.
Namely, the toddler cling.
If you, like me, are dealing with a toddler that plays favorites, you undoubtedly know what I'm talking about. When Mom's around, it's game over. Mommy has to help, Mommy needs to read, Mommy is the only one who can change us. That favoritism can be a double-edged sword, leaving Mommy desperate for five minutes of toddler-free time or a chance to simply sit back and let Daddy make a peanut butter and jelly sandwich for once. Seriously, he's just as good at it as Mommy is. I'll even show him where the sprinkles are for sandwich bribery if you just let me sit for a minute…
But I digress.
If you've become a victim of the dreaded toddler cling, I have a word of advice for you: Adventure Day.
In my current job, there's a lot of weekend work. On many Saturdays, I'm out of the door before my toddler is up (trust me, it's easier that way to avoid the Mommy-separation anxiety-meltdown) which means that Dad and toddler have to find a way to occupy themselves until Mom can call it quits for the day. And to occupy that time, my husband and I have hyped up the idea of Daddy Adventures. This special time – just Audrey and Dad – gives them something special to look forward to and time for my husband where he gets to be the one atop the pedestal. There's no competition, no pressure to try to make our two-year-old like him, and these adventures give them time together to bond and memories to make together. These adventures are simple: it's just a chance for them to spend time together, no matter what they're doing.
If you're looking to try something new to break the cycle of baby cling, I suggest the following (mostly free!) adventure day suggestions!
Library Day
My toddler is a total bookworm. To satisfy that desperate desire for more books to read, my husband decided to add library days once a month. He and Audrey have breakfast while he hypes her up about adventure day and then they head out to the library – she can spend hours in the racks searching through books if we let her and she's more than happy to find a whole stack of books to bring home with her.
Park Playtime
If the weather's nice, we're headed out! There's nothing better than spending the morning climbing, sliding, swinging, and playing, and the best part? It usually means we're crushing it a naptime! As long as my husband's got the stamina to follow her and the weather's cooperating, the park is where it's at for Adventure Day!
Midtown Mosey
If you haven't been to Carmel's Midtown area, use this as your excuse! There's green space, walking trails, play areas, and more! In the summer months, the splash pads are ready to enjoy, and the best part? Sun King and Java House are right there! No matter what kind of beverage you prefer, there's a spot to sit and enjoy while she plays!
Farmer's Market Fun
Whether indoor during the winter months or outdoor from spring through fall, the Farmer's Market provides a great adventure! Plus, it gives us a chance to practice colors, foods, numbers, and a bunch of other skills we're learning!
Donut Run
Okay, so this one isn't strictly free, but is there a toddler out there who doesn't love donuts? Certainly not mine, though that might be due to the number I ate in the last few months of my pregnancy with her. Nothing is more exciting for Audrey than heading out in her pajamas with Daddy and coming home with a whole bag of donut holes. It's the best kind of adventure!
Really, anything is an adventure; maybe it's heading to the grocery store together or the post office or even over to my sister's for bagel morning. The point of the "adventure" is to spend time with whichever parent has slipped off the pedestal. It's a chance to bond, to grow together, and to give our toddler a chance to explore the world with us.
And, I'm happy to report, we've seen a slight reduction in cling.
But make no mistake: Momma's still on top. 😉
What do you do for adventure days??