"You can do hard things" is a phrase I repeat daily as I encourage my oldest, a perfectionist, through his tears of frustration at the Lego that won't snap into place, the letter that he keeps printing backward, or the drawing that doesn't come out exactly as he hoped.
As our children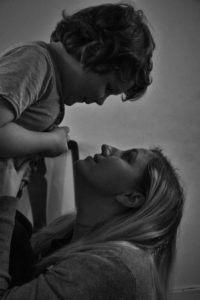 develop, they are constantly confronted with things they've never done before, and yet, they must learn to be successful. As adults, it's easy to think we've mastered the skills for daily life. Not so! Parenthood forces us to step outside of our comfort zone, try new things, and grow–often at a relentless pace.
Next time you feel imposter syndrome creeping up, are beating yourself up about how you could have done better, or just feeling a little lost or lonely in motherhood, try this on for a change: treat yourself with the loving kindness that you would use with your children.
Remember, you can do hard things! You have likely done so many already. After all, you learned how to tie your shoes, right? You have probably done more than that and forgotten. (Momnesia is so real!)
Start by making a list to remind yourself. It can be long or short, recent or past. The important thing is to make it, reference it, and wake up resolved that you can do hard things! Mine looks something like this:
Was the first person in my family to attend college.

Moved to New York City on THE day of the 2003

blackout.

Survived several Craigslist roommates in those NYC years!

Completed a Master's Degree.

Learned how to speak three languages.

Forgot how to speak two of those languages.

Delivered a 10-pound baby.

Managed to stay married 11 years (so far!)

Kept things going at home through my husband's two deployments.

Started my own business.
If you are working hard to be your best self, you may, at times, find yourself frustrated, angry, tearful, or wanting to give up. Just remember that the simple act of tying your shoes was once beyond your ability and still, "You can do hard things!"
What does your list look like? I'd love for you to share it with me!