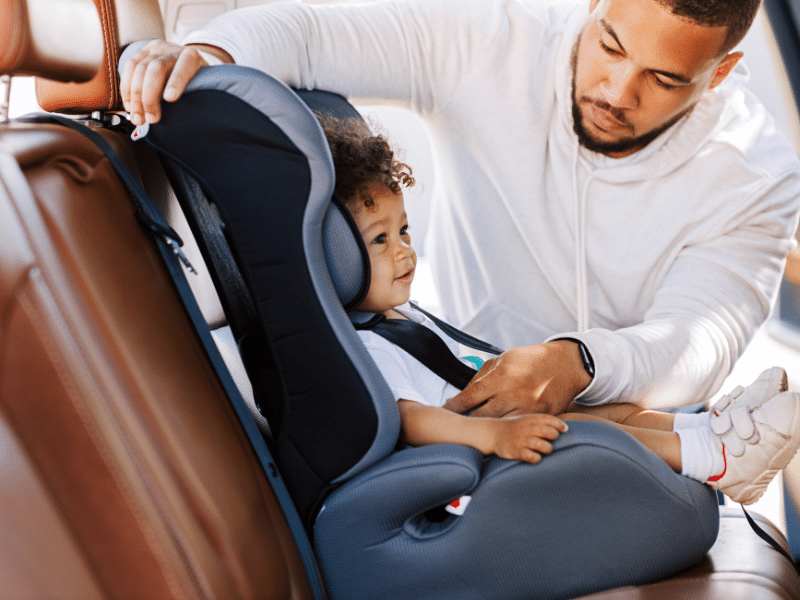 I'm not an overprotective mom. I don't freak out about my son, Cash, having too many sweets and I'm not strict about set bed times and countless other things you might think a first time mom would obsess over. I'm pretty laid back when it comes to most topics regarding kids and parenting, but the one thing that I am crazy about is CAR SEAT SAFETY. It's simple and it's important. It's a life or death situation. It takes less than two minutes to make sure your child is safely strapped into their car seats, and that two minutes could save your child's life.
I'm not judgmental of other moms in most scenarios (or I try to not be), but more often than not when I see pictures posted of happy kids/babies strapped into their car seats it's done incorrectly. Whenever this happens I instantly feel the urge to comment but never do for fear of upsetting a fellow mom. And it always eats at me. Because that one comment could save that child's life. Which brings me to this post.
Like I already made obvious, I am not claiming to be super mom and I'm sure I've made a few questionable parenting decisions over the years, but care seat safety isn't one of them. I've done my research and make certain my children are buckled in their seats properly EVERY time and I'm here to help make sure you do the same. I can only hope that the information provided will truly help parents and I won't have to see one more sad story while scrolling through my Facebook feed about a child losing their life due to being incorrectly strapped into their carseat. Children are dependent on us for their own safety and it is our duty to protect them.
PLEASE take the time to review the owners manual for your own car seat as they are all different. Most importantly, make sure your car seat is not expired!
CAR SEAT INSTALLATION:
1. Child should be rear facing for at least 12 months. RECOMMENDED for the first 2 years (this is actually already the law in a few states). No child should be front facing before 12 months!
2. The base of your car seat (if using an infant seat) will usually have a level on it. Make sure the bubble is showing that the seat is level.
3. The base or car seat shouldn't move side to side more than two inches. If it does it's not tight enough!
* TIP: When I'm installing my child's car seat, I'll push my knee down into the car seat to put weight into it make sure I can get it really really tight!
4. Use the seat anchors if your car provides these. Most newer cars have these and all car seats have the anchor clips.
STRAPPING CHILD INTO CAR SEAT:
1. The CHEST strap is meant to be placed STRAIGHT on the chest at armpit level. Not at stomach level. Not a neck level. Not crooked. If it's anywhere other than armpit level, you're doing it wrong.
2. The straps shouldn't be twisted at all.
3. For rear facing children: Straps should be AT or BELOW shoulder level. For forward facing children: Straps should be AT or ABOVE shoulder level. Adjustments are so easy to make! Refer to your owners manual for instructions.
4. The straps should be tight against the child's body. If they are dangling off the shoulder (I've unfortunately seen this) or child can slip out then they aren't tight enough. You shouldn't be able to pinch any extra fabric on the strap at the shoulder if the straps are tight enough.
5. Do not place anything on or behind child in the car seat. Any coats coats or bulky clothing should be removed before strapping in child. This ensures that the straps are tight against child's body with nothing in between. Blankets can be placed over child after strapped in if its cold out.
* TIP: For colder climates there are several brands that carry car seat covers for extra warmth. JJ Cole, for example, has one that I personally love!
I make sure to follow ALL of these rules every time I strap my son into his car seat. It may seem like a lot but it's so important and so simple once you are used to the process . PLEASE PLEASE make sure that you're properly installing and strapping your child in. Like I said above, I can't bear to see another tragic story of a child losing their life too soon because of parents, grandparents, or care givers incorrectly placing children into their seats. Or even a child who is too quickly transitioned into a booster. My son will be in a 5 point harness until he can't be anymore. Yes, it may be more time consuming, but that's the way it goes because I'm the parent and I'm responsible for his safety.
Please share this information with your babysitters, grandparents, friends, or anyone else who has or cares for little ones. This little bit of information can save a life and it could be YOUR child.