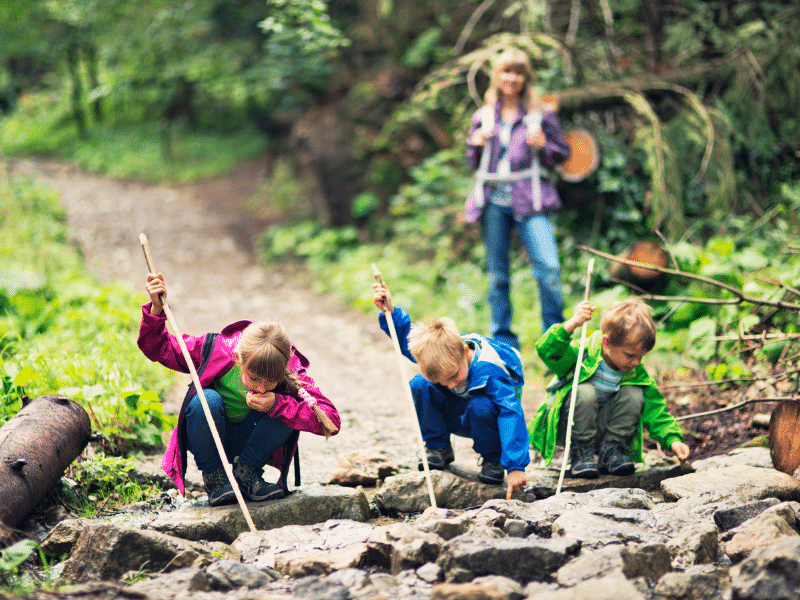 We made it to May, everyone! This year, or as I call it, "OMG. What is happening?!" is almost halfway complete. Did we even have an April? In 2020, our family of five made it a priority during quarantine to make time for fresh air, getting moving, and seeing nature on a weekly basis. In the hot, cold, rain, or sun, we found our way to a city or state park or nature preserve to explore. The kids jumped in every puddle available, climbed grassy hills only to roll back down, hiked (and whined…) on trails, and stomped around in creeks. My favorite memories throughout that honestly dark and isolating time came from the beautiful days we would spend exploring nature together.
While we are still all navigating our way back into the world, there are levels of comfort when it comes to the places you will go and the activities you and your kids will experience. City and state parks are a great option this summer! Here is my top 6 – taking into consideration accessibility for younger children, restroom access, cost, and overall experience.
*New favorite* Get your water shoes or rain boots on because it is creek stompin' time and only $7 per car! In just over an hour from Indianapolis, you and your family can retreat to hidden creeks, green space, and even explore a cave or a few. Clean bathrooms are now open throughout. There are ten trails ranging from easy to rugged and one trail that is paved and accessible. Parking is available in lots or off the road in the gravel and leashed dogs are ALWAYS welcome! My favorite? Trail 5 around Wolf Cave Nature Preserve – bring your camera and solid water shoes or boots – it's a two-mile hike around the loop! Pack lunch, snacks, and drinks, and make sure you call ahead as they have recently been closed due to storm damage.
This was an adventure I won't forget! My husband decided to trust Google Maps and…well….let's just say that we ended up driving the roads less traveled (no marked street names or speeding limits) for the hour and forty-five-minute ride. I am hoping you all just take the interstate! This park is one of a kind. It's two biggest features are its Pioneer town complete with interpreters, twenty historic buildings to explore, and a snack shop! The scenery is GORGEOUS so bring your camera. In the center is a 3-story limestone gristmill built in 1817 that still works! I have never seen anything comparable to it. They offer family boat tours in the Twin Caves for $3 a person (only 3 and up allowed), a nature center, and the Gus Grissom Memorial center (if you are wanting to venture indoors).  There are several trails from easy to rugged and one trail that is accessible. Pack a lunch and stay a while! This one is worth the drive (or the cup of coffee you can actually enjoy in your silent van while your toddlers pass out on the way home).
Located off I-69 and 96th street in Fishers, this is a manageable and time-friendly option. It is 55 acres of forest, wetlands, and prairie and is completely FREE of charge. There are restrooms as well as sitting areas and tables. You may see people on bikes or pushing a stroller on a trail that comes to a wetland area or you may opt for the dirt trails that take you by a small creek, over a fallen tree or two, and pass a family burial plot with headstones! Due to the trails being considered rugged, they are not as wide as some you would find in parks so dress accordingly. No major hills or tricky footwork required with these trails but be prepared to see wildlife!
I think this is a little gem located off IN-37 in northern Hamilton County! The park spread over 800 acres, gives eight miles of multi-use trails situated along the White River. Hitch up your bikes, canoes, or kayaks for this experience and bring your leashed dog! The grounds host wetlands, prairies, and woodlands. In addition, they have a paved ramp leading to a canoe/boat launch and multiple flat trail options for a mountain bike. After you and the family have biked a trail, sat down by the White River's edge, or walked through the recreated Native American village site, then drive just two minutes south and you will have more options such as ziplining, renting horses to ride in the park, an archery range, and a history museum (prices are listed in the link). Of course, there is ample parking, restrooms, and rest areas available. My son loves riding his bike on the trails!
This is one of Indy's oldest parks and is a must-see. It spans over 94-acres and sports 3.5 miles of trails along the White River. The nature center is always free and has many hands-on learning spaces for children including water play, a reading nook, and a treehouse.  There are gorgeous trees towering over the green space where you will find park goers playing catch, riding bikes, catching a snooze on a hammock, playing in the waterfall/fountain (it's basically a splash pad but with history and no loud primary colors), or playing on the three leveled playgrounds (My kids SO love playground…) One other activity we love to do is to put on our rain boots and stomp around on the shallow areas along the river. Stone and wood stairs take you down to the river where you will find multiple areas to explore!
An easy drive up US-31 to 151st street in the Carmel/Westfield area, Cool Creek has a little bit of everything along the 4 miles of trails. There are paved roads throughout the park and biking or rollerblading is welcome. Along the dirt paths, you have covered porch-like swings, covered shelters, grassy space, and areas to explore the creek. There is also a nature center with an outdoor natural playspace, a music pavilion, and newly renovated playgrounds. Bring a basketball or a soccer ball as playing space is provided.
The mental toll that the last few years has taken on many communities and individuals – including our children – is unknown but we know that after just 15 minutes each day of being active outside with fresh elements that our bodies will feel lighter and our brains will clear just a bit more.
Happy trails, Indiana!