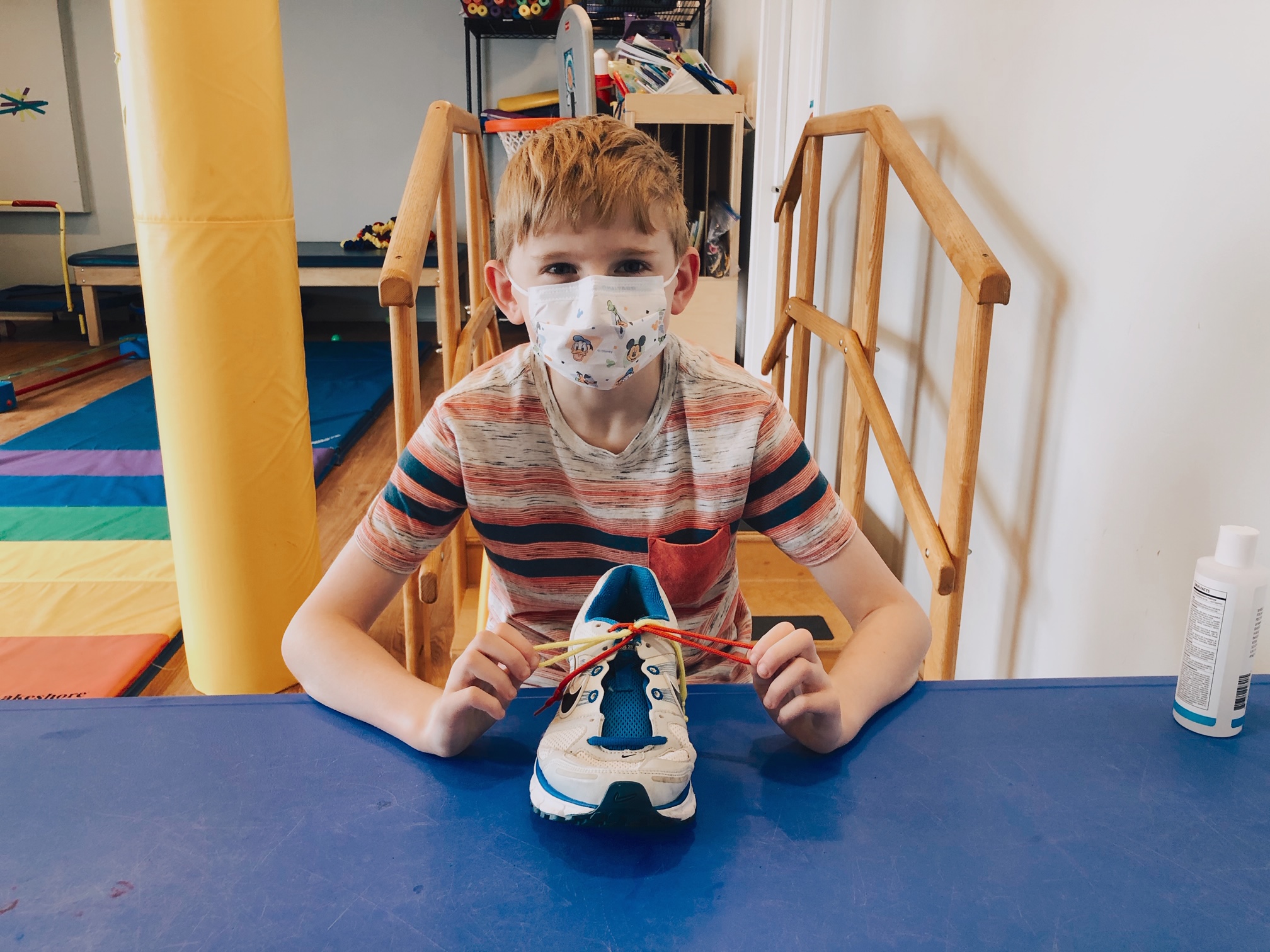 My son has always been very sensitive to sounds. Not always loud sounds but too many sounds all at one time. He sometimes has trouble focusing. Over time lots of these little quirks of his became more prevalent and some really interfered with everyday activities.
His handwriting is atrocious. He doesn't practice writing enough.
He throws a major tantrum when his games are taken away. Must be a 9-year-old thing.
He can't stand even the most mild sounds. His hearing is just more sensitive.
He overreacts when someone touches him at times. He is just in a bad mood.
He is easily overwhelmed. He just doesn't want to participate in this activity.
He sometimes has difficulty making new friends. He is just really shy.
I kept making excuses for every little thing. It was back in August that we were eating out at a restaurant inside with only two other tables (sitting very far from us) that he held his ears so tight that he refused to eat dinner. He said it was too loud. I looked up his symptoms and asked a few friends and Sensory Processing Disorder came up.
It made so much sense. He fit a lot of the criteria. (Note that SPD is an umbrella term and not all children have the same symptoms.)
I took him to Theracare Outpatient Therapy Services (TOTS) in Fishers to have him evaluated. While there, just going through the checklist I was supposed to fill out, I noticed I was checking the "often" box for almost all of the symptoms and characteristics. It was clear to his Occupational Therapist that he would benefit from this therapy.
I finally had an answer. That felt like a huge burden was lifted off of my shoulders. The change didn't happen overnight but I finally was able to understand how to communicate with him appropriately so that he was not overwhelmed. Our amazing OT, Carly, has been working with him for several weeks now and I have seen many improvements. It is still so early in our experience with this disorder and therapy treatment that it's hard to say long-term where we will be in a year, but I know this has helped him tremendously even after only a brief time.
Since October is National Sensory Processing Disorder Awareness month, I wanted to thank and praise TOTS and Carly for being so amazing in supporting my son and our family through this new journey. Below you can find some common traits in school-aged children, but remember that there are many symptoms, and not every child will exhibit every symptom.
Overly sensitive to touch, smells, noise, and other people
Afraid of trying new things; poor self-esteem
Always on the go; never sits still; fidgety
Easily distracted
Easily overwhelmed
Difficulty with handwriting or motor skills
Difficulty making new friends
Unaware of pain and/or other people
Craves rough-housing, tackling, etc.
Stumbles over words easily
So what does all of this mean? What is Sensory Processing Disorder? It's basically an abnormal neurological "traffic jam" where the sensory signals are not being processed into appropriate motor responses. The brain isn't receiving the information to process this correctly.
We have made some adjustments to help with his daily school schedule (both virtual and in-person) that have helped. Occupational Therapy with Carly has been wonderful and I am seeing so many positive changes. His handwriting improved so much, I thought his worksheets were being filled out by his therapist. He can tie his shoes consistently. He more often tells us how he is feeling instead of throwing a tantrum so that we can better understand and help each other. He has made such great progress! I recently read The Out of Sync Child that has also helped tremendously. Overall, it really does take a village to raise kids and we are all doing the best we can with what we know.