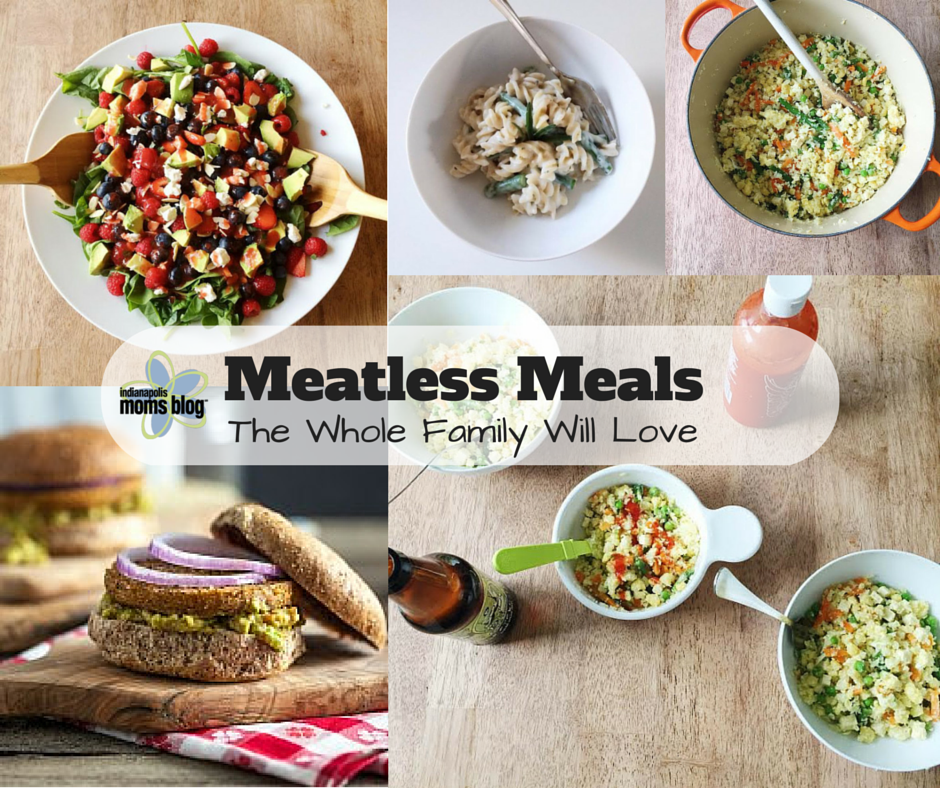 While I'm not a vegetarian, our family tries to incorporate a few meatless meals throughout our week for multiple reasons. Not only have I found that we all eat healthier when I swap meat out of our meals, it saves a ton of money. However, being that my husband is very much a "meat and potatoes" kind of guy and my toddler would eat chicken nuggets every day if I let him, it's not always easy to find meatless meals everyone in the house enjoys.
These recipes have become staples in our home, as they've passed the test of the toddler, the meat-loving husband, and myself (I prefer simple meals that are inexpensive, healthy, and don't dirty up a ton of pots and pans). I also love that they are easily customized with your favorite ingredients and are simple to adjust for a larger-sized family. Most are also gluten free, as our son has a wheat allergy. We hope you enjoy them as much as we have!
Cauliflower "Fried Rice" (Gluten Free)
This dish has long been a family favorite. I love that it's inexpensive, almost entirely veggies, can be customized to your liking, and you cook it all in one pot! My husband who insists he hates tofu didn't even know there was any in it until I told him and my toddler gobbles up three servings in a sitting.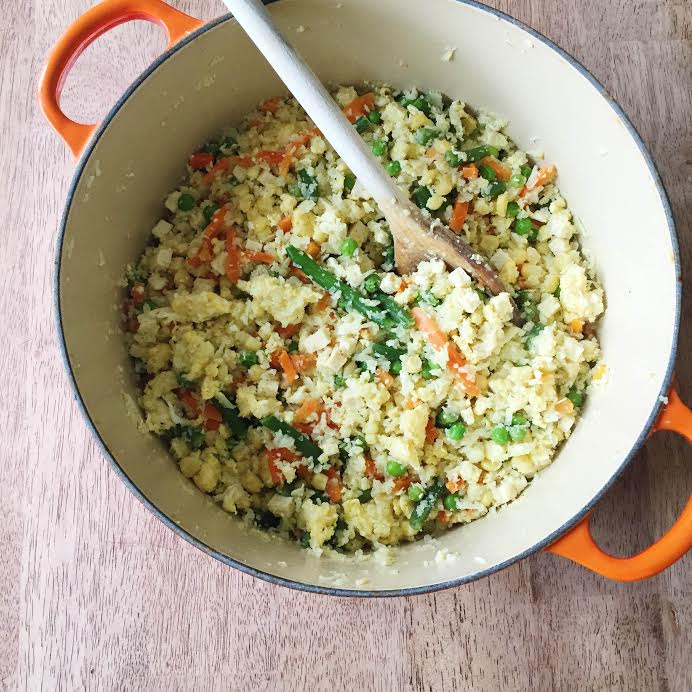 Ingredients (serves 4)
1 head cauliflower, washed
2 Tbps. olive oil or butter
16 oz. bag frozen vegetables of choice (I usually use whatever I have in the freezer)
8 oz. firm tofu
4 eggs
Spices (I usually use about a teaspoon each of ground ginger, ground yellow mustard, ground onion, curry powder, and whatever else I'm currently feeling)
Salt and pepper to taste
Directions
Use a cheese grater to shred the head of cauliflower down to the stem. This can get a bit messy so I usually shred it right in the large pot I use to cook the entire meal.
Add olive oil or butter and frozen vegetables to pot. Salt generously, give it a stir, and cook over medium heat until all of the vegetables are tender but not mushy, stirring occasionally.
Chop tofu to desired size. I usually chop in into pretty small pieces so that I don't have to listen to anyone whine about eating tofu;) Salt and pepper the tofu, add it to the pot, and give it a stir.
Push all ingredients to one side of the pot and crack all 4 eggs into the other side, scrambling them a bit as you go. Continue scrambling the eggs just as you would if there were nothing else in the pot.
Once the eggs are fully cooked and the tofu is heated through, add your spices and give it one last stir. There really is no right or wrong here, so get as crazy as you like.
Salt and pepper to taste and serve topped with sriracha or soy sauce (note that most soy sauce is NOT gluten free).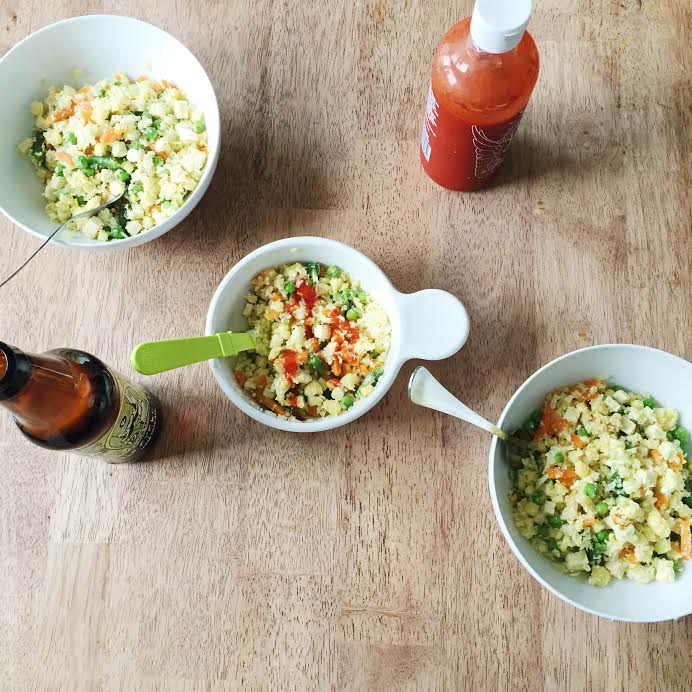 Summer Salad with Strawberry Balsamic Vinaigrette (Gluten Free)
I LOVE salads, buuuuut I'm picky about these meatless meals. Do not serve me plain lettuce with dressing and call it a salad. I want lots of amazing flavors and textures as well as something that's actually going to fill me up. This salad is a summertime favorite, not only because it tastes amazing and is beautiful to look at, but also because, well, who wants to turn on the oven, stove, or even the crock pot when it's in the 90's outside? Not me. And I love that I can throw this together pretty quickly and have plenty of time leftover to actually enjoy my summer evening with my family.
While I may be a salad lover, my son and husband are typically not, but my little guy gobbled it up, sans lettuce (fine with me- still tons of other good things in there!) and even Mr. Meat & Potato asked if I could make this again.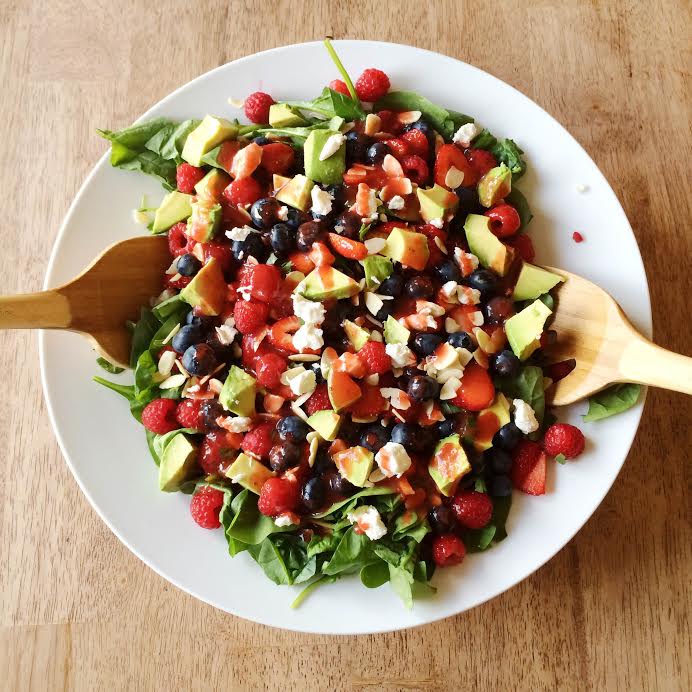 Ingredients (serves 4)
Salad
9 oz. baby spinach, torn
1 cup sliced strawberries
1 cup raspberries
1 cup blueberries
1/2 cup sliced almonds
1/3 cup chopped basil
1 avocado, chopped
4 oz. goat cheese
Vinaigrette
1 cup strawberries
1/4 cup balsamic vinegar
1/4 cup extra virgin olive oil
1 Tbsp. Dijon mustard
1 Tbsp. honey
1 clove garlic, minced
1/4 tsp. salt
1/4 tsp. pepper
2 tsp. water (add as needed for thinning)
Directions
(Vinaigrette) Place all ingredients in a food processor or blender and puree until smooth and consistent. If you want to take things to the next level, the strawberries can be roasted to release their juices and enhance flavor before pureeing, but I found that making the vinaigrette a couple hours ahead of time and letting it sit in the fridge still made an excellent tasting dressing. Plus, ovens and all that stuff.
(Salad) Place spinach in a large bowl and top with berries, almonds, basil and chopped avocado. Crumble goat cheese on top then dress with strawberry balsamic vinaigrette. You can also assemble salads individually if you have picky eaters to please.
Pasta with Rosemary Béchamel Sauce and Asparagus (Gluten Free)
I could eat pasta every day, so when my son was first diagnosed with a wheat allergy I was terrified at the thought of no more noodles! Luckily for both of us, TONS of amazing gluten free pasta options exist, including quinoa and rice pastas (my two favorites) and I've even started to make zucchini noodles on the regular, which to my surprise, have been a big hit in this house. (In the past I also made this dish using Earth Balance and goat's milk before my son could tolerate cow's milk and it was so. good.) Of course if you aren't worried about wheat or gluten, feel free to use your typical noodles of choice. I love this pasta dish in particular because you can switch it up so easily. I make it year-round but I especially love adding fresh veggies in the summer. I recently made it with baby bell peppers instead of asparagus and it was still delicious. Make it your own series of meatless meals with your family's favorites!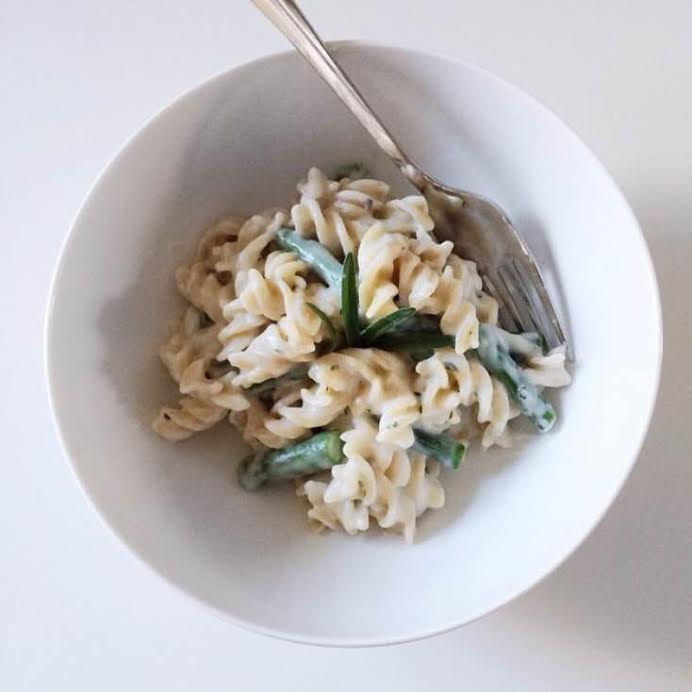 Ingredients (serves 6)
1 lb. gluten free pasta (I use whatever I have on hand)
4 Tbsp. butter
4 Tbsp. all-purpose gluten free flour
3 cups whole or 2% milk
1-1/2 Tbps. finely chopped fresh rosemary (you can also use dried)
Asparagus with woody ends snapped off (give this job to your kiddo- they'll love it)
1/2 tsp. pepper
salt to taste
Directions
Bring a pot of salted water to boil for the pasta, add pasta and cook according to the box (I do this while simultaneously cooking the sauce). Drain.
In a saucier or large sauce pan, melt the butter. Sprinkle on the flour, whisk together, and cook about 2 minutes until the paste is a very light brown.
Whisk in 2 cups of the milk.
Add the rosemary (if you have a rosemary hater, you can omit it and it will still taste great), pepper, and some salt to taste and whisk.
Steam asparagus. I always forget to do this and then cheat and cook it in the microwave, but either way works.
Continue whisking until the sauce thickens. Add the rest of the milk as necessary. (Make it a bit watery as it will continue to thicken.)
Combine the pasta, sauce, and asparagus. If the sauce gets too thick, continue adding milk as needed.
Serve and enjoy!
Southwestern Qrunch Burger

Our writer Katie was recently on Fox 59 talking about a new veggie burger called the Qrunch burger, and we can't say enough good things about it. With gluten-free, allergy-friendly ingredients like quinoa, spinach, carrots, and broccoli, I know my whole family is eating something that not only tastes good, but is actually good for them as well. And, bonus, on those days when you are feeling too tired to even think about cooking or just don't feel like turning on the oven or grill, these bad boys can go straight from the freezer to the toaster and still turn out amazing. My meat-loving husband thought they tasted great and my toddler even asked for seconds.
Ingredients
Green Chile Qrunch Burger patties (find these in your nearest Kroger)
Whole grain bun
Mashed avocado, mixed with salsa
Red onions
Thin layer of BBQ sauce
Directions
Prepare your Green Chile Qrunch Burger patties as desired (toast, pan-fry, grill)
Mash 1/2 avocado and mix with 2 Tbsp salsa
Place the QRUNCH burger patty on your favorite whole grain bun
Top with avocado-salsa mixture and onions
Spread a thin layer of BBQ sauce on your bun, add red onion, and enjoy!
Share with us! What are your favorite meatless meals you serve your family?