We are back with our final interview of our three-part mental health series with Mini Minds. Located in Carmel and McCordsville, Mini Minds is a therapy and mental health service provider. We spoke with owner Megan Peck and mental health therapist Polly Larson about caregiver mental health, because parents and caregivers need emotional support and counseling, too. In case you missed it, make sure you check out the first two parts of our series – Part One is about young children's mental health and Part Two is about teenage mental health.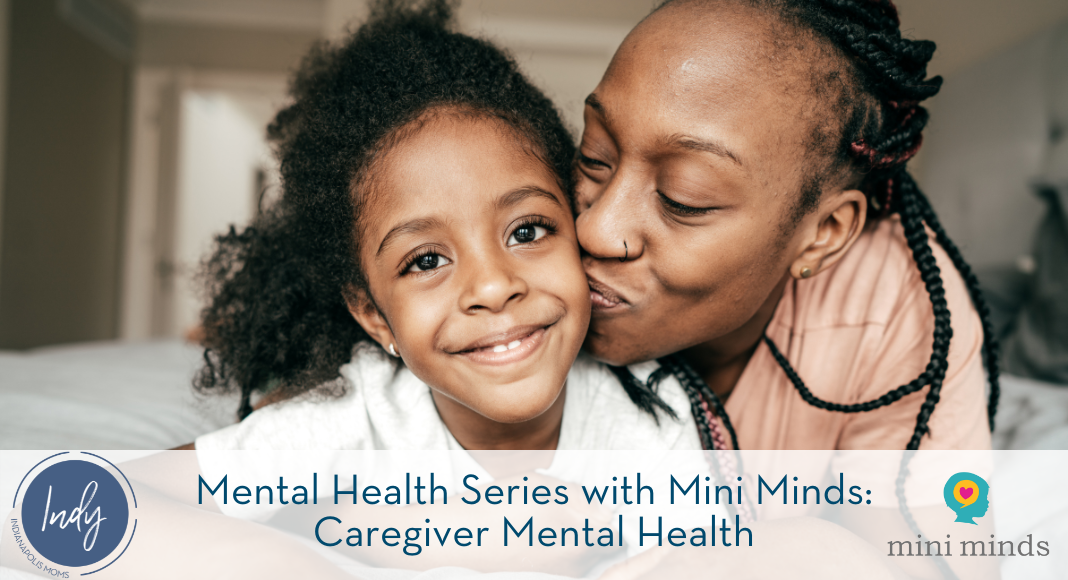 ---
What are your roles within Mini Minds and what services do you provide to Indianapolis area families?
Not only is Peck the owner, but she and Larson are both licensed mental health therapists with Mini Minds. They work with children as young as preschool age to college age teenagers and in case you didn't know, they also work with adults. "Children, parents, grandparents, caregivers – we're all interconnected," says Peck. "If we only serviced the child, we wouldn't really see that true long lasting change that we all come here to achieve. We love working with parents, they're one of our favorite people."
Their mission at Mini Minds is to empower families to raise children who thrive, so working closely with parents on how to help with collaborative and effective communication strategies to help the whole family system is extremely important. The team is constantly educating themselves on the most up-to-date research, specifically brain and body research, as well as updated techniques and therapy styles to help support local families.
As we have learned from the previous interviews, anxiety can show up anywhere. As moms, it may be harder to personally identify. What are some common examples of anxiety in parents – the difference between "a little worry" and true anxiety?
Peck says first and foremost, as we discussed in Part One and Part Two, worry and anxiety is a natural part of being human. As we have adapted, we've gone from being cave people who are constantly seeking out physical threats to modern day physical and emotional threats. Especially when it comes to maternal anxiety – it is hard wired in us to keep our babies safe and healthy. As caregivers, we're always looking out for those constant threats to our kiddos.
Larson says knowing the difference between a worry and true anxiety is in how we are able to control our thoughts and worries. If it's more time limited, and we are able to distract ourselves and move on, that's a basic worry versus true anxiety. A true anxiety is something that you can spend hours fretting over, losing concentration over, and possibly losing sleep. If it's starting to affect your daily routine at work or at home, you may have an anxiety disorder and need to seek out professional help.
"We talk to our kids a lot about our thoughts and our feelings being like clouds that are passing by in the sky. We will have a thought or a feeling, and generally that will pass by over time," says Larson. "It's when we are starting to have those constant thunderstorms, those constant clouds that we can't get to move on, that we may need to look for more serious help." This analogy can easily be used with adults to help check ourselves and acknowledge the difference between a passing "cloud" or a "thunderstorm" in your head.
Moms often, more times than not, put their health and wellness on the back-burner to focus on their family first. What are some easy ways that we as parents can cope with our anxiety?
Peck says there's a lot of pressure on moms and parents to be that perfect parent. We see on social media and television commercials how we could do our jobs better, how we aren't doing them well enough. Whether that's buying certain products, throwing the perfect Pinterest birthday party, it just adds up. "First and foremost we must really seek to shift the mindset or change the narrative that worry is okay. It's okay for us to be worried," says Peck. "But how can we take a step back and balance taking care of others with taking care of ourselves? You can't pour from an empty cup."
Larson, who recently took her youngest child to college and became an empty nester, gave her perspective. Her advice is to take the time now to nurture our own interests and relationships so we don't lose sight of who we are after we've completed our goal of raising our children to be independent and take care of themselves. If we don't nurture ourselves now, we could feel lost later, so we need to keep this in mind as guilt arises as we raise young children.
Speaking of mom guilt – what is advice you can offer moms when tackling the mom guilt we deal with everyday?
Peck and Larson say to make it an honest, teachable moment with your child! Instead of spending hours beating yourself up about something, which we all have done, try to take this moment to have an open and honest discussion with your child about your feelings. They are always watching and learning from us, so let them see your vulnerable side. Let them see that you've made a mistake and you're learning from it. If they see us cope and move on, they can learn to adapt as well. And using humor, not taking yourself too seriously, can go a long way, too.
They also recommend taking a break from social media when you need to. "One of the things that feeds our mom guilt these days is social media," says Larson. "When you're scrolling the internet, you're comparing your entire life with one person's perfect wonderful moment, and it can leave us feeling really bad about ourselves. Take a break."
Let's chat about the comparison game. We talked a bit about this in our last interview on how to navigate this with our teenagers. But in motherhood this is so real and raw – especially with the height of social media. How can moms be encouraged and reminded that they are enough?
Building off of what Larson said about guilt and social media, Peck likes to tell moms that when they are in a comparison trap, they need to recognize when they are focused outward and shift to look inward. We will never be the same as the person who posted on social media, so stop, take a moment, breathe, and be grateful for what you do have.
Mini Minds teaches this strategy of mindfulness to parents to help when comparisons start to take over. Instead of getting focused on what we didn't do or what we need to do, ask yourself how you can practice some mindful moments throughout the day. Even in your most chaotic moments, try to pause, take a deep breath, and feel the positivity in any way you can. And another great piece of advice is to not only surround yourself with people who will lift you up, but also be a friend to yourself.
To learn more about Mini Minds and to make an appointment, visit their website here or give them a call at (317) 564-8332.
Thank you for tuning in to our mental health series with Mini Minds!
Don't miss out on Part One and Part Two.
---
Check out the full interview here and learn more about Mini Minds:
---
About Mini Minds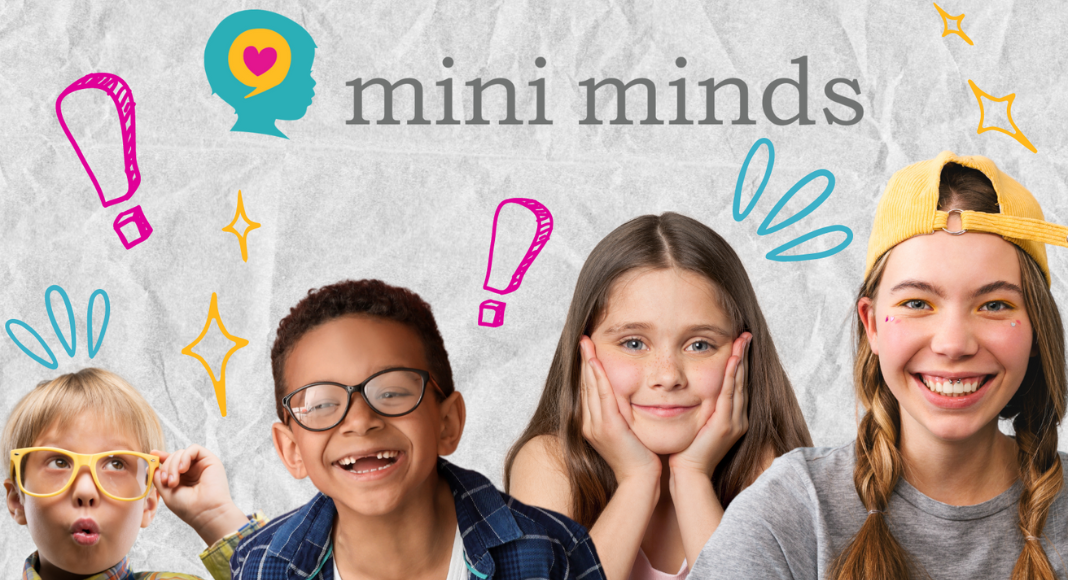 Mini Minds wants to create a culture in your family in which both children and parents actively recognize challenges, seek solutions, welcome change and grow closer. To achieve this vision, they are offering personalized services to meet the needs of each unique child and family using a "whole brain, whole child, whole family" approach. Mini Minds prides themselves on taking the world's latest brain research to develop skills and creating strategies that work for local families.