It's fall sports season! This time of year is when sports begin to fill up our schedules again for the fall season, and in case you need them, Riley Children's Health Orthopedics & Sports Medicine has extended their walk-in hours for kids' orthopedic injuries at Riley Children's at IU Health North to accommodate busy families. We recently connected with John Doss, a certified Physician Assistant with Riley Children's, about tips for preventing an injury this season as well as more information on their extended hours.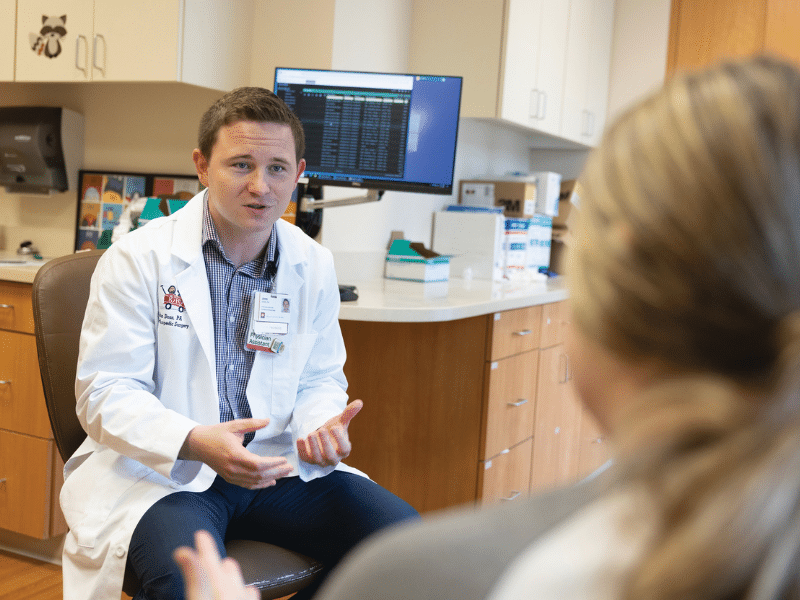 ---
What are the top three tips on preventing a sports injury this season?
Stretching, Warm up, and Cool Down.
Doss says before games and practices, your child should warm up for a minimum of 10 minutes. "Warm ups should include gradual stretching and exercises that replicate movements and motions that will be performed during the game" says Doss. "Cool down should be performed after activity and include proper stretching, hydration, and ice."
Load management.
"Many injuries that we see are from overuse and overactive athletes. It is recommended to vary activities and manage the amount of time spent on one particular sport," says Doss. He elaborates by saying a good rule of thumb is the hours per week should not exceed your child's age. For example, 12 year olds should not exceed 12 hours per week of one particular sport.
Proper technique.
Doss emphasizes that it is important – for every sport – to make sure your child is training in a safe environment that promotes healthy learning. In football, they should learn how to properly tackle. In baseball, they should learn proper throwing technique. In gymnastics and/or cheer, they should learn how to tumble and land appropriately. Many injuries can be prevented when practiced in a safe way, says Doss.
Doss offers a bonus tip as well – your child should listen to their body! If something hurts, do not play through it. It is okay to take a short break if it means preventing a future injury. 
My child was injured last season. What are some ways my child can bounce back after a sports injury?
Doss explains that following a sports injury, the Riley team wants to make sure your child is able to get back on the field, court, pool, or gym as fast and as safely as possible. "First you want to make sure your child has fully healed. Many injuries take weeks and some even take months to fully heal," says Doss. "It is important to rehab either with physical therapy or home exercises. Rehab will help strengthen your body and prevent future injury." Another great point Doss makes is the mental aspect of returning to a sport after an injury. He says to start small and make sure your child has the confidence to safely return. Take time and take care in order to stay healthy for the long run.
What are the most common sports injuries parents should know about?
Sprains – Ankle sprains are the most common, but Doss points out a sprain can be anywhere.

Muscle strains – Hence Doss' emphasis on stretching!

Fractures

Concussions – There is a new concussion recognition tool, free to parents and coaches called CRT6.
Other than sports related injuries, what other types of orthopedic injuries can parents bring their children to the walk-in for?
"Patients will see a pediatric orthopedic surgeon or advanced practice provider for treatment of fractures, suspected fractures, sprains, strains, sports injuries and other acute injuries," says Doss. Sports related injuries or not, your child will be taken care of. For non-urgent needs or chronic orthopedic conditions, their office is happy to schedule an appointment with one of their providers for any orthopedic concerns.
Walk-in services have been a convenient resource for patients and their families for two years. Tell us about Riley Children's new extended hours!
Doss says Riley Children's at IU Health North is happy to offer extended walk-in hours to accommodate work, school, and sports schedules for families. If your child suffers an orthopedic injury within the past seven to 10 days, they can receive same-day access to Riley's highly skilled pediatric orthopedic specialists.
Walk-in care is available Monday through Friday, with the new extended hours being from 9:00 am to 6:00 pm. No appointment or call-ahead is needed.
The office is located on the 5th floor of the IU Health North Medical Office Building at 11725 N Illinois St, Suite 515 Carmel, IN 46032. Call 317-948-2550 with any questions, or visit their website at rileychildrens.org/walkin for more information.
---
About John W. Doss, PA-C
John Doss, PA-C, is an advanced practice provider specializing in general pediatric orthopedics. Born and raised in the Indianapolis area, Doss attended Valparaiso University for his Bachelor of Science in Health Science degree, and received his Master of Science in Physician Assistant Studies, earning Highest Distinction through his master's program. When not treating patients, Doss enjoys traveling, the outdoors, live music, spending time with friends and family, exercising and trying new foods.
Learn more about Doss in his biography on the Riley Children's website.
---

Riley Children's Health at IU Health North provides nationally ranked pediatric care alongside the most highly skilled physicians and nurses in the state. Whether your child needs primary, specialty, inpatient or emergency care, we are here to support you and your family. Learn more at RileyAtNorth.org.