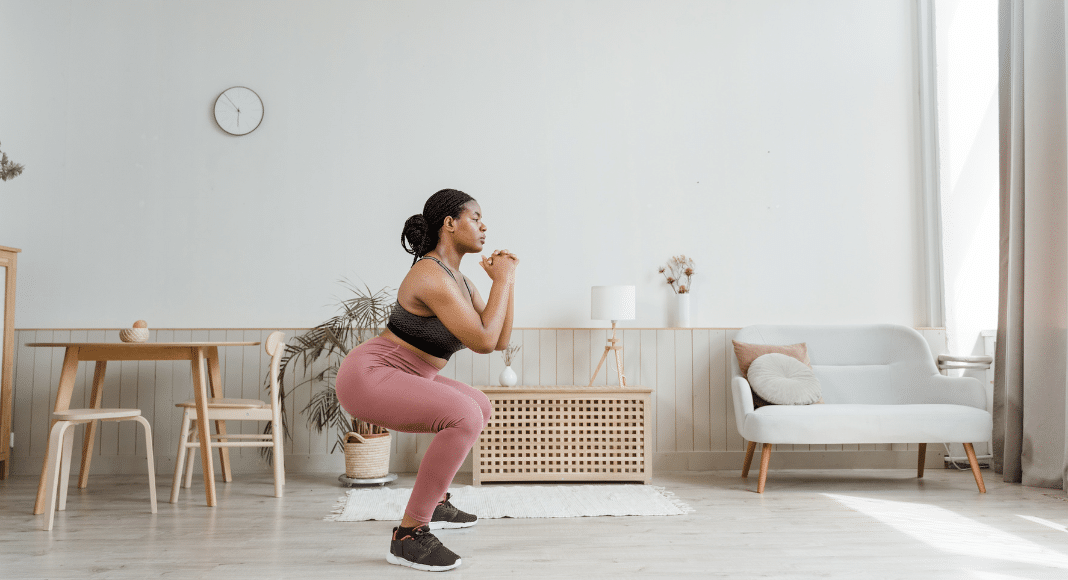 Sweat isn't a problem just in the summer or during a workout for me. After my second baby, I'm sweaty ALL. THE. TIME. It has taken me a couple of years of online searching and trying new products to find a few really good solutions that help me live with my newfound sweatiness, so I thought I would share them in case you, too, are a sweaty mama. Some products help with the stink, while others just help with comfort by preventing chafe. If you have any other products or solutions that have worked for you, please share!
Lululemon Underwear
I was watching an episode of Queer Eye when I realized that 100% cotton actually makes sweat and subsequent chafing worse! I grew up always thinking that I needed 100% cotton underwear or else I'd get "crotch rot" (thanks, mom, LOL), so that's the kind I always went for as an adult, too. What Tan France taught me, though, is that the sweat just sticks there next to your body with 100% cotton – what I needed was moisture-wicking material to help the sweat dry quickly. I had already tried some forms of moisture-wicking underwear for workouts but didn't love the typical brands I found at Target and decided to pull the trigger and invest in what every list on Google for the best moisture-wicking underwear told me to get: Lululemon underwear. I have tried several different types, and they are all lovely! I have found that the thongs are actually best for me, but also like the boyshort pairs when I want more coverage. They certainly do their job and prevent chafing, as well as help prevent odors. I promise you won't regret it.
Lululemon Shorts
Did I use my constantly chafing thighs and bikini line as an excuse to need to purchase my first pair of Lululemon shorts? Maybe. But, was it worth it, and now my favorite pair of shorts? Definitely! I have fallen MADLY in love with the Track That Mid-Rise 5″ shorts at Lululemon. They have great coverage (the back of the shorts are longer than the front, which is very much appreciated), are made of moisture-wicking material, plus have built-in moisture-wicking underwear (which saves on the number of items in my laundry load = WIN). I have worn them to the zoo, on long walks, on the Peloton, you name it, and I've never chafed in them. I seriously own ten pairs, and I wear them on constant rotation from spring through early fall (isn't a pair of shorts and a sweatshirt like THE best early fall outfit?).
Dove Deodorant Spray
Chafing was a major issue for me, but another byproduct of this new sweatiness was stinky armpits. I mean, I smelled as bad with my old school Secret deodorant and antiperspirant as I did when I was pregnant/nursing and using the natural stuff. It just wasn't cutting it anymore. So, again, I turned to Google to find the best and longest-lasting deodorant and found that other women loved Dove Dry Spray deodorant and antiperspirant. Ever since I started using it, I have never turned back! I prefer the Rose Petals scent, but have also used and like the Beauty Finish scent. When I know I'm going to have a particularly sweaty day (outside for an extended period of time, especially stressful, etc.), I'll even spray it along my bra line underneath the ladies as I cross over from one pit to the other.
Lume Cream Deodorant
Lume Natural Deodorant advertised to me on social media, and I was immediately interested because they market themselves as "for more than just armpits," and I was looking for something I could use everywhere if you catch my drift. I did use their deodorant sticks for a while (honestly, until I found the Dove spray that changed my life), but the reason I'm keeping them on this list of must-have solutions is because of their cream deodorant that comes in a tube, and you can put anywhere you have stinky sweat. I usually go with the unscented, but they have many scents to choose from. It really works, and I feel so much more confident when I use it because I know I won't be stinky!
Gold Bond Friction Defense Stick
There are times when I have to dress in "real clothes" (ie. not my Lululemon shorts), and this is when the Gold Bond Friction Defense Stick saved my life. I've even been chafed by the seam on my inner thigh when I wear pants, so I slap this stuff on no matter what I'm wearing and always feel protected!
Spanx Ahh-Llelujah Shorts
These are not your usual Spanx. The Spanx Ahh-Llelujah Everyday Shorts are one-size-fits-all, thin, no-compression shorts to be worn under skirts or dresses to prevent chafing. Brilliant! When I wear a skirt or dress, and I think the Gold Bond stick won't last, I turn to these shorts. I have a pair in the nude color but am washing them once a week, so should probably invest in more.
If you struggle with sweat, stink, and chafing, I hope that reading this article has not only given you some great solutions to live with the sweat but also has shown you that you aren't alone. I thought I was the only one that had to deal with this embarrassing bodily function, but after Googling several questions, I've learned that I'm not alone and that there are several products out there that can help alleviate the negative implications of sweat. I hope this compilation of the best solutions I've found can help you, too!