May is Water Safety Month, and the staff at Aqua-Tots Swim School in Indianapolis are big advocates of water safety for young swimmers. They provide swim lessons year-round for infants to advanced swimmers and want to spread the message that water safety should be top of mind for parents of young swimmers. We recently sat down with the owner of Aqua-Tots Swim School, Lindsay Thayer, to get her expertise on how you and your family can practice water safety, especially as we get closer to the summer season.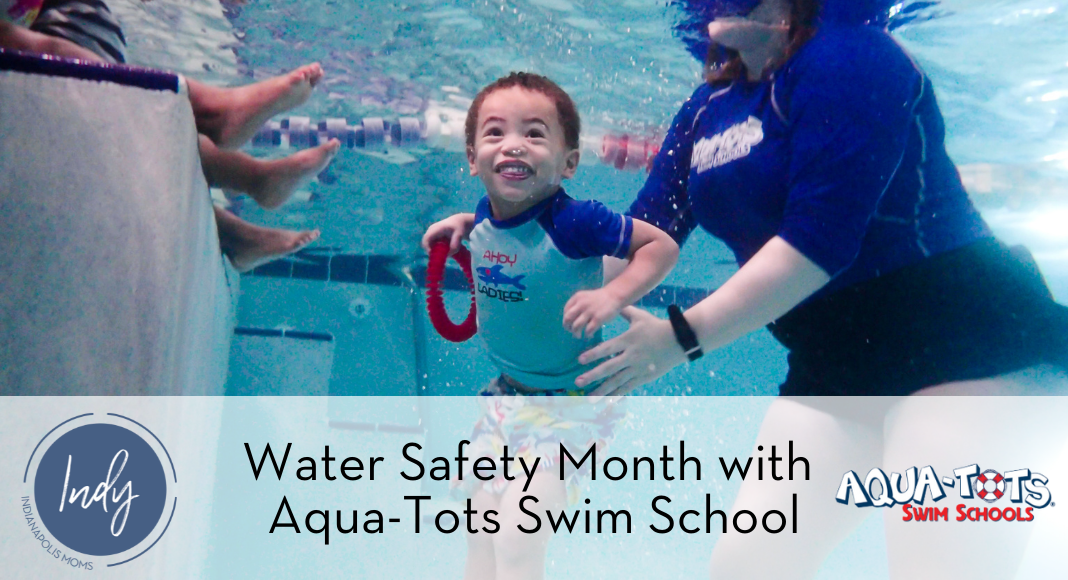 ---
As we previously mentioned, May is Water Safety Month. Why is child swim safety so important, especially this time of year?
"At Aqua-Tots, we are concerned about swim and water safety year-round, so we consider every month Water Safety Month over here," says Thayer. "But, May is the perfect time to really raise awareness around the importance of water safety and how important it is to make sure that you are vigilant around water and that your children are in swim lessons." We are all getting ready for the summer season – being around bodies of water a lot more during vacations, pool time, boat rides, and of course during social gatherings. Aqua-Tots advocates for water safety to be the top priority for parents to avoid accidental death.
Drowning is the leading cause of accidental death in children ages 1-4, and swim lessons can reduce the risk of drowning by 88%.
"I like to compare the importance of swim lessons to the importance of buckling your child up in their car seat," says Thayer. "It's preventative."
What are the top tips for how to stay safe around the water this summer?
Thayer's number one tip, which is common knowledge but so important to emphasize, is adult supervision. "That is the first line of defense," says Thayer. "It is the most important one. I'm talking about parents that are engaged and watching the water at all times when children are in the water." She continues by saying it can be tempting to be on your phone, taking photos of pool fun, or scrolling on your phone while next to the pool, but drowning can happen so fast that we need to make sure we are always supervising.
Her next safety tip is to ensure that all necessary barriers and boundaries are in place for nearby water. Fences need to be intact, gates need to be locked, buckets of water need to be poured out, and even toilet lids need to be closed. Even the little things that may seem insignificant can become a huge deal.
Thayer says drowning can happen as quickly as 20 seconds in only two inches of water. It can happen anywhere.
Thayer's third tip is to enroll your child in swim lessons. As mentioned above, formal and consistent swim lessons can help reduce the risk of drowning. And last but certainly not least, Thayer recommends parents become knowledgeable on how to administer first aid and CPR. Caregivers need to be prepared to act quickly and have confidence in case action needs to be taken immediately.
Talk to us about swimsuit colors – are there specific colors parents should be looking to purchase when buying swimsuits for their kids, especially if they swim a lot in the pool?
Yes – it's important to buy an eye-catching swimsuit for your child that is not camouflaged in the water. "Look for bright pinks, yellows, and greens," says Thayer. "Bright colors that are really going to stand out when we're swimming. That way if there was an accident, we can spot it immediately." As parents, it's natural to look for something fun or cute for our child to wear in the pool or on the beach, but make sure it's bright so a lifeguard on duty or supervising parent can spot a child right away if there is trouble.
Let's talk about swim lessons – what age should children start swim lessons?
According to the American Academy of Pediatrics, all children should start swim lessons at the age of one. At Aqua-Tots, swim lessons begin as young as four-months-old. "In my mind, there is no wrong age to start," says Thayer. "Any time is the right time. Today is the right time. Now is the right time."
In infant classes, they get started by getting comfortable in the water and they begin learning how to be submerged in the water, learning to float on their backs, and learning the basics of breath control skills.
Tell us what you do here at Aqua-Tots to make sure kids are safe in the water?
First, Aqua-Tots teaches babies and toddlers specific safety skills including how to stay submerged in water. "We are pro-submersion here," says Thayer. "It's only going to take a lesson or two for us to make sure that our children are submerged properly and safely." If a child falls in the water, they are going to go under, and it's not something Aqua-Tots takes lightly. A child has to be able to be comfortable going under the water.
Children also learn proper breath control, floating on their back, and their elementary backstroke. Aqua-Tots prides itself on its "chicken, star, rocket" swimming technique for young swimmers. This technique is used when a child falls in the water, they learn how to roll onto their back and use their arms and legs, getting from point A to point B without exerting a lot of energy, and is a great safety skill for children to learn.
If a child were to fall into a body of water or off the edge of the pool, they learn how to turn their eyes, swim safely to the pool edge, and climb out independently. Thayer says it's important they get that strength with their arms, elbows, and bellies to propel themselves out of the pool, especially if they are not near stairs.
Do you recommend all levels take swim classes? What do advanced swimmers learn at Aqua-Tots?
Yes! Aqua-Tots does recommend young swimmers continue with classes. Once your child graduates through their level six class, they are considered a "confident and safe swimmer in life." They also teach advanced skills, adding upon skills that have already been learned through their level six class.
Level one begins as young as 4 months old with levels one and two being parent/tot classes. Once a child moves up to level three, they work through safety skills independently. From there, skills progress with streamline and freestyle arm strokes. By level 6, young swimmers know freestyle, backstroke, rolling from front to back, swimming across a pool, breaststroke, sidestroke, and treading water. Beyond that is refining all the skills previously learned. To learn more about the different class levels, click here.
---
Check out the full interview here and learn more about Aqua-Tots:
About Aqua-Tots Swim School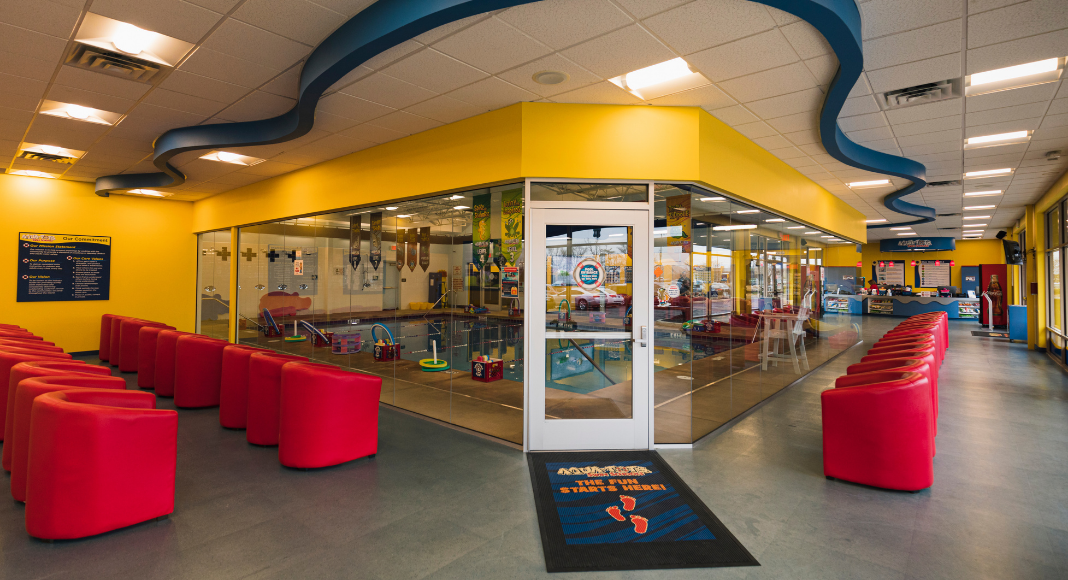 It all started in a pool, but not one of the indoor, 90° pools that tots have come to love over the last 29 years. Our mission began in a community pool in Tempe, Arizona, where one teenage lifeguard taught one single lesson, and a dream was born. The mission at Aqua-Tots Swim School is to save lives by teaching children all over the world how to become safe and confident swimmers for life. When you step through the doors of Aqua-Tots, you may notice our year-round, indoor, 90° pool, the comfy red chairs in our viewing area or the fully stocked changing room, but what you'll feel is a place of community, of belonging. Because at Aqua-Tots, you're more than just another family. You're OUR family.