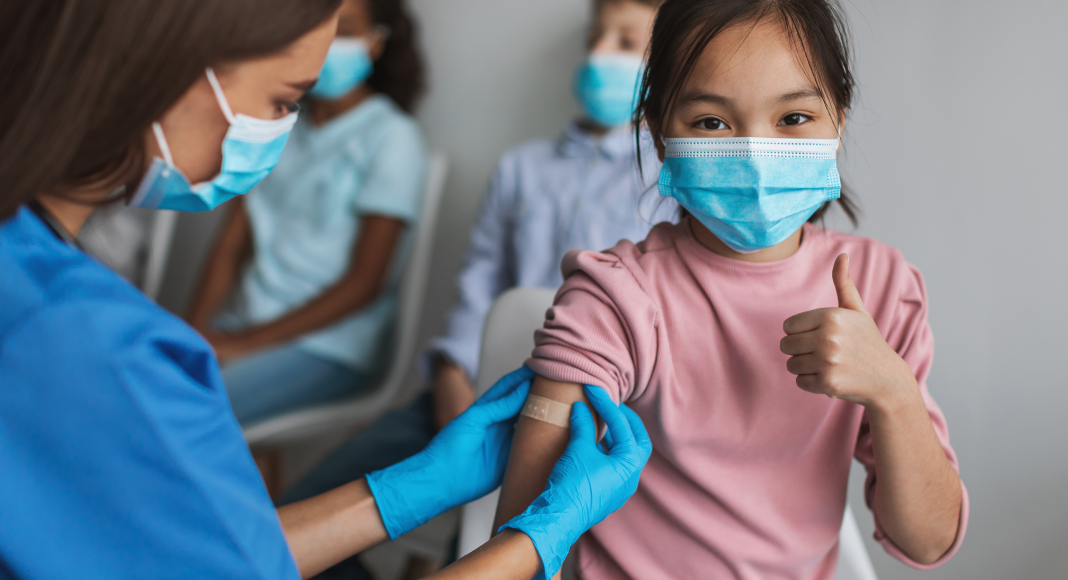 As we continue to live during a global pandemic and more information comes out about safety guidelines for you and your family, you may have some lingering questions. So we recently polled you and found that many Covid-19 vaccine questions overlap among families! We discussed these questions with Dr. Danielle Zerr from Seattle Children's Hospital and here are her answers about the COVID-19 vaccine for children ages 5-11.
Should unvaccinated children remain masked up, even among vaccinated company? Could you provide some insight on that?
"It's important to keep in mind that masking is an important step that you can take in protecting yourself, your family, and kids from COVID." says Dr. Zerr. "And what you can do is use the CDC website, it has a new tool that shows you your whole community's transmission rates." She continues by saying using the website will help you make the right decision for your family and if you still have questions, Dr. Zerr recommends checking in with a trusted healthcare provider.
As a follow-up to that, several parents asked, can we go about normally after young children are fully vaccinated, i.e., no masks?
Dr. Zerr says, "I think what's going on in your community should inform your decision-making. So that tool I just mentioned can be super useful to know how much COVID is in your community and whether it makes sense for you to mask up, even after being vaccinated." 
How safe and effective are COVID vaccines for children?
Dr. Zerr says COVID vaccines are safe and effective. "Over 26 million kids have been vaccinated so far and we continue to accumulate information on that. Vaccines continue to be monitored and what we know is that it is probably the single most important thing that you can do to protect yourself and your children from COVID-19."
Can children get natural immunity against COVID instead of that provided by vaccines?
"We don't really know how an individual child might respond to the COVID infection itself," says Dr. Zerr. Overall, the vaccine gives more reliable protection. "So rather than rolling on natural infection, I recommend that people get their children vaccinated as soon as they are able to." 
Another question a lot of families had – should we be concerned about COVID vaccine side effects for kids, including the risk of myocarditis?
"The risk of myocarditis is very rare following vaccine. COVID-19 itself has a much greater risk of myocarditis than vaccination," says Dr. Zerr. "After vaccination, some kids won't even have side effects. The kids that do have side effects, the most common side effects are things like a sore arm, a headache, maybe a fever for a day or two. The symptoms after COVID, the infection, can be much more severe and last quite a bit longer. In my mind, it is really clear – vaccination is the way to go."
Should my child be vaccinated even if they already had COVID?
"Yes, we do know that COVID can offer some level of natural immunity protection, but we're not sure how long exactly that lasts," Dr. Zerr says. "The protection from the vaccination is much more predictable." She continues by explaining that those who have had infections and are vaccinated have a much higher level of protection. Both the CDC and the American Academy of Pediatrics recommend that all children be vaccinated as soon as possible whether or not they have had the infection. 
If you have any children of your own, what vaccination decision did you make and why? If you don't have children, what have you told your friends and family members about vaccinating their children?
Dr. Zerr says, "I have two young adult children and they are both vaccinated. This was easy for me because the data is so clear that vaccination is the best way, the best step that you can take to protect yourself and those you love from COVID-19."
Listen to the full interview here: