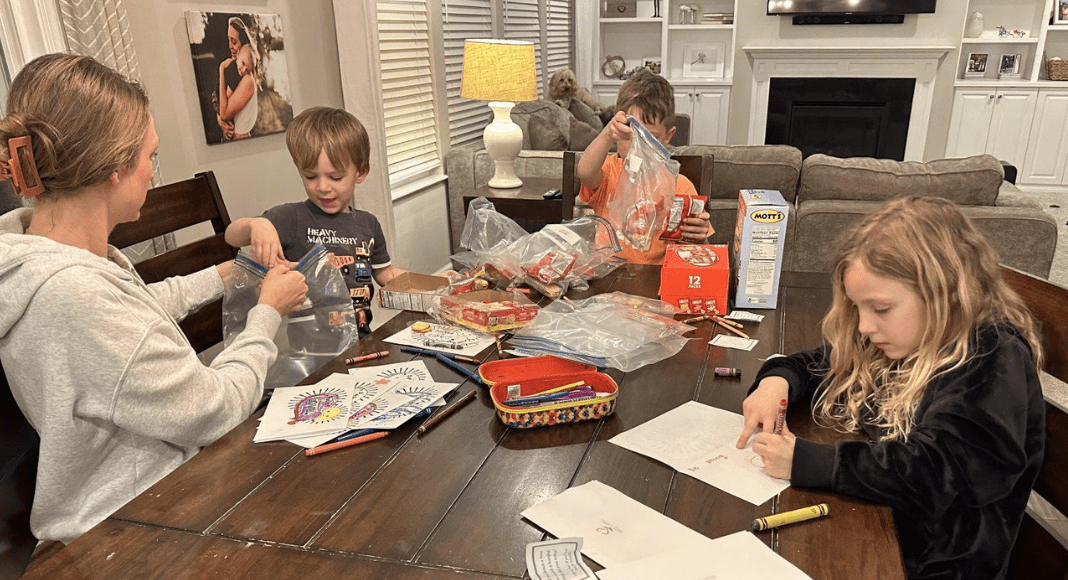 We all want to raise our kids to be kind. We yearn to see them show compassion, lend a helping hand, and grow up to be upstanding members of their community. With that said, exactly when and how do we find ways to give back? Volunteering is so rewarding (and important!), but finding the right opportunity for young families can be tricky.
When a colleague introduced me to a new non-profit organization in the Indianapolis community, Seeds of Caring, I knew I was onto something great. Seeds of Caring empowers kids ages 2-12 to create a kinder, more connected community with their hearts, hands, and minds. They do so by offering Anywhere Projects, which are able to be completed at home and include education about community needs (e.g., unhoused neighbors and food insecurity) that help kids grow their social-emotional learning competencies. With this community involvement, Seeds of Caring is able to provide material donations to over 15 nonprofits in the Indianapolis area, and they're just getting started.
Our Experience
Upon registering for Seeds of Caring's current service project, Snack Packs with Ronald McDonald House Charities & Ascension St. Vincent House, a service packet containing everything I needed to know arrived in my inbox. It included a short supply list (Ziplock bags, crayons, snacks) as well as a curriculum for me to follow, tailored to young helpers. We simply collected our supplies, printed the short curriculum pages, and picked an evening to jump in as a family.
The Snack Packs service project invites volunteers to create snack packs for families of hospitalized children staying at the Ronald McDonald House and Ascension St. Vincent House. These packs provide families with a thoughtful, hand-written card and a quick bite to eat as they travel back and forth to the hospital and navigate the toughest of times.
Explaining to the kids what we were going to do and why naturally sparked great conversation. They wanted to know all about the RMHC and Ascension St. Vincent House and how soon their gifts could be there. We sat them down at the table (well, two of the three stayed seated), and I simply worked my way through the conversation prompts. Watching their hearts and minds stretch as they showed empathy for these families was very special. We created cards, made a family assembly line for snack packing, and that was it! Days later, they're asking if our snacks have been delivered and how else we can help.
Get Involved!
Families with kids ages 2-12, as well as groups such as classrooms, sports teams, clubs, etc., are all welcome. The Seeds of Caring – Indianapolis inaugural project, Snack Packs with RMHC & Ascension St. Vincent House runs now through April 30th. Simply register to receive your service packet, complete your project, and plan for a porch drop-off April 28-30th at a Seeds of Caring ambassador home.
New Anywhere Projects will open for registration each month! For more information:
Visit the Seeds of Caring – Indianapolis website.
Sign up for the Seeds of Caring monthly newsletter.
Follow Seeds of Caring – Indianapolis on Facebook, Instagram, and LinkedIn!