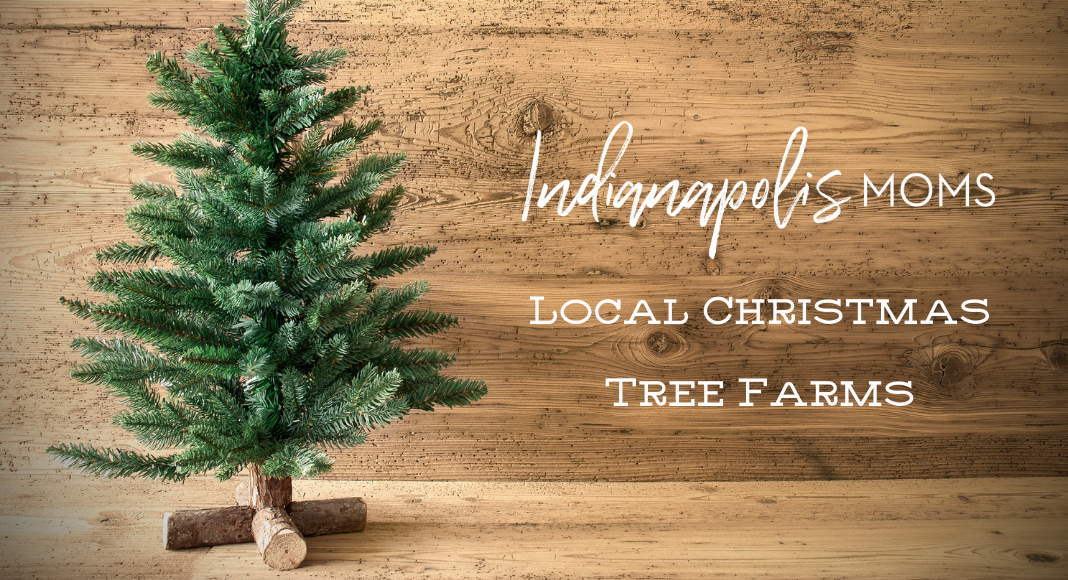 Tis the season to start celebrating the holidays! If you are looking for a real tree and want to make it an experience for your family, then a tree farm may be just what you are looking to do! We have rounded up a few of our favorite Indianapolis Christmas tree farms for you to venture out to and enjoy with your family. Be sure to check their websites for opening day information!
---
Dull's Tree Farm – 1765 W Blubaugh Ave, Thorntown, IN 46071
Located between Lebanon and Franklin, Dull's Tree Farm is a family favorite! This year, their opening day is the day after Thanksgiving on Friday, November 25th from 9:00 am to 6:00 pm and families will not have to reserve a time to visit the farm. They are opening up more trees than ever this year and hope to have enough trees to last into the third weekend of their season. The staff of Dull's will shake and bale your tree for you, and if you need assistance tying your tree, staff is available in the parking lot to help. Get the latest news by signing up for their newsletter here.
Located on the north side of Traders Point Creamery, the Watts Christmas Tree Farm will open the day after Thanksgiving, November 25th. Their website has an easy step-by-step process listed out on how to get your new Christmas tree at their farm, as well as how to care for your tree. They offer netting for easy transport and a nice cup of hot chocolate by their outdoor fire pit.
Opening Thanksgiving day this year, head to Lost Forty Tree Farm for your new Christmas tree. Trees are grown on this local and family-owned farm and you choose a tree and cut it fresh when you are there. Loaner hand saws provided as well as chainsaws are welcome.
Sambol's Tree Farm is a full-service Christmas tree farm offering both "choose and cut" trees growing in their field and pre-cut trees are available. They will have a limited amount of trees to cut in the field, so plan ahead. This year, they have pre-cuts available November 19th and 20th – no appointment necessary! If you come during their traditional Opening Day on November 25th, please note you will need an appointment for the 25th and 26th.
Piney Acres Farm – 1115 E 1000 N, Fortville, IN 46040
Piney Acres Farm has 73 acres with many different styles of trees. Their opening day is Saturday, November 19th at 10:00 am. You can choose and cut trees that are your style, grab a guide map from the farm store, a saw from the barn, hop on a hayride and head out to the zone of your choice to find your perfect Christmas tree. Once you and your family cut down your tree, a hay wagon will be back around to bring both you and your tree back to the cozy barn and farm store. They also have pre-cut trees available for you to choose from. And a special treat this year – Santa will be visiting the farm!
Head to Evan's Whispering Pine for your "choose and cut" Christmas tree! According to their Facebook page, they have about 150 tagged trees available. They will begin their season the day after Thanksgiving on November 25th. Make sure to check out their gift shop, as well.
Trees from Dehart will open their Christmas tree season the Friday after Thanksgiving on November 25th, and they will be open on Saturdays and Sundays until Christmas day. Tree sizes range from 4 to 9 feet to cut yourself and start at $40.00. At that price you receive free hot chocolate, candy canes, wagon ride, tree saw to use, tree shook, tree drilled, tree bailed, tree bag, and twine to help secure the tree to your vehicle. They also offer precut trees up to 16 feet with prices starting at $60.00. Heads up – they only accept cash or check!
Jay's Tree Farm –

755 East Joppa Road,

Mooresville, IN 46158
A family-owned business, Jay's Tree Farm is located west of Indianapolis and features Scotch Pine, White Pine, Canaan Fir, Douglas Fir, and Fraser Fir trees. They can help you cut your tree or support you doing it yourself with saws and carts to cut your tree. They also supply twine to tie your tree. Their full services include cutting, shaking, wrapping, loading the trees, and drilling the bottom of the trees for specific trees. And while your tree is being processed, you can enjoy a free cup of apple cider. You can also buy a cup of hot cocoa and cookies for charity. In addition to trees, they sell drill stands and fresh-made wreaths to hang for the holidays!
Share with us! Where do you get your Christmas tree?