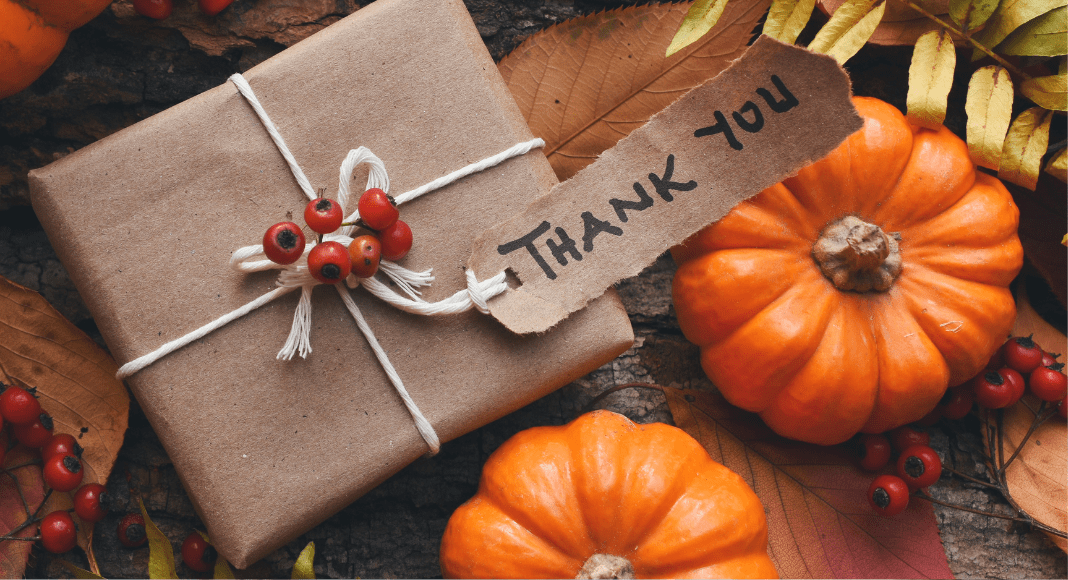 You might call me a Grinch or a fun-squasher, but listen up: Do not rush me past Thanksgiving. I love Thanksgiving, and I get thoroughly annoyed by how Christmas celebrations and decorations encroach on this November holiday every year. Before we move on to the merry-making, gift-giving, sweet-eating season of Christmas, I value and welcome the chance to focus on gratitude–to save good food and time around the table, and to remember how many gifts surround us. I'm not sure if it makes sense, then, that one of my favorite Christmas traditions is actually a Thanksgiving tradition.
Of course, I'm not a total Scrooge! When Santa makes his way down 34th Street to close out the Macy's Thanksgiving Day Parade, I also feel ready for the joy and magic of the Christmas season. And so I began thinking of ways to bridge the gap between Thanksgiving and Christmas–give each their due, lean into the celebration, and signal to my kids that this is a special time of year. 
Kendra Adachi (aka The Lazy Genius) has talked on her podcast before about the value of creating "opening ceremonies" for your holiday seasons. The opening ceremonies are an event, tradition, or other activity that signals to your family, "The holiday season is starting now." It's a way of marking time, of indicating that this upcoming season is different from the rest of the year. Just like the opening and closing ceremonies at the Olympics help create a sense of fanfare and celebration, an opening or closing ceremony to the holidays can help us celebrate well. In that podcast episode, she says, "The problem with moving from one season to another, one holiday to another, one season of life to another is that we have our feet in two different camps most of the time. Part of us is trying to be present where we are, and the other half is overwhelmed by what's coming." I resonated with this struggle and knew a Thanksgiving tradition could be the perfect opening ceremony, but I struggled to figure out what it could be.

Around the same time, I found myself wishing for some new Christmas ornaments. Back in 2010, when the time came for our first Christmas as a married couple, my mom sweetly took my husband and me to Hobby Lobby so we could pick out a bunch of ornaments for our first Christmas tree. Neither of us grew up in homes where we had ornaments to take with us into new homes, so we were starting from scratch. But now that my kids were old enough to help decorate the tree, I found myself wishing that more of our ornaments were the personal, storytelling kind rather than the big-box store kind. I don't care so much about my tree becoming a beautiful, Pinterest-worth decoration; I'd rather it be a home for our stories and memories.
That's when it hit me: the perfect way to bridge Thanksgiving and Christmas, to fill our tree with meaningful ornaments, and celebrate the beginning of the Christmas season.
Before the kids go to bed on the night of Thanksgiving, they open a small wrapped present: a new ornament. I try to choose something that represents something we experienced that year or that they love. One year, they each got a felted dinosaur. Another year, they each got their initials. This year, I ordered them each a custom donut ornament–noting and celebrating our family's obsession with the sweet breakfast treat. (Shh–don't tell!)

Stores like Target, Hobby Lobby, and World Market have all sorts of fun ornaments that would work for this, but I've taken to searching on Etsy. Whatever your child's obscure obsession or your family's funny story from that year, you'll find an ornament on Etsy that fits the bill. And if not, plenty of makers are ready to make custom ornaments of all kinds if you're willing to pay a little bit more. (With three kids, I try to keep this tradition on the cheaper side.)
We've been doing this Thanksgiving tradition for about five years now. I am not great at establishing routines or traditions, but this is so simple! It requires minimal time or money–just a little bit of thought at a time when I'm already planning for Thanksgiving. I love that it adds an element of predictability and anticipation to Thanksgiving (beyond the food), and I love that when the kids go to bed on Thanksgiving night, their minds and hearts are full of joyful anticipation of the Christmas fun to come.
Every year, we mark the end of fall and the beginning of the Christmas season with a simple exchange of three ornaments. And one day, my kids will each have a collection of ornaments to bring into their homes. In the meantime, our Christmas tree is slowly but surely becoming full of stories and memories, a time capsule of sorts to the people we have been as individuals and as a family. It's the perfect Thanksgiving tradition.