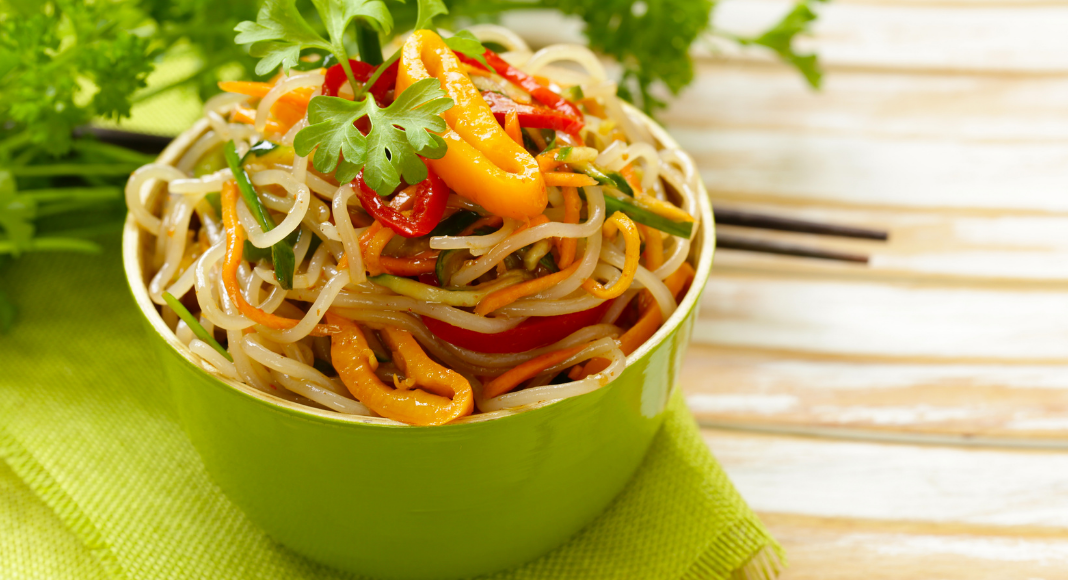 I have been seriously slacking in the "healthy eating" department lately. Now that I'm going back to work, I'm making it a priority to meal prep for my lunches so I don't fall into the habit of going out to eat. This Asian Noodle Salad is so delicious! It's packed with fresh veggies and is tastes amazing even if it is cold. It's the perfect recipe to add to your lunch rotation. Added bonus? My one-year-old loved it too! But, if you've been following along for all of my What's Cooking Wednesday recipes and Instagram reels, you know he eats literally anything.
Ingredients You Will Need:
For the Dressing:

1/3 c soy sauce
1/4 c brown sugar
2 tbsp sesame oil
2 tbsp rice vinegar
1/3 c olive oil
1-2 tbsp Thai sweet chili sauce
2 cloves garlic, minced

For the salad:

1 package rice noodles
1 package coleslaw mix
1 medium cucumber, cut into bit size pieces
1/2 onion, chopped
Let's Get Cooking:
First, make your dressing by simply dumping all of the ingredients into a blender. Process and blend until the ingredients are combined. Then just set this aside.
Prepare the noodles according to package.
While your noodles cook, chop your cucumber, onions and other other vegetables you plan on adding into the salad. You can also give your coleslaw mix a rough chop if you prefer smaller, bite size pieces. Add all your veggies to a large bowl.
Once the noodles are done, add them to the vegetables into the large bowl.
Next, add the dressing to the bowl and toss everything to combine.
Place your salad in the refrigerator to chill. This helps all the deliciousness from the dressing really marinate into the noodles and veggies.
At least you, you can serve and enjoy!
This Asian Noodle Salad is clearly going to be a simple and tasty lunch staple in our house for a while! What are your go-to lunches to bring with you to work? Drop a recipe in the comments!