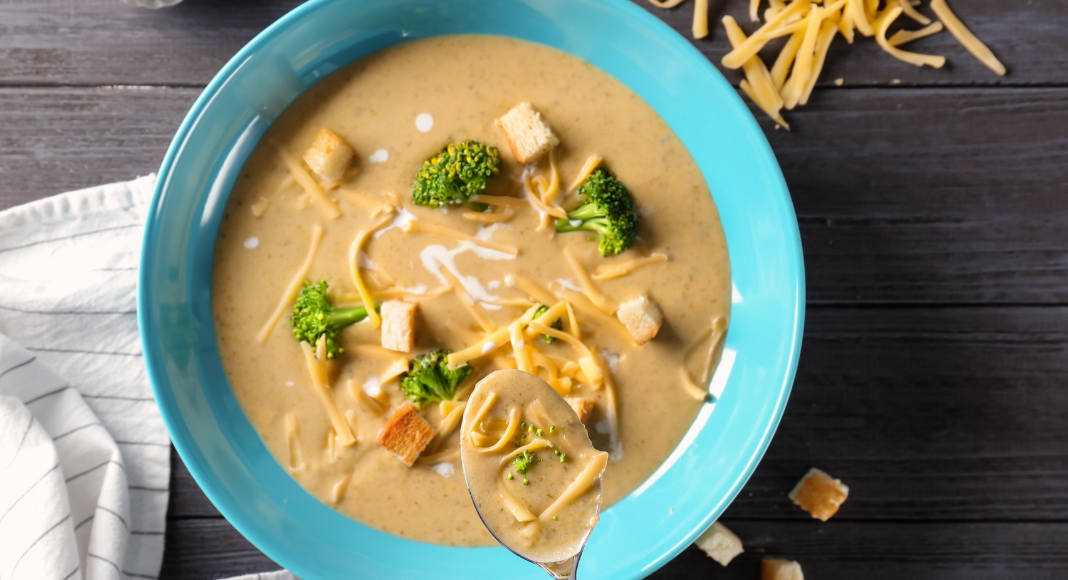 For many Fall means Pumpkin Spice Latte season, but to be honest, I'm in the small minority that think PSLs are gross. To me, Fall means SOUP SEASON! I frickin' love soup. Noodle soups, creamy soups, veggie soups… I love it all! With the temperatures starting to drop this week, this Broccoli Cheddar Soup with Lentils is the perfect recipe to add to your lineup.
This is the first time I've tried sneaking in lentils and it was so good! Adding lentils adds tons of nutrients to the soup like B vitamins, potassium, iron, fiber and protein. My kids didn't even notice anything "different" about the soup and ate it up! If you don't like lentils, or you don't want to risk this recipe with a picky eater, just skip the lentils and use 1-2 c less broth.
Ingredients
2 tbsp butter
1 onion, chopped
3 tbsp flour
6 c vegetable broth (1.5 cartons)
1 c lentils
5 c broccoli, chopped into small pieces
12 oz evaporated milk
2 c shredded cheese*
Seasoning (I used salt, pepper, mushroom umami, parsley, garlic powder)
Let's Cook:
Heat butter over medium heat until melted. Add onion and cook until translucent, 3-5 minutes. Add flour and stir to coat.
Add broth and lentils. Bring to a boil, then lower heat to a simmer and cover. Cook for 10 minutes.
Add broccoli, cover and cook over medium heat for another 15-20 minutes, or until broccoli is cooked through.
Add in evaporated milk and cheese. Stir to combine and cook for another 5 minutes, uncovered, until cheese is melted.
Add in your favorite seasonings.
Enjoy! Serve alongside crusty bread (my favorite is an Amelia's baguette) or biscuits (try my buttermilk biscuit recipe!) to make it a meal.
*TIP: You'll want to take the extra step and shred the cheese yourself for your Broccoli Cheddar Soup. This will ensure the cheese melts properly for the ultimate texture. Bags of pre-shredded cheese contain a coagulant to prevent the cheese from sticking together, thus making it harder for it to dissolve properly when melted.