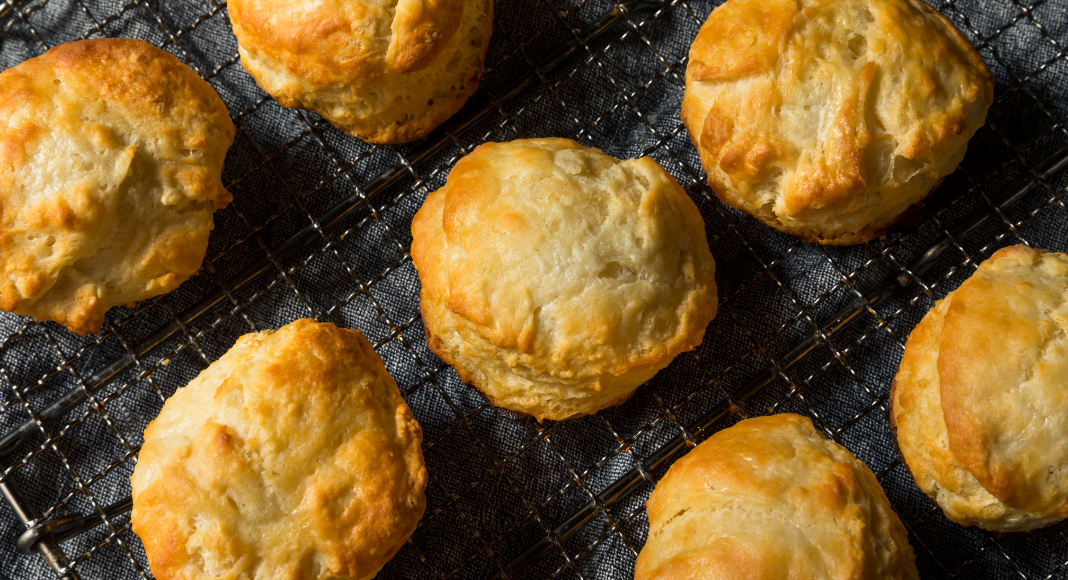 In my house, carbs are life. And while I'm not picky how I consume said carbs, I have a special place in my heart for biscuits. We eat biscuits for breakfast, lunch and dinner! Normally, I just use the canned biscuits from the doughboy himself. But today I decided to tackle a homemade version I've had pinned for awhile. I was drawn to this recipe because they're for freezer biscuits! So you make a bunch of homemade buttermilk biscuits at once and pop them in the freezer for easy use later.
This recipe yields about 16 biscuits. If you'd like to create a bigger stash, you can easily double the ingredients!
Ingredients
4 c all purpose flour
2 tbsp baking powder
1 tsp baking soda
1 1/2 tsp salt
2 sticks butter, cold (or even frozen if you plan ahead of time)
2 c buttermilk (or 2 c whole milk with 2 tbsp lemon juice)
Directions
Combine flour, baking powder, baking soda and salt.
Using a cheese grater, grate butter into dry ingredients. (Dredge the butter stick in your flour mixture every now and then so it doesn't stick to your hand.)
Stir in the buttermilk. The dough should be moistened and tacky. If it's too dry/crumbly, add more milk. If it's too wet, add more flour.
Transfer dough onto a well floured surface and pat the dough down into an 8" rectangle.
Fold the dough into a letter (section into thirds, folding the bottom third up and the top third down). Do this twice and finish by patting down the dough to 1" thickness.
Cut out 3" circles and place biscuits on a well floured baking sheet. Freeze solid. Once frozen, transfer to a freezer-proof baggie.
To bake, take biscuits out of oven and bake at 375 degrees for 20-25 minutes or until the tops are golden.
Here are some tasty suggestions for meals that you can use this biscuits for too! (And that's assuming you don't just eat them slathered with butter because sometimes I just use biscuits as an excuse to eat butter…)
Meal Ideas:
-Breakfast Sandwiches
–French Toast Casserole (biscuits need to thaw first)
–Classic Chicken and Biscuits
–Meatball Sub Bubble Up Bake (biscuits need to thaw first)
–Skillet Apple Pie Dessert Biscuits
Notes:
Here are a few tips and tricks I recommend after having made the actual recipe:
I used parchment paper on my table because my table is farmhouse style with slits in between the boards, which is not ideal for flouring the surface. The parchment paper was also clutch for easy clean up! But, make sure you tape it down before you turn the dough out onto it. I didn't do this at first and it was super messy and frustrating!
Take off any rings before working with the dough. Seriously, trust me on this one.
Unlike the canned store bought biscuits, I like that these homemade buttermilk biscuits have less sodium, no sugar and no preservatives. But, they were also super messy to make. I guess if I do make them again, I'll double the recipe to make it worth the mess because they can be a lot of work!