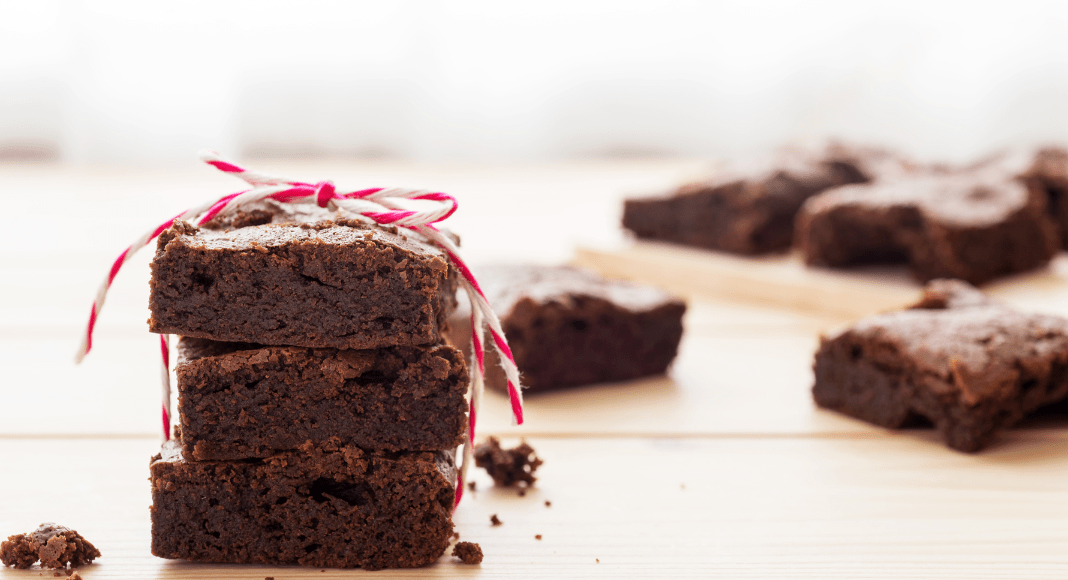 While I personally believe every day should be filled with chocolatey goodness, today, it's especially true. Why? December 8th is National Brownie Day! 
The origin of the brownie is not without controversy. Some believe the delectable dessert originated in 1893 with wealthy socialite Bertha Potter Palmer, whose family owned The Palmer House Hotel in Chicago. Mrs. Palmer asked the hotel's chef to create a dessert guests could take while enjoying the Columbian Exposition. As a result, the chef whipped up a dense, chocolate cake-like creation topped with walnuts and apricot glaze. (You can still enjoy this treat at the Palmer House Hotel or make your own at home using their recipe.)
Others credit celebrity chef and Boston Cooking School instructor Frannie Farmer, who published a recipe in the 1896 Boston Cooking-School Cook Book called brownies (although this treat contained no chocolate). And still, others claim the dessert came from the kitchen of an unknown Bangor, Maine housewife in the early 1900s. The legend goes that the housewife's chocolate cake fell flat, but she cut it into squares and served it anyway. (Moms – figuring out a way to make it work since, well, forever.) 
No matter the origin, brownies are beloved by adults and children alike. And while brownies from scratch are always delicious (my favorite recipe is here, and a great vegan option is here), there is absolutely nothing wrong with a box mix! With just a few ingredient substitutions and some creativity with toppings and mix-ins, you'll have a dessert worthy of a national celebration. 
How to Level Up Your Box Brownie Mix
Use butter instead of oil

. Most box mixes call for oil, but I highly recommend using the same amount of melted butter. The butter gives the brownie a richer taste yet a lighter texture. And I just generally believe you can never go wrong with more butter.  
Use milk instead of water

. Similar to butter, using milk results in a more decadent brownie. You could even use buttermilk or cream if you want to go all out. 
Add a splash of vanilla

. Vanilla gives a box mix just a hint of homemade that you can't quite put your finger on. 
Add espresso powder

. If you happen to have espresso powder hanging around, a teaspoon or two will bring out the flavor of the chocolate but won't make your brownies taste like coffee. (Cold coffee, you know, that one in the microwave you forgot about, can be used in place of water and serves the same purpose as espresso powder.)
Add a pinch of salt and/or sprinkle on top

.

Sweet and salty? Always a winning combination. 
Ideas for Toppings and Mix-Ins
Peanut Butter Cup Brownies

– Chocolate and peanut butter are my kryptonite. With the time you save using a box mix, I highly recommend whipping up this

peanut butter frosting

. Want to go really crazy? Mix in some peanut butter chips and/or chopped up Reese's Peanut Butter Cups into the batter. 
Candy Brownies

– Speaking of candy, there are infinite combinations of chopped sweets you can mix into the batter. M&Ms, Snickers, Rolos, Butterfingers … maybe even all of the above!?!
Turtle Brownies

– Top your warm, out of the oven brownies with chopped pecans and caramel sauce (like

this salted one

from Trader Joe's). 
Boozy Brownies

– After baking, lightly drizzle your brownies with bourbon, Bailey's, or your favorite liquor, and then place them in the fridge to set. Take it up even another notch by adding a couple of glugs of the same alcohol to some frosting!
Trail Mix Brownies

– Throw your favorite trail mix ingredients into the batter, like crushed pretzels, peanuts, M&Ms, and dried fruit.

S'mores Brownies

– Mix mini marshmallows and Golden Graham cereal into the batter. When the brownies are almost done, sprinkle additional marshmallows on top and allow them to melt.

Mint Chocolate Chip Brownies

– While the brownies are still warm, cover the top with Andes Mints and allow them to melt. Smooth over the top and allow to cool before serving.