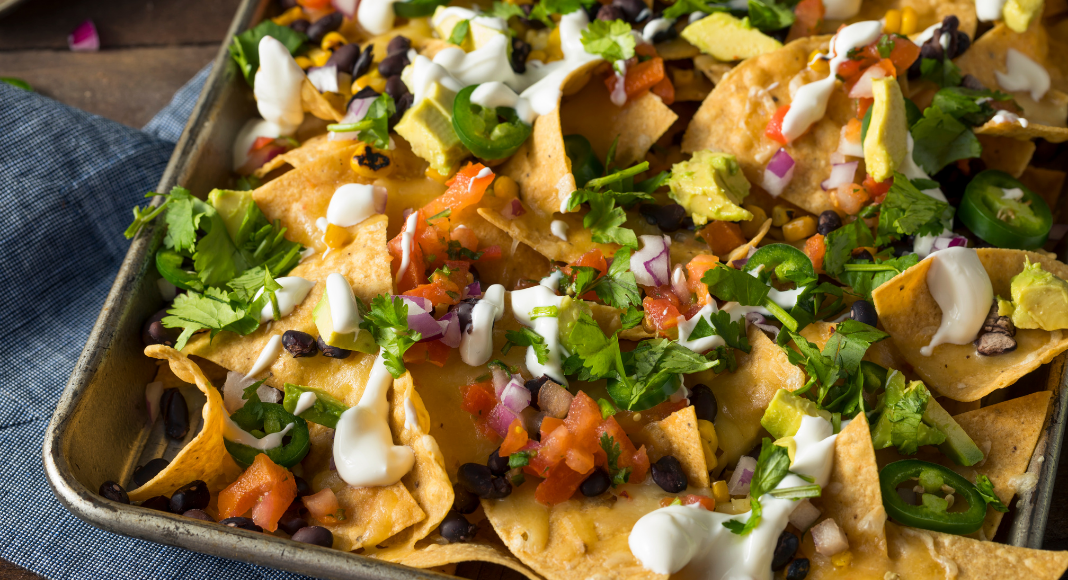 Do you ever get into a rut with your dinners? Hi. Welcome to my life. I love cooking, but I don't always have the energy. And you know what? That's ok! These simple Sheet Pan Nachos are a super easy and totally customizable meal. It's the perfect dinner for those nights where you're standing in front of the fridge or pantry and thinking okay, now what?
You truly can use anything you have at home, just load up your pan and bake!
Your Must Haves:
toritilla chips
shredded cheese
sheet pan
foil (optional) but it makes things a lot easier when it comes to clean up!
Ingredient Ideas:
Tomatos
Black Olives
Refried Beans
Corn
Black Beans
Jalapeños
Shrimp, Shredded Chicken or Steak, Ground Beef
Green, Yellow or Red Peppers
Directions:
Preheat your oven to 350.
Put a layer of your favorite tortilla chips down onto the pan and top with whatever you like! Tonight, I used sharp cheddar, frozen corn, black beans, shrimp and jalapeños. This is why they are such a meal. You can top with any and everything!
Next, top with two layers of shredded cheese. A light sprinkling right on top of your chips and another as the last layer will help keep all your yummy toppings in place.
Bake in the oven until the cheese is melted. But don't walk away from the oven, this part can go fast! It only took me about 5 minutes. (Tip: Turn on the broiler for a few seconds to get the cheese extra melted and crispy!)
You can top with salsa, guacamole or sour cream once they are cooled from the oven for extra flavor. Added bonus? Put a hot pad down on your table and serve them straight from the tray. Anything that requires less dishes to clean is a win in my book.
Oh, and don't forget the margarita 😉 Cheers!
What's your "must have" topping for nachos?