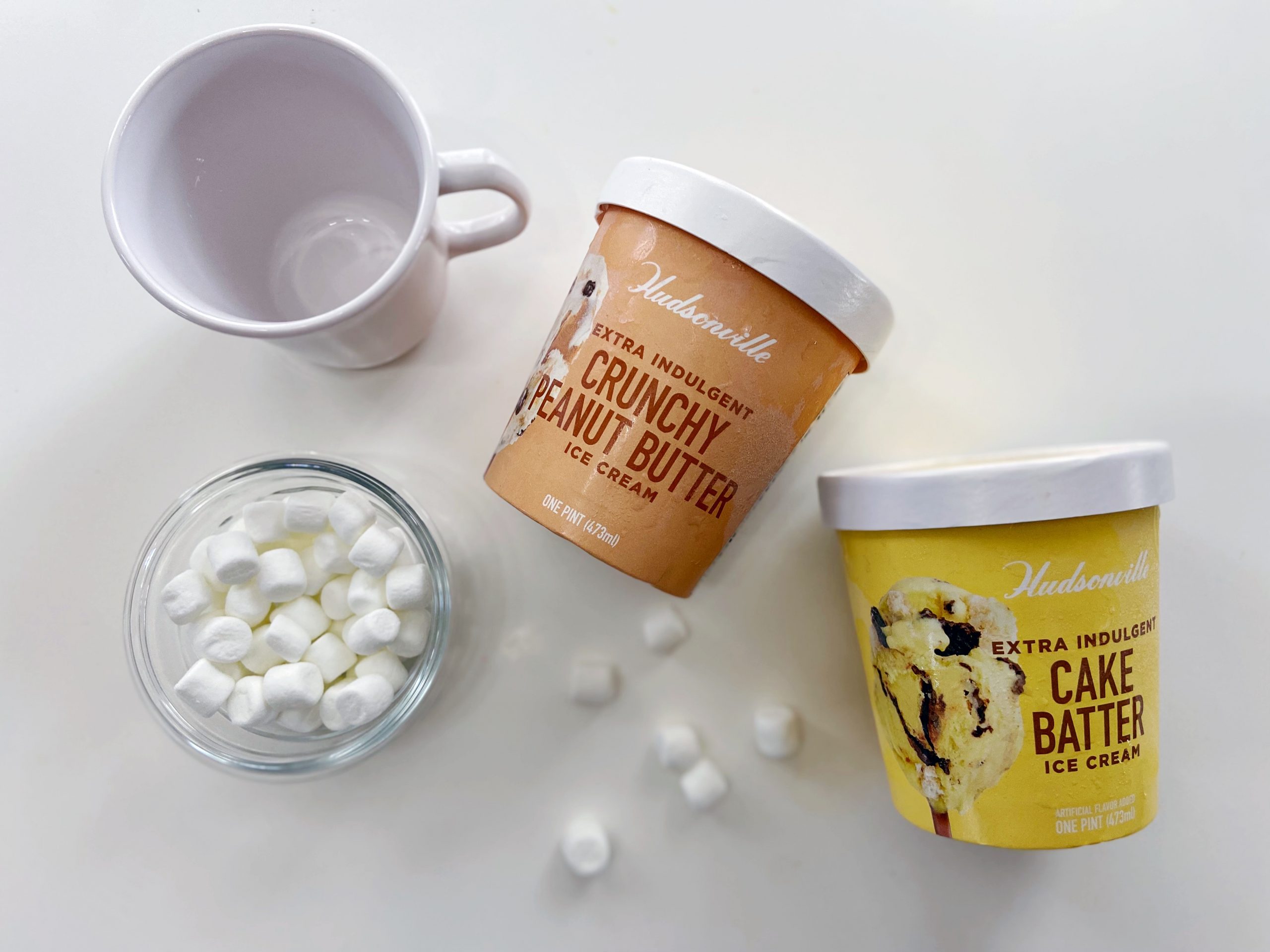 As soon as the winter weather hits, hot chocolate quickly becomes a staple in our house. The moment the kids drop their backpacks at the door, they are asking for a cup of cocoa to wind down from their long day at school. Paired with a bowl of buttery popcorn, hot chocolate is the ultimate snack during the cold weather season! And of course there must be all the good toppings – whipped cream, sprinkles and marshmallows too. But after treating the kids to some hot chocolate bombs the other day, I had an idea to make our own but with a twist. What if I made Ice Cream Hot Chocolate Bombs with our favorite Hudsonville Ice Cream flavors? Hudsonville Ice Cream is focused on making moments sweeter, so I knew this recipe would be the perfect way to sweeten these special moments with my family!
When I started thinking about it, I realized that this Ice Cream Hot Chocolate Bomb recipe is pretty simple and there are minimal ingredients needed. I had a few pints of the Extra Indulgent Hudsonville Ice Cream flavors – Cake Batter and Crunchy Peanut Butter. (But it would be just as delicious with Hudsonville Creamery Blend Vanilla or the holiday favorite Peppermint Stick too! Hudsonville has a wide variety of flavors – there truly is something for everyone!) I started by scooping the softened iced cream and from there I added a few mini marshmallows to the middle so that when the bomb melted, each cup would be left with a little surprise. Simple yet fun and delicious!

Ice Cream Hot Chocolate Bombs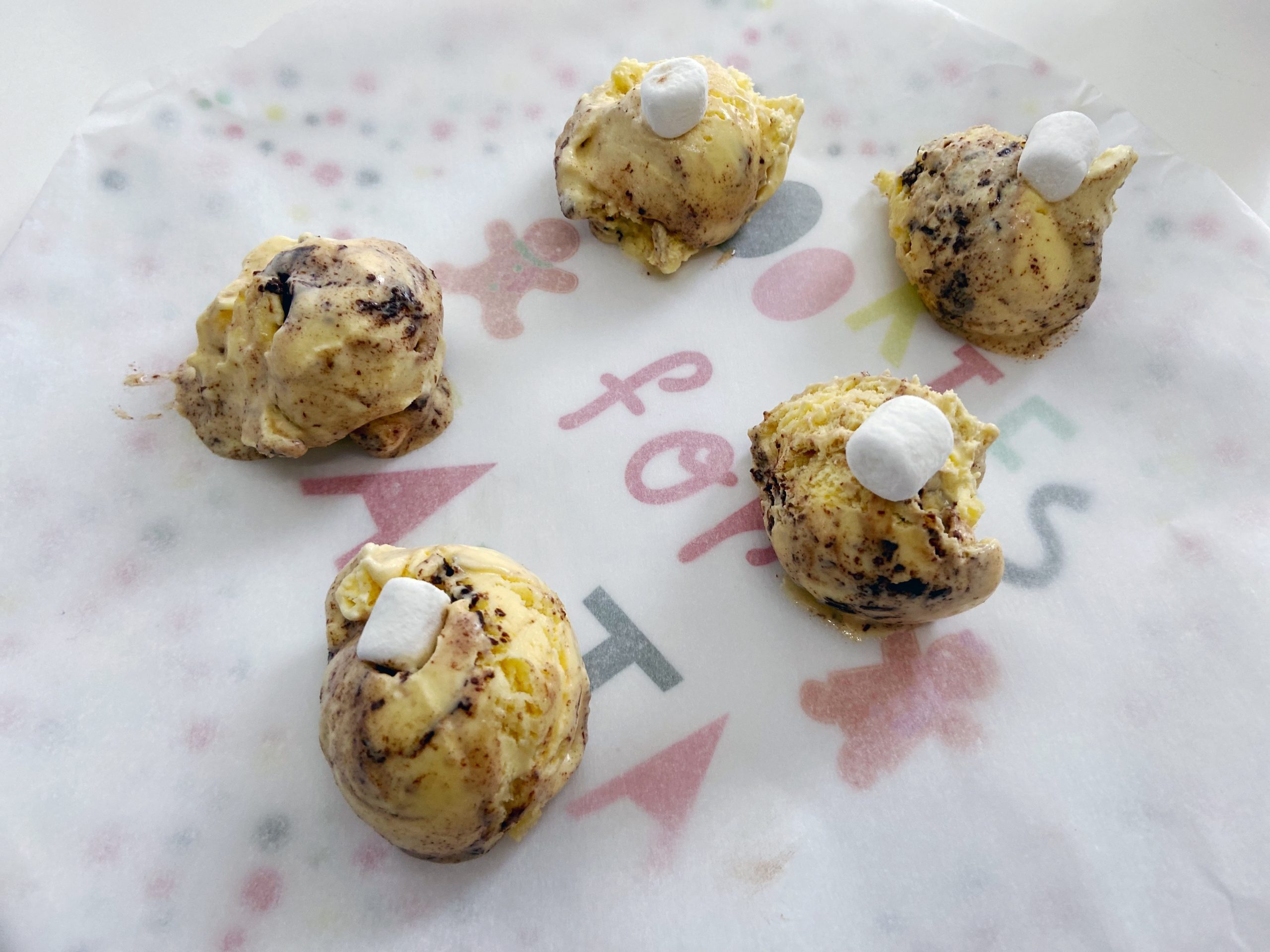 You'll Need:
Your favorite flavor of Hudsonville Ice Cream (We recommend Extra Indulgent Cake Batter)
Mini Marshmallows (optional)
Parchment Paper
Reusable Storage Containers that are freezer safe
Here's how to make them:
Set your ice cream out to soften. (Approximately 5-10 minutes) You want it to be easy to scoop and roll but not too melty that it won't make a ball.
With an ice cream scoop, roll your ice cream into a 2 inch ball. (Optional: Add a mini marshmallow or two into the middle of your ice cream ball!)
Place ice cream balls on a sheet pan lined with parchment paper and set in freezer.
Freeze for at least 2 hours before enjoying. Tip: You can transfer them into reusable storage containers for easy story once they are hard.
Remove from the freezer and place into a steaming hot cup of hot chocolate. Watch them melt and enjoy!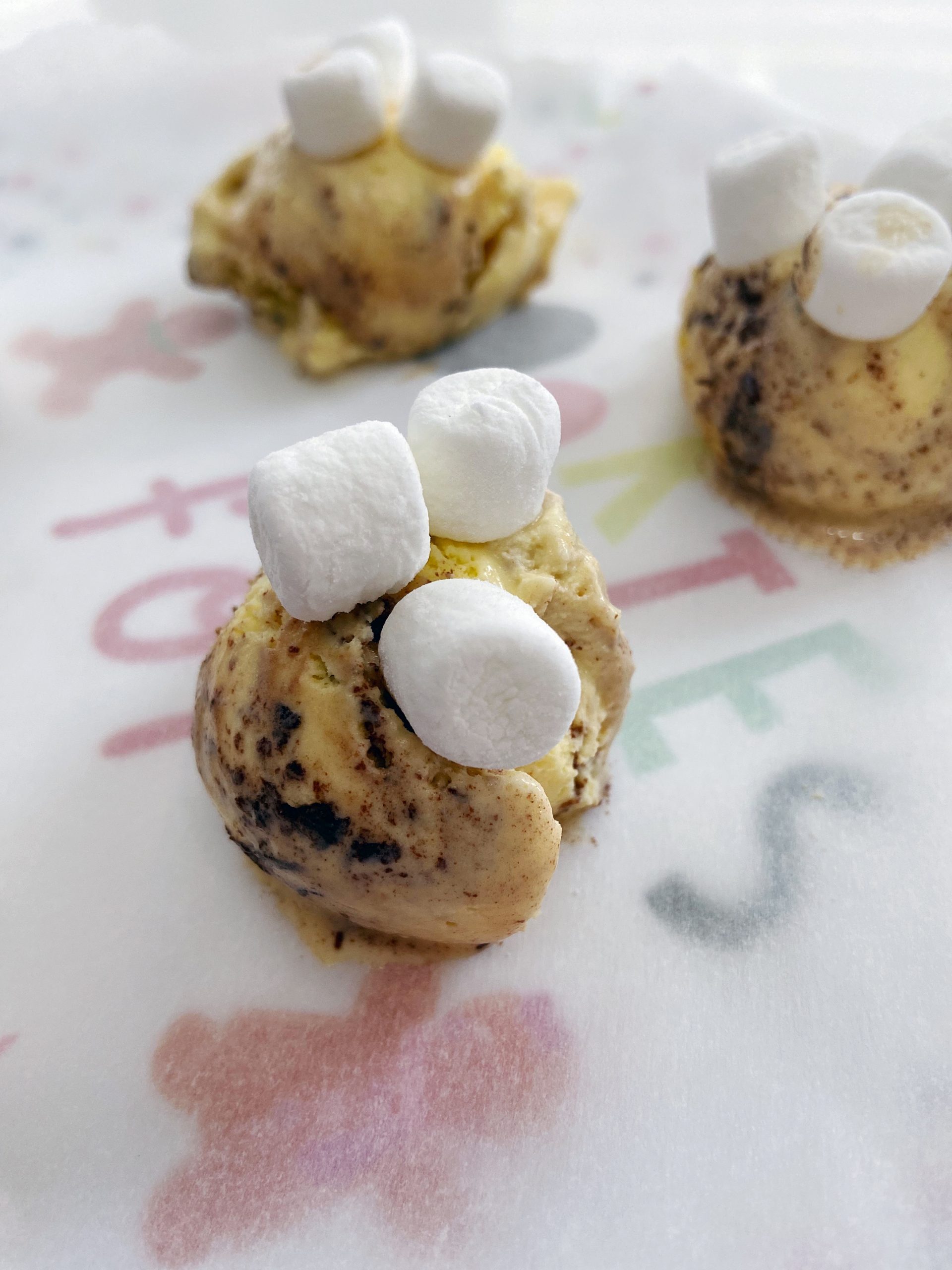 This recipe is so easy to make that I was able to whip up a big batch of bombs before the kids got home from school. I made sure they each had a steaming cup of hot chocolate waiting for them as they walked into that door. My kids were thrilled to try out these Ice Cream Hot Chocolate Bombs! Just drop one into your cup and watch it melt away. The creamy Hudsonville Ice Cream made their cocoa extra rich and absolutely delicious. Since the ice cream was so cold, it quickly cooled down their drinks which allowed them to drink them up quickly too. And I even have several leftover ice cream bombs from this batch that are frozen and ready for after school for the next weeks ahead!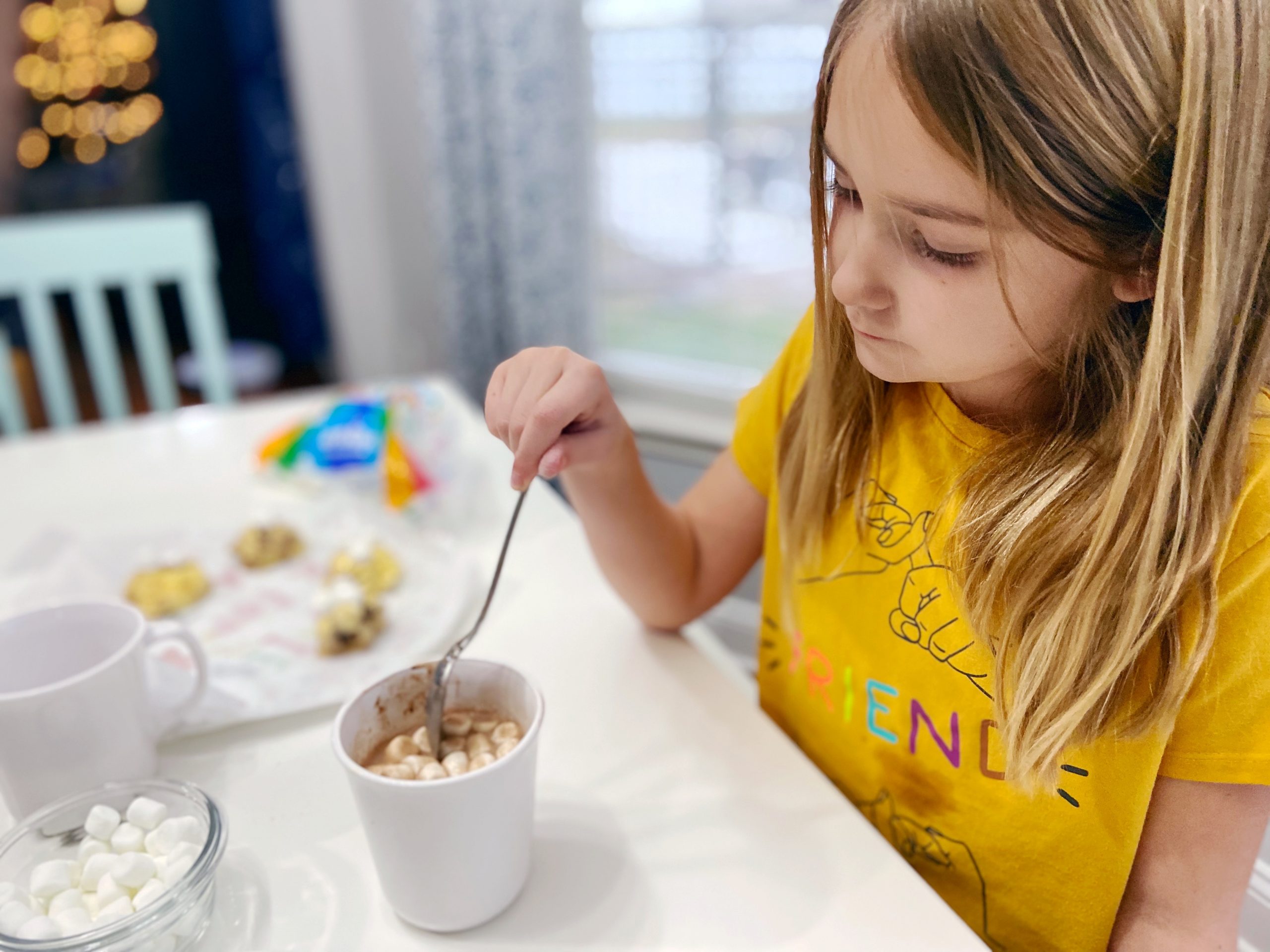 I love being able to create sweet moments for my kids with special treats. It's not often that I can find one that they all enjoy but these Ice Cream Hot Chocolate Bombs hit the spot! And Hudsonville Ice Cream is always the sweetest way to add an extra dose of cheer to those special moments.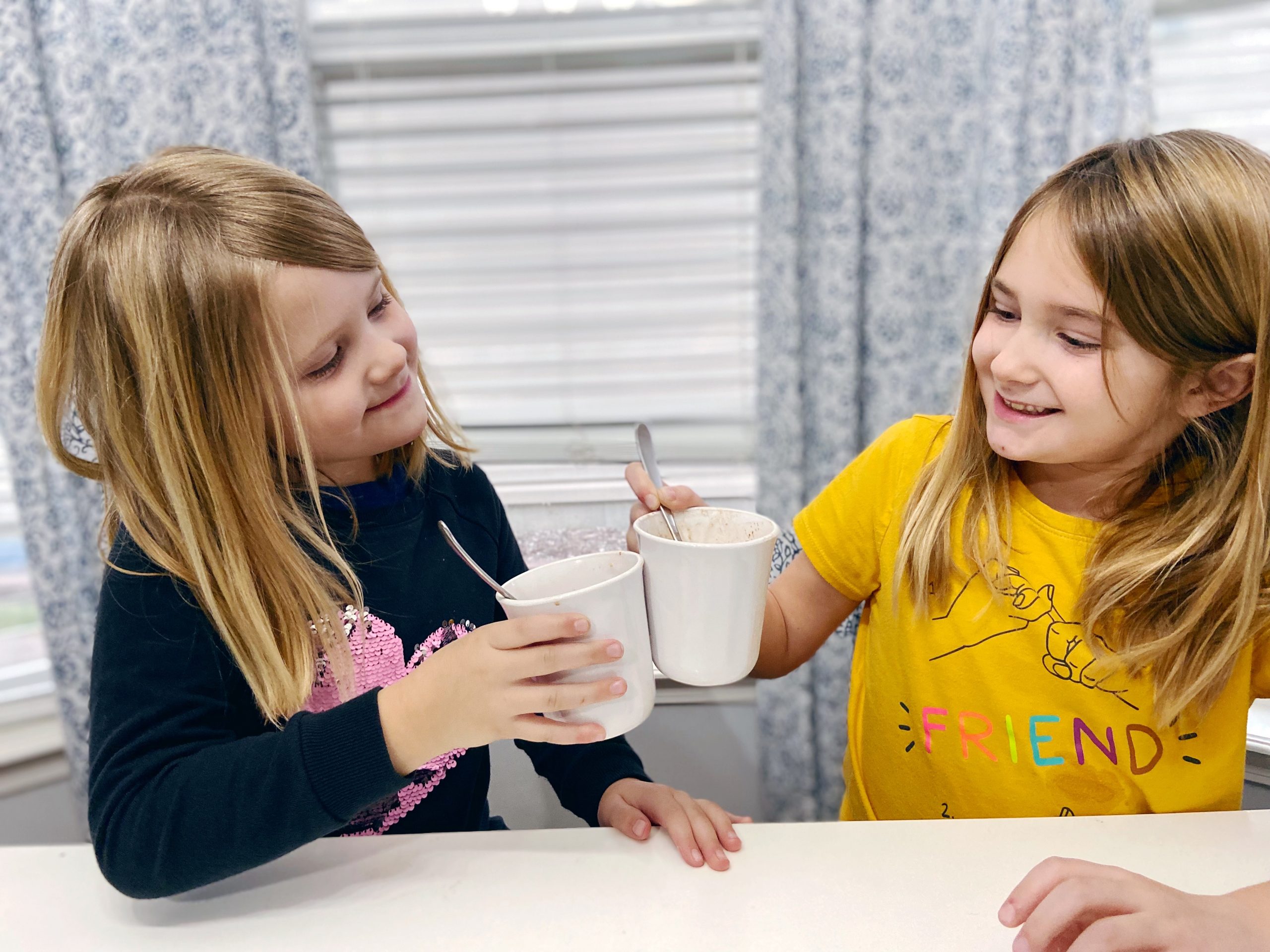 ---
About Hudsonville Ice Cream
Hudsonville Ice Cream is about more than just ice cream. For them, it's all about making life a little sweeter. It's about the feeling you get, the experience you have, and the people you share a scoop with. Their Midwest creamery has been perfecting the art of ice cream making for 95 years. While they enjoy creating creamy, delicious and exciting new flavors, many of their ice creams use a base recipe that was created back in 1926! With more than 50 flavors to choose from, including the world's best French Vanilla and Dairy Free options, Hudsonville Ice Cream has options for everyone to enjoy.