As a wife and mother of two toddlers, I have really grown to appreciate my best friends. They have been my best friends since practically day one of college, 14 years and counting.
Our memories began during our college days at Indiana State University in Terre Haute.
We were the best friends pledging a sorority, Zeta Tau Alpha, together even though we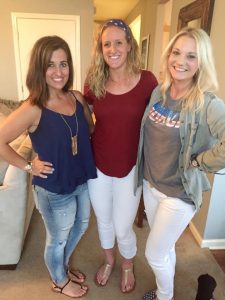 swore we would never join. We were the ones dancing the late nights away at our favorite hangout. We were the ones pushing mattresses together so we could have a huge slumber party in the living room the night before we graduated.
Over the years, our memories have looked much different from our memories in college.
We were the best friends standing next to one another as we said, "I do". We helped each other get through the role of "bride-to-be" by wiping away the happy tears while also listening to the overwhelmed voice that is sorting through a tidal wave of details to make that day absolutely perfect.
We were the ones who were the first to know of a positive pregnancy test. Every time was like the first time. The joy, the butterflies, the excitement, the unknown. Along with our family members, we received every update through the process of welcoming our little miracles and then became some of the first people to meet and hold our new babies.
And now, we make new memories.
Now, we are the best friends keeping each other together as we embrace each day of motherhood, married life, and being thirty-something. We are the ones asking for advice on how to cover a picture of a turkey to look like a cupcake for preschool. We are the ones asking for potty training advice. We are the ones joking around because our husband's clothes didn't make it to the hamper again, I mean it is right there.
Now, we are the ones sending pictures of coordinating outfit choices for family pictures. We are the ones who wouldn't miss one of our child's birthday parties, and who put such careful thought into the perfect gift.
Now, we are the best friends who have a group text message chat together that is pinned to the top of my messaging app on my iPhone. There are rarely any moments of the day when there isn't a new text message to read or GIF to laugh at. Our current favorite GIFs are from Schitt's Creek. We are convinced that there is a David Rose expression or quote for every moment of parenting.
Now, we are the ones who will never expect an apology for our children when they are just simply being children. We are the ones who watch in awe as our once little babies grow into being the best of friends.
I am so thankful for my best friends, the women who have seen me at my best, and picked me up from my worst. They praise my successes while advising and loving me through my struggles. Let's be honest, marriage can be hard. Motherhood can be hard. Relationships can be hard. Life in general can be hard. All are so beautiful in their own ways, but at times we struggle to find solutions, patience, next steps, etc. These women help keep me grounded without judgment.
I always knew Samantha Jones had it right."We made a deal ages ago. Men, babies, doesn't matter. We're soulmates." (Sex & the City 2)