National Animal Shelter and Rescue Appreciation Week honors those hardworking individuals who bridge the gap between an uncertain past and happily ever after for millions of animals each year in November. It takes a bevy of dedicated staff and a massive volunteer network to keep Animal Shelters and Rescues moving forward with the valuable work they do.
Negative connotations and common misconceptions abound when it comes to animal shelters and rescue animals. The first iteration of an animal advocacy group was founded in 1866 when the American Society for the Prevention of Cruelty to Animals (ASPCA) was formed. For more than 150 years, animal shelters and rescues across the nation have played a pivotal role in keeping all animals in communities safe and healthy. Choosing to adopt a shelter pet can be a rewarding, cost-effective method to bring the love and companionship of a pet into your family.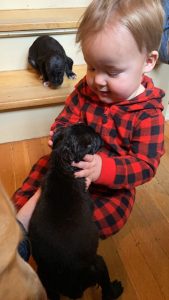 Have your heart set on a purebred dog? Good news! Data from Best Friends Animal Society shows us that more than 25% of dogs in Animal Shelters and Rescues are purebred! Of course, you would be remiss to count out the companionship and quality of a mixed breed dog either!
When you adopt a shelter pet, you save more than the life of the animal you adopted; you save the life of the animal who is able to take that animal's place at the shelter. Adding a furry family member to your household is not a decision to be taken lightly. I've personally fostered more than 60 dogs in my home, so I'm glad to share my helpful hints and preparation tricks to set you up for success when adding a new canine family member to your home!
Before you adopt from an Animal Shelter, your whole family needs to have an honest conversation about your lifestyle and your wants and needs for a pet. For example, if you are more of a homebody looking to snuggle on the couch in the evenings and on weekends, a high-energy Border Collie may drive you crazy. Live in a smaller abode? A 150lb Mastiff may not be best suited for your space. Know your breed and do your research before making a final decision. Even if you've had your heart set on adopting a Siberian Husky since you were a child, you may find that a husky's excessive shedding and occasional penchant for escaping don't jive with your unfenced yard and pristine white furniture. If taking daily walks in all weather across all four seasons doesn't sound appealing to you, a cat may be a great option for your family too!
Prepare your home for your new family member, and get your gear set up before you adopt! A crate and/or a pet bed provides the den that a dog instinctively craves for safety and security. You will also need a sturdy leash and a collar with identification tags that include your personal information. Food, treats, dishes for water and food, and toys are helpful. A cat or kitten will need a litter box or two throughout your house. Don't forget to seek out a vet so you can begin a lifelong relationship with your pet's healthcare provider. Research training classes if adding a dog of any age to your home, as these are important in bonding and relationship-building with your new pet.
Now that you've laid the groundwork, it is time to visit your local animal shelter with the whole family! The hardworking animal shelter staff will serve as part matchmaker, part knowledgeable resource as you work together to find a shelter pet who will be the perfect fit for your family. One major advantage of adopting from an Animal Shelter or Rescue is that the dog or cat will have already been spayed/neutered, microchipped, and received most if not all age-appropriate vetting included in the adoption fee. (See? I told you adopting a shelter or rescue pet was cost-effective!)
Ask thoughtful questions as you meet the animals available for adoption. Think back to your lifestyle, needs, and wants and ask yourself, "Does this pet fit what I am looking for?" Take your time, as animal ownership is a lifetime commitment! You may even want to take 24 hours of consideration before finalizing your decision.
Once you're ready to make the adoption official, complete the animal shelter's requisite paperwork and take your new furry family member home. We all know how stressful it is for humans to move into a new home, so please remember that this stress is even more for animals. Give your new pet space and time to explore and settle into their new happily ever after with you. Radiate calm and positive energy and be reassuring to your pet. Devote time each day for training and play. A tired dog or cat is a happy dog or cat. Congratulations on adopting a shelter pet and changing an animal's life for the better, forever!
Animal Shelters and Rescues are vital resources for our local communities and serve millions of animals in need each year. As a dedicated volunteer of an animal rescue myself,
I speak for all animal rescue and shelter staff and volunteers when I ask that you celebrate National Animal Shelter and Rescue Appreciation Week by choosing to adopt, not shop! Another fun way to celebrate this special week is to send a current photo or two along with an update to the shelter or rescue you adopted your pet from to show them how the pet is doing. Everyone loves a fun Happy Tail showcasing an adopted shelter pet thriving with a loving family.
Bonus Resource: The Humane Society of the United States has partnered with one of my favorite animated talking dogs on PBS Kids, Martha Speaks, with more great ideas for ways for your whole family to be a friend to animals and animal shelters in your community!