Please join me in spending this Pet Remembrance Day in reflection of all the furry souls who have touched our hearts.
I fell down the rabbit hole of animal rescue about six years ago as a young, single woman who'd spent a lifetime yearning for a dog and who'd just purchased a home of her own. Out of my own altruism and a need to fulfill my unruly lab puppy's energy requirements, I responded to a desperate plea on Facebook looking for a foster home for an injured dog at a local shelter who would be euthanized if a rescue to take him on wasn't found. This led me in a direction that has blessed me with several furry souls to honor on Pet Remembrance Day.
This isn't my first experience grieving the loss of an animal; we'd just put down the family cat not long before I started fostering. I'd lost the requisite childhood pet goldfish. Even after these past years of volunteering with a dog rescue and having more than 60 foster dogs come through my care, I had not faced the loss of a dog in a way that brought about genuine grief. Of course, we'd had to make a few difficult decisions in the rescue over the years, but I'd learned to steel myself against the sadness and keep pushing forward.
But the other day, I got a text that stopped me in my tracks.
The amazing forever family, who adopted a former foster of mine named Bud, wanted to let me know that he had crossed the rainbow bridge this morning. My eyes welled with tears as I sat in my car in the Target parking lot, reflecting on his life. He lived a lousy 9 years with an owner who let him roam the town. He'd been picked up as a stray quite a few times and he'd been hit by a car and injured at least twice from what I discerned from his medical records. He was finally dumped at the shelter at 9 years old and severely arthritic because his owner "no longer wanted to mess with an older dog" as was written on his shelter paperwork. There he waited.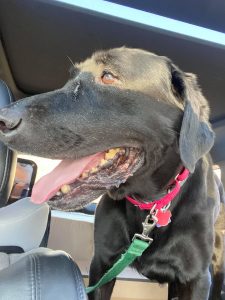 Love of Labs Indiana, where I volunteer, was asked to take him and I talked my husband into agreeing to foster Bud since he was older and allegedly low energy. We'd never fostered a senior before so we knew it would be a new adventure. I drove to New Castle, Indiana and picked him up from the shelter. He weighed close to 90lbs and couldn't even get into my SUV by himself.
Our two dogs, Izzo and Wyatt, and then-6-month old son Harrison didn't quite know what to make of him since we usually fostered puppies and energetic, often unruly teenaged dogs. I quickly realized he couldn't traverse stairs…any amount of stairs…so I had to lift him up and down every time he needed to go outside. Not wanting him to sleep alone his first night in a strange new place, I carried him up the stairs. I'm not sure who laughed harder at the sight of me trying to lift a 90lb dog up the stairs, me or my husband. Just as Bud started to settle in, everything changed. A global pandemic of COVID-19 hit. The world shut down right before our eyes.
As so much in the world seemed to be going wrong, Bud's life was sure on the upswing. He had several benign tumors removed.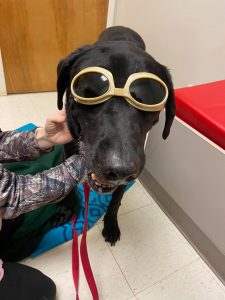 He got laser treatments, ample pain medication, joint supplements. He finally learned to traverse stairs with ease, which my back appreciated. He learned to play with Izzo and Wyatt, in his own old man way, bouncing and barking next to them as they wrestled each other. He loved to lay in the sun and take naps with them. He loved following his human foster sibling, Harrison, as we all watched him learn to crawl. We spent the first month of quarantine together.
I realized how well he was healing and that he was ready to seek an adoptive family on the day that he decided to escape an ajar door one afternoon, as captured by our doorbell camera, and went for a nice long walk. He walked right up to a neighbors front door and demanded to be let in by way of his signature, big, deep barks.
We consider ourselves well-versed in the "see you later" part of fostering; When they get adopted and ride off into the sunset to their forever homes. Bud was a bit of a harder goodbye than normal. Sometimes we get updates from the families, sometimes we don't. Each dog-related holiday, and especially Pet Remembrance Day, I think of each of our foster dogs. In April 2020, amidst the bleak COVID world, Bud found a fantastic family, and they even had a grandson named Harrison who by all accounts, Bud adored just as much as our Harrison. He had his own recliner and a big fence in the yard to watch ducks on the pond nearby. I'm glad he lived like a king, until the very end.
So when I got that text today, I let myself be sad for a bit, but then I quickly reminded myself that Bud is *exactly* my "why".
He is the reason I foster. He's the reason why I, and his adoptive family, will grieve him yet choose to honor him by welcoming more dogs into our hearts on this Pet Remembrance Day. For if I (and more importantly, Love of Labs) had not stepped up, he would've died alone in a shelter.
It's kind of like that story about the boy on the beach throwing starfish back into the ocean. I may not be able to save them all but I can sure make a difference, one at a time.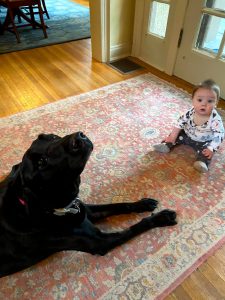 Thanks for the reminder just when I needed it BIG BUD. Run free, sweet boy. I know I'll see you again someday. I will never stop telling others, especially my son, about you.
If you're grieving the loss of a pet, no matter how recent, I join you in celebrating the furry lives we've loved and lost not only on this Pet Remembrance Day, but every day.