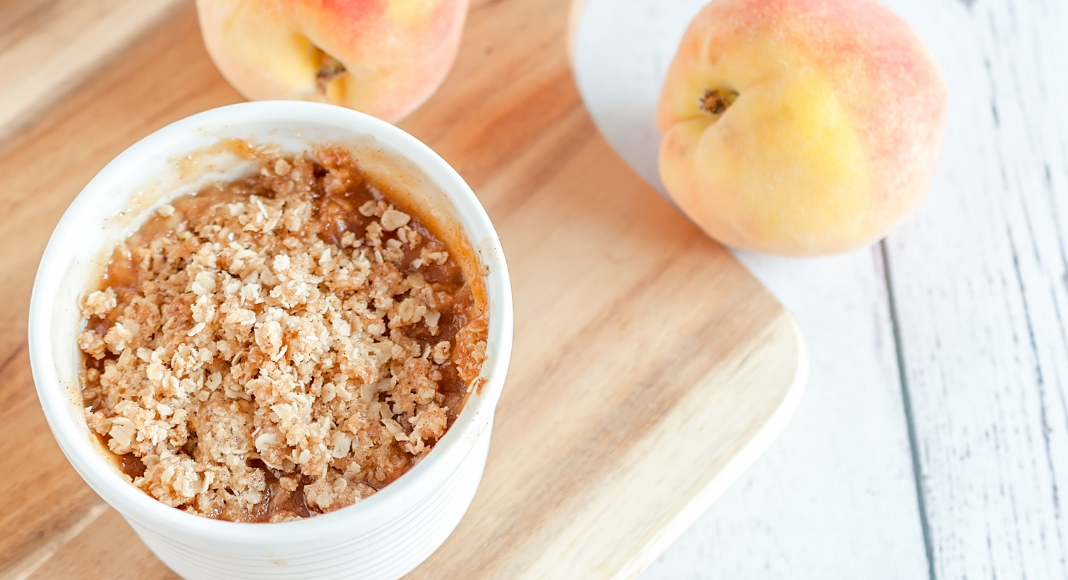 This dessert is perfect for summertime entertaining. To me, nothing says 'summer' like fresh, juicy peaches. We still have another month or two until we'll start seeing the ripe, fresh peaches in at the grocery store, so tonight I'm using canned peaches which will do the trick too! This peach crisp recipe is so delicious–the gooey, buttery crust mixed with the sweet, vibrant filling and topped off with a rich top layer with a little crunch from the almonds. Yum, chefs kiss!!
Ingredients Needed:
For the crust:

1 c all purpose flour
1/2 c brown sugar, packed
1/2 c (or 1 stick) cold butter, cubed or shredded (I used salted butter, if you use unsalted, you'll also want to add 1/4 tsp salt)

For the filling:

2 cans sliced peaches, in fruit juice
1/4 c sugar
1/4 c honey
1/4 c cornstarch

For the topping:

1 1/2 c old fashioned oats
1/2 c toasted almonds
1/4 c all purpose flour
1 tsp cinnamon
5 tbsp cold, salted butter, cubed or shredded
Let's Get Cooking:
Preheat oven to 350. In a large bowl, combine all the ingredients for the crust. Cut in butter until mixture is crumbly.
Form dough into a 9×9 dish and then bake until lightly browned, about 15-18 minutes.
In a small saucepan, drain peaches, reserving ONE can's worth of juice in the pan.
Stir in sugar, honey and corn starch. Whisk until smooth. Boil for 1-2 minutes until thickened. Remove from heat and stir in peaches. Pour over the baked crust.
Make topping by combining oats, almonds, brown sugar, cinnamon and flour. Cut in butter until crumbly and top peach filling.
Bake until bubbly, golden brown, 25-30 minutes.
Let the crisp cool and then serve warm.
This peach crisp recipe is the perfect addition for a summer evening dinner on the patio. And top it off with a scoop of vanilla ice cream and you have a dessert the entire family will love!