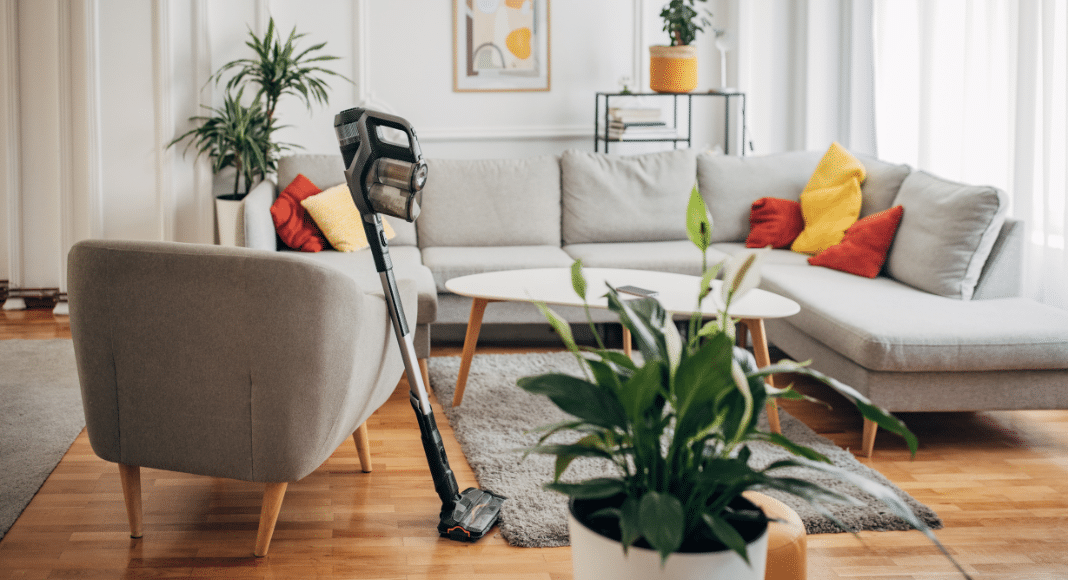 During the summer of 2019, I was a new mama of a 19-month-old and a two-month-old. My chore list was growing around me like a CVS receipt. As I adjusted to our new normal, I extended grace to myself with my household chores. I knew my babies wouldn't be this tiny forever, and the constant diaper chaos would eventually end, so I did spend time soaking it all in (pun intended). However, I couldn't ignore my home forever. I needed to figure out a new routine for chores that would work for our family and our current season of life. Soon after, I began "putting my home to bed" each night and "deep clean Fridays." By working at it and staying consistent, I created a system that worked for our family, and I hope to encourage you to put your home to bed and create a deep cleaning routine that works for your family.
Disclaimer: my system may not be the best system for you and your family, and that's okay.
Each night after I put my husband and I put our children to bed, I then put my house to bed. This includes starting the dishwasher, wiping down countertops, arranging the pillows on the couch (#teamthrowpillows), sweeping the floor (if needed), spot mopping (where needed and if needed), and making sure any leftover toys get cleaned up. 
I love waking up each morning with a clean home, especially a clean kitchen. The kitchen is where my morning begins. That's where I have my morning coffee and Bible time before the boys wake up. Putting our home to bed each night helps me wake up less stressed. I don't wake up to dishes in the sink or stepping over toys. Taking the 10-20 minutes it may take me to clean up at the end of the night is 100% worth every second; even if the couch and the next Netflix episode seem more enticing, it can wait 10-20 minutes. Trust me; it's worth it. 
My deep clean Fridays have been such a blessing. Another disclaimer: please remember that when I started to do this when my boys were teeny tiny, my deep clean days looked much different than they do now that I have a three-year-old (almost 4) and a five-year-old. My deep clean days used to take me all day. I would have to spread my tasks throughout the day because, well, babies. And that was okay. With consistency and determination, I got it done. 
In addition to my daily tasks, I add these to my list of tasks for deep clean Fridays:
Wipe kitchen cabinet doors, wipe down appliances, wipe kitchen chairs and table, Windex windows, Windex doors, Windex bathroom mirrors, scrub toilets, wipe down bathroom counters, do laundry for each member of the family (4 of us), vacuum the stairs, wipe down handrails, vacuum the second floor, sweep the first floor, mop the first floor, mop the bathrooms, dust formal dining room table, dust china shelves, and wipe down the baseboards.
I know that sounds like a lot, and it is, BUT here is the silver lining. When you make these tasks a consistent routine, they actually take shorter to complete. For example, our stairs have carpet on them, and if I don't vacuum the stairs for several weeks or even months, there will be a build-up of dust, dog hair, lint, etc. But if you do it weekly, vacuuming them takes much less time. Typically, I start around 9 am and I can get my entire list done between 12 pm-1 pm just in time for quiet time so I can mop while the boys are upstairs. That includes making and cleaning up lunch as well. Yes, I move quickly and try to be as efficient as possible. 
You may also be wondering what my children do during this time. As I stated earlier, I have been doing deep clean Fridays for several years, so they are very used to this routine. They call it "mommy's cleaning day." They know that on this day, we don't do any formal homeschooling lessons. Instead, they get to do any of our self-led activities—for example, word building, letter tracing, puzzles, play-doh, Legos, etc. The boys have been taught to play independently since they were babies, plus they have a built-in best friend and playmate in each other. 
Are my deep clean days always on Fridays? No. For example, recently, we had family visit us on Friday to stay the weekend, and I obviously don't want to be cleaning all day while they are here. So, I cleaned on Thursday and doubled up our homeschool lessons on Wednesday. I love the flexibility of homeschooling. 
If you feel like you are constantly waking up to a messy house and can't keep up on your deep cleaning chores, I highly recommend "putting your home to bed" each night and incorporating a deep clean day into your schedule. 
If you're a mom who works outside of the home, this could be a weekend morning that you use, or you could divide the tasks among each night of the week and commit to adding it to your "putting your home to bed" routine. To truly be successful at creating and maintaining these routines, you must build them to fit into your schedule and your home. 
We are so blessed to have homes and families to take care of. These routines should bring thankfulness and joy to our lives, not create stress that could just impact other areas of our lives or relationships. I hope through this post; you can find encouragement to put your home to bed and to create a deep cleaning routine that works for your family and brings you joy.