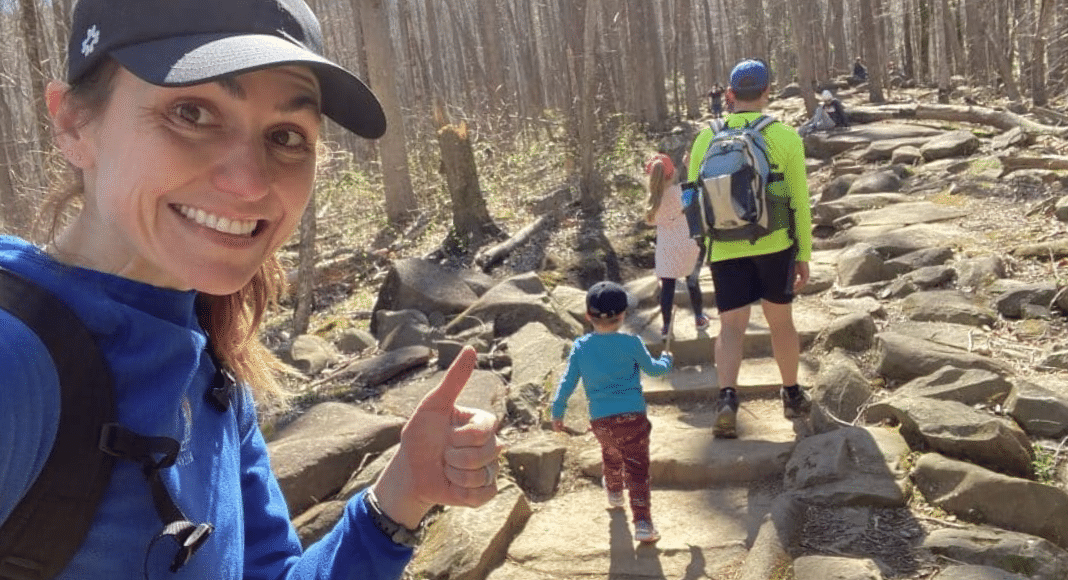 My husband and I love being outdoors. This made it an easy decision to do everything in our power to get our kids to love being outside with us. Fortunately, our children, ages three and six, love to move and play, and this includes outdoor exploring. Whether we are going on a nature walk, collecting items to build a new fairy house, or out on a hike in the woods, they are (almost) always up for the adventure. Taking a hike with your children can be a fun and memorable experience. However, they are young, and as we all know, things aren't always as fun and easy as we had anticipated. Here are some tips that have helped us create wonderful memories when hiking with young kids.
Hype it up
Before a hike, we always hype up how awesome the experience is going to be. We talk about adventuring and being explorers. We brainstorm what animals we might see. Will there be a river or waterfall? (My three-year-old is totally obsessed with water). We chant, "We're going to the mountains!!" – if we happen to be traveling somewhere with mountains. My young kids still completely play off my excitement, so I'm going to ride with that as long as I can.
All. The. Snacks.
As with any successful outing with young children, having snacks on hand is essential. Sometimes we can make it through a hike without remembering the need for snacks at all. Other times we are using fruit snacks to encourage every last step back to the car. Don't forget the water. If you bring them a water bottle, they may not ask for it – but if you forget, you better believe they will be dying of thirst within 5 minutes.
Dress for Success
Layer up or pack extra layers. If you are starting a hike early in the morning, chances are the temperature is going to rise throughout your adventure. Your bodies will also be warming up as you move, so you all may be ready to shed some layers. Alternatively, if you are moving to a higher elevation, you may experience a drop in temperature, and having long sleeves or a jacket would be useful. If you have a baby in a carrier, remember they are not moving like you are and may need some extra layers. Don't make body temperature concerns one more battle you need to fight.
Hiking with Baby
If you have a baby and plan to hike frequently or go on a bigger excursion, consider investing in or borrowing a hiking-specific carrier. If you and your baby are comfortable, the hike will be much more enjoyable. We traveled to Yosemite when my oldest was nine months old and invested in one of these Osprey carriers. Zero regrets. These carriers are more for babies who can support themselves sitting (not for teeny infants) and can carry up to 48 pounds (including whatever you have packed in the bag itself). This can come in handy for a few years, depending on the size of your child.
Make it Challenging
You may think that the best plan for hiking with young kids is an easy trail, but my experience tells me differently. With flat and easy excursions, my children tend to get bored. We find there is much more whining and feet dragging. With a more moderate course, there are rocks, roots, and changes in elevation that can make their experience feel much more like an adventure. Of course, you know what is best for you and your family, but increasing the difficulty is something to consider on your next outing.
Use Your Imagination
Young kids love to play and use their imaginations. If your hike is heading south (figuratively), now is the time to channel your inner Bandit and Chilli (where are my Bluey fans at?). In many cases, with our children, turning to play can help us out of a sticky situation. Hiking with young kids is no different. During our recent trip to the Smoky Mountains, we frequently played Hide and Seek while moving along a path. One parent and child would run ahead to hide behind a rock or tree while the others held back counting before running up to find them. Helped us keep moving in many situations. We also played the floor is lava – you can only step on rocks or roots. Sticks became magic wands turning the parents into penguins and cheetahs. Occasionally we were frozen, which was a little counterproductive but still fun. We turned into pirates trying to race the rest of the hikers to our buried treasure. You get the idea.
Bring a First Aid Kit
There is nothing worse than a boo-boo without a bandaid. Those things are magic.
Temper your Expectations
Work up slowly to bigger and longer outings. Sometimes someone may be too tired or hungry or just not having it today. The balance between pushing your kid to keep going and knowing when they need to rest or be carried for a bit can be difficult to determine. Ultimately you know your family and what you are comfortable with. Sometimes you may decide to turn around sooner than you hoped. Try to focus on all your kids did accomplish and the fun they did have. Remember that they still may be forming some great memories even though your outing didn't go as you expected. Also, their legs are short. You are going to be moving slower than you may like.
Hiking with young kids can be an incredible experience. It's important for our family to keep getting outside so our children continue to love it as we do. I hope you all are out there making great outdoor memories too.
Do you have other essential tips for hiking with young kids? Let us know!