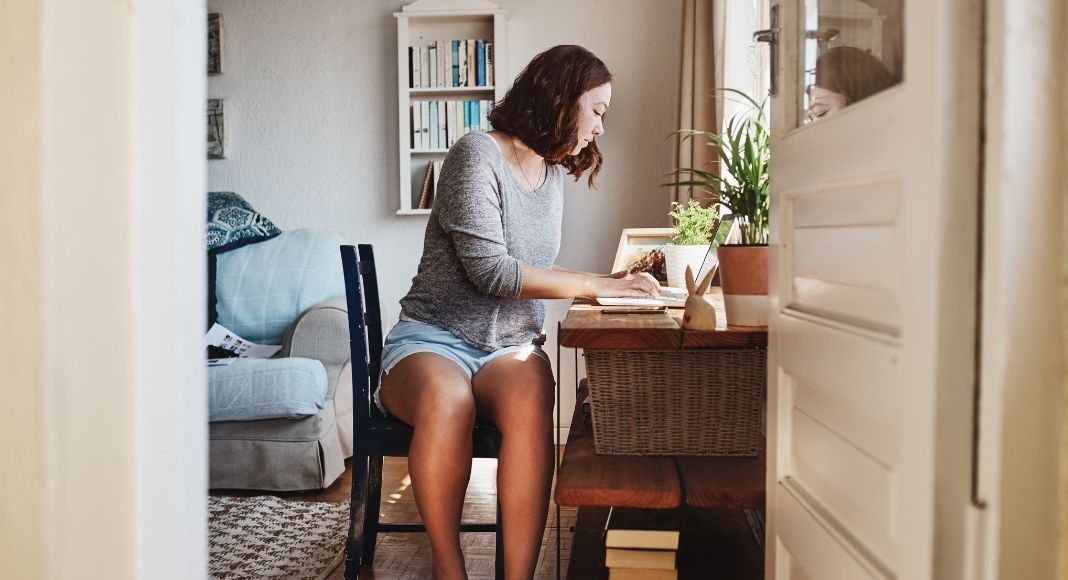 "Let go of that which no longer serves you."
I've always been terrible at heeding this advice. After all, I do still possess several Forever21 sparkly shirts that I wore as dresses back in my 2008 college bar days. Have I worn any of them since I frequented the kind of establishments where my shoes stuck to the floor? No. Do I know why I still keep hanging onto them after countless years of spring cleaning, four moves, college graduation, a marriage, and two kids? The answer to that question is also a resounding "no".
But while there's so much to be said about cleansing our physical possessions to start anew, we often overlook the less obvious spring cleaning that we'd all benefit from. Living the last year in a global pandemic existence has weighed down our minds with a lot of heavy mental clutter. It seemed like, midway through the first months of quarantine, everyone decided to start purging physical possessions, cleaning out closets, and reorganizing garages. Let's all just agree to take a pause to declutter our minds and hearts alongside our kitchen junk drawers.
Detox your devices
This one might seem daunting, but it is so easy to overlook that tiny handheld box that, for many of us, serves as our calendar, alarm clock, camera, communication tool, portable child entertainment system. So grab your computer, phone, and tablet. I highly recommend focusing on the three biggest sources of overwhelm for many of us; your inbox, contacts, and social media.
Purge your inbox.
We may not all be able to commit to total inbox zero, but it's easy to start small. That tiny 'Unsubscribe" button at the bottom will free you from all of those e-newsletters and coupons from websites you visited one time eight years ago and never bought anything. Since beginning my 'unsubscribe from the unnecessary' campaign a few months ago, I've noticed that I dread opening my email each morning less and less.
Clean up that contact list.
Old coworkers you barely ever talked to when you worked ten feet apart, exes, or your neighbor from your first apartment out of college are not the contacts you want to be receiving an accidental 7 AM facetime call from your toddler. Delete them! Bonus tip: If you're really that nostalgic and/or afraid you'll regret deleting one of those numbers? You can always save a backup copy of all of your contacts in the cloud.
Purge your social media. Unfriend, unfollow, and unlike.
An acquaintance from middle school who only reaches out when she's trying to sell you something? Bye Felicia, literally. Twenty-something fashion influencer a decade your junior who rails on side parts and skinny jeans being uncool now? You don't need that kind of negativity in your life. Click that beautiful unfollow button! Maybe purging some (or all) forms of social media altogether from your life would give you some much-needed mental freedom. Go for it!
Clear your schedule
I've always prided myself on being civically, socially, and physically engaged with the world around me. Pouring myself into others non-stop can leave me feeling empty if I'm not intentional about finding balance in my priorities. I think staring down the barrel of being a mother of two has kicked me into high gear in terms of prioritizing how I spend my time. I have been asking myself, "Am I sticking with this (organization, volunteer position, hobby, goal) out of sheer obligation as opposed to actual passion and desire?" Just like you don't need 10 different shades of pink lipstick, you don't need to commit your time to ten different extracurriculars. Don't let decision fatigue overwhelm you. Decide what matters the most to you, what will help you feel most fulfilled, and cling to that with iron-clad determination.
Reboot your finances
Don't tell my husband I said this, but I do actually enjoy our annual big picture money discussions. While we communicate about money openly and often throughout the year, there is something refreshing about planning around the upcoming year's financial outlook. Take a look at the money coming in and the money going out. We love using Mint.com to help automate this task. Evaluate your budget, upcoming plans and evaluate the progress towards your goals. Don't forget to shop around for insurance and make sure you have adequate coverage. Financial security provides tremendous inner peace.
Cleanse your spirit
We all define self-care a little differently. Build into your spring cleaning that one activity, or a few activities, that help you reclaim your inner peace. Go for a run. Get a manicure or a massage. Plan a fun date night with your spouse or significant other. Take a long hot bath with your favorite drink of choice and a captivating book. Call a friend that you haven't connected with in a while. Go wander Target aimlessly and fill your cart with $250 of home goods you probably don't actually need but will refresh your house for spring. Meditate. Whatever way you most like to show self-kindness and self-love, you do you!
What makes you feel most refreshed heading into spring cleaning?