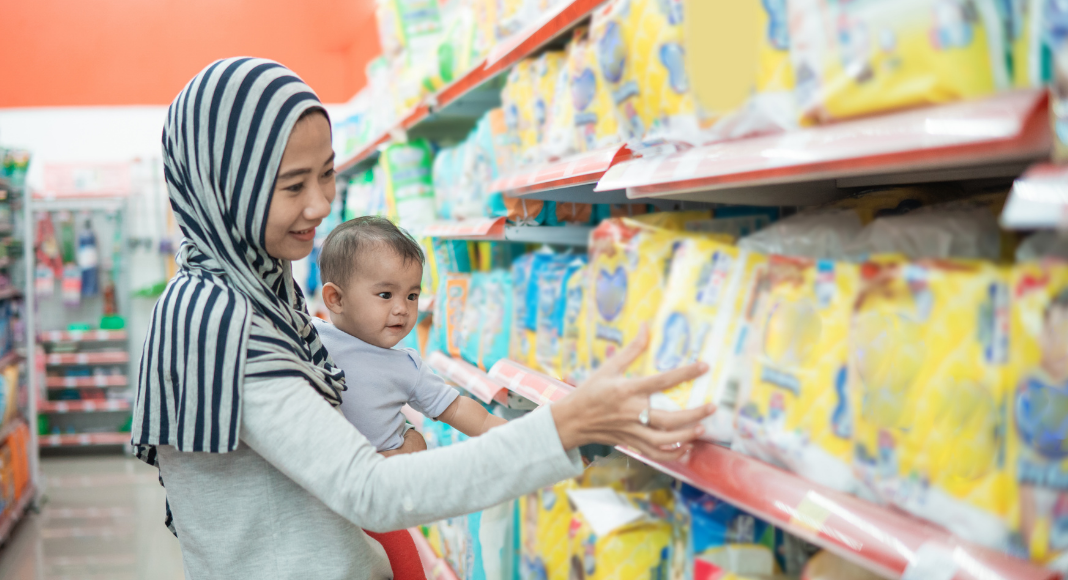 What is voting with your dollar? Well, it's exactly what it sounds like. It's giving leverage and power to the companies where you spend your money. And – you're already doing it whether you've thought about it or not.
How many places do you shop in a month? How many products do you buy? Probably dozens (or hundreds) if you include things like groceries. In fact, women make 70-80% of household purchasing decisions. While I don't completely love that statistic (should we have to do that much?), it means that we, as moms, get to make an impact! And we can, even if we're busy (aren't we all?).
Why is voting with your dollar important?
If we spend money with companies that hurt our planet and the people on it, those companies gain influence and increase the amount of harm they are doing. Alternatively, we can choose to spend money with businesses that do good things and align with our values and beliefs. While we get to vote at the ballot box every few years, we get to vote every day, with every purchase – which is pretty cool to think about.
How much do you care about these things?
Fair wages?
Democracy?
The environment?
Products being produced sustainably and ethically?
Safe, healthy food?
Healthcare access and freedoms?
Inclusivity?
Fairtrade?
Treatment and safety of employees?
Variety of locally owned businesses?
What else?
If changing places you shop and the products you buy sounds difficult or expensive, it doesn't have to be. And voting with your dollar is not about making perfect purchasing decisions at all times. It's about making changes where you can for the greater good.
Before I buy something, I try to consider whether my priorities and values align with that company. If not, I think about whether there's an alternative that's doing better.
You may be very loyal to a certain coffee brand or tennis shoe. But maybe there are things like toothpaste, furniture, toys, pizza, etc., where shopping at a different store or picking up a different brand would be no big deal. That's where I recommend starting.
So as a busy mom without a lot of time to spare, here are a few resources that can help you vote with your dollar and only take a few moments.
Access websites like Goodsuniteus.com to look up company political contributions. They also have an app you can keep on your phone.
Get insights on individual political campaign contributions on the Federal Election Commission website.
Look for things you can buy in bulk. It usually saves money in the long run and creates less waste.
Use Glassdoor.com to learn how employees feel about the company they work for and whether or not they pay fair wages. The site allows employees to submit reviews, an overall score (0-5), and salary information. A quick review can give you instant insight into how a company treats its workers.
Buy clothing second-hand. Consignment shops, thrift stores, and antique shops are awesome for finding pre-owned goods. Also, when I find a piece of clothing I like online, I'll often look it up at Poshmark.com. The site allows people to sell items they no longer want, didn't fit, etc. I get to save money, and it's better for the environment.
Check out Green America's directory of environmentally and socially responsible businesses. It includes things you use every day and really unique businesses that are perfect for gift-giving.
Shop your local farmer's market. You'll be supporting local, the food is healthier, and it's better for the planet. Read about more benefits here.
Eat at locally-owned restaurants instead of chains. Buy from local artists. Drive a little further to support the mom-and-pop hardware store. Unless we only want to shop at Amazon and big box stores, we can vote to keep small businesses in business by supporting them.
Discover and purchase from some of the LGBTQ companies on this list. Find female and minority businesses here.
Yes, we're busy moms. But I vote with my dollar because I want a better world (and a world that still exists) for my kids and grandkids. What change can you make today to help make a difference?