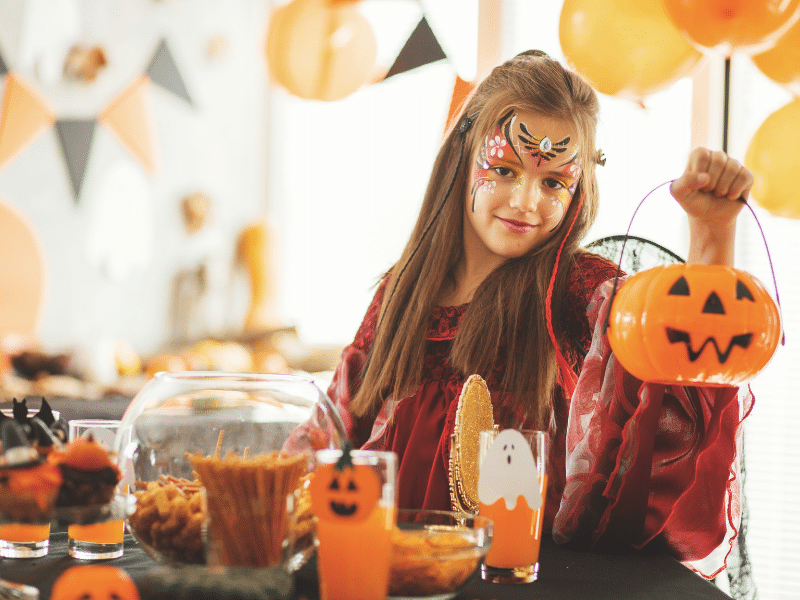 It's officially October which means Halloween is right around the corner! And while things are definitely a bit different when compared to last year, you can still celebrate the holiday safely with your family. Currently, the city of Indianapolis is not recommending trick-or-treating this year along with trunk-or-treating events because safely social distancing can be challenging. So we pulled together five trick-or-treating alternatives you can do with your family to celebrate Halloween safely from your home!
Halloween Piñata
This is a fun way to still get all of the goodies – and even take out a bit of your frustrations too! Get a themed piñata as a local party store or get creative and make your own. Then stuff them with candy, take them outside and make it a family fun activity. Your kids will have a blast and still be able to collect candy.
Spooky Outdoor Movie
Build a campfire, grab plenty of blankets and set up an outdoor movie from the whole family. Use a white sheet or the back of a house and invest in an affordable projector to stream your favorite flicks. Make it a spooky movie or a family favorite like Hocus Pocus – either way it will be an unforgettable family moment!
Candy Treasure Hunt
Create a simple map with clues that will lead your family to the ultimate treasure – candy galore! You could also make it simple and hide candy around the house for more of a find and seek type of activity, which may be more appropriate for the littler ones.
Neighborhood Window BOO
Print off these printables below, color them and hang them up in your window. Pass them out to your neighbors and encourage them to do the same. Then, dress up in your costumes and go for a family walk around the neighborhood and count how many Halloween pictures you can find! After you go on your BOO Hunt, enjoy a nice warm bowl of soup. This corn chowder is one of our favs!
Indianapolis Colts Drive-Thru Halloween Celebration
Join the Indianapolis Colts on Wednesday, October 28th for the Colts Drive-Thru Halloween Celebration! The drive-thru event is open to all Colts kids and their families and will take place in the South Lot of Lucas Oil Stadium. The Halloween Celebration will feature exclusive giveaways, the chance to virtually meet Colts players and take a photo with Colts Mascot Blue! Read all the details here!
If you do still plan on trick-or-treating, remember to mask up, wash and sanitize your hands frequently and social distance from others. Here are some great tips to make sure you have a covid-safe Halloween!
What are your Halloween plans this? Is your family going trick-or-treating or do you have alternative activities planned for the pandemic holiday?