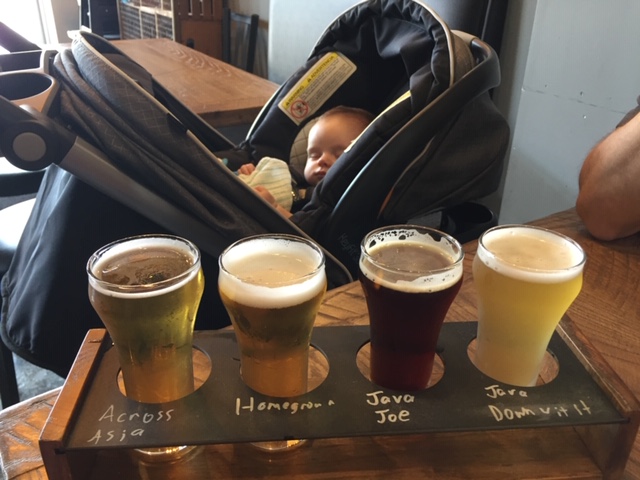 A cold, hoppy pale ale is my jam. Oh wait, but so is a robust stout. Aw hell, just give me a good beer, and I'm one happy girl. We have an amazing beer scene here in the Indianapolis area, and in my opinion, we have some of the best breweries in the area. The growth here hasn't slowed down, and many breweries are now family-friendly (meaning it is not just for 21 and over), which is very exciting for this craft beer family.
We became a self-proclaimed "Craft Beer Family" when my son was one-week-old. We had just left his first-week appointment, during which our pediatrician told me I was starving our child (she was right, I was). I was devastated, sleep-deprived, and the only thing I wanted at that moment was a beer that I hadn't had for like ten months (being pregnant was not my jam). We took our little one-week-old baby to Indiana City, sat and enjoyed a beer, and all was right with the world. It got us out of the house and gave us some feeling of normalcy after our world had been completely changed.
There have been a few other posts here at IMB spotlighting kid-friendly breweries, but there are a few great ones that have since opened and a couple of breweries that we love that weren't on the prior posts.
Here to spread the brew love to you all:
Oaken Barrel: OB was one of the OGs of brewing in our area, definitely worth the drive to Greenwood. I've never had a beer from Oaken Barrel that I didn't love, and we have probably ordered every single thing off their menu, all solid. It is an excellent spot for a family dinner out, and during the weeknights, they have a $2.50 craft beer special, which makes it very budget-friendly.
Indiana City: We frequent Indiana City because of its relaxed atmosphere, amazing IPAs, and it doesn't hurt that it is less than a mile away from our house. If they aren't hosting an event, their attached event space is a great place for kiddos to play while Mom and Dad have a brew. Also, $5 growler fills of their house beers on Sundays, can't beat that.
BrewDog: You can have a puppy party for your dog! Dogs welcome, kids welcome, and their cauliflower buffalo wings are to die for. They have a ton of games to keep the little ones busy, including pinball, and their kid's menu is very wallet-friendly. Beer is delicious, and they even have a line of alcohol-free(AF) beers for our preggo friends, which are very tasty. They also have a great brunch on the weekends.
Ellison Brewing: Two words: Tiramisu Stout. We were super excited to hear Ellison was opening here after recently visiting the Michigan location and excited for all their tasty brews to make their way south. They have great beer, great food, and I cannot say enough great things about the staff there. The only downside is the parking situation, but there are a ton of paid lots close by, and if you are lucky enough to swipe one, they have a few dedicated parking spots.
18th street: Holy Pale Ale, this place is amazing! Their Hammond location was named "Best Brewpub in the United States" so you know they are doing something right. We have been anxiously awaiting their Indy opening, and it's finally here on the near east side! Their beers are amazing, and they have a great selection on tap. Recommendation: Fox and Goat Pale, so friggin good.
Scarlet Lane (south Meridian location): I'm a big fan of everything Eilise Lane (BA lady boss/owner/ brewer) does, and with several locations around the city, you have lots of opportunities to drink their beer. I'm not 100% sure of all locations are kid-friendly, but the location just south of the city on Meridian St. is, and it is a great place to relax with a brew.
Half Liter: Barbecue, beer, and cocktail slushies- Life doesn't get much better than that—also, best beer garden in the city, hands down. Just thinking about this place makes me ready for warm weather. So technically it's not a brewery, it is part of the Big Lug family, and everything they do is excellent.
Ladies, one last thing, we have a great organization for beer-loving women here in the city, Girls Pint Out. They do several events throughout the year, and it is a great place to drink great beer with other craft beer-loving women. Check out their Facebook Page (Indianapolis Girls Pint Out) for the upcoming events.
Cheers friends!