My favorite comfort dessert to enjoy during the fall season is, hands down, pie. When the weather starts to turn colder, I love making excuses to order a pie to enjoy at home. Pumpkin, apple, or lemon meringue – it's all delicious! And we've got a delicious round-up for you. Indianapolis has quite a few places that make a yummy pie for you and your family to enjoy. If we hear of more restaurants, bakeries, or pie shops that you love, we will add them to our list. Enjoy!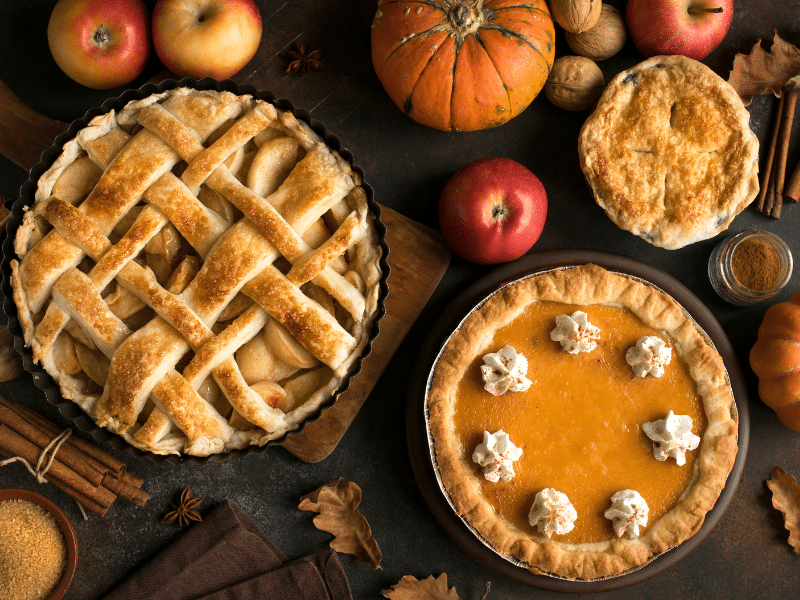 ---
Pots & Pans Pie Co. | 4915 N College Avenue, Indianapolis, IN 46205
Website: Pots & Pans Pie Co.
Notable pie flavors: Caramel Pumpkin Pie, Chicken Pot Pie
Lulu's Coffee & Bakehouse | 2292 W 86th St, Indianapolis, IN 46260
Website: Lulu's Coffee & Bakehouse
Notable pie flavors: Key Lime Pie, Pumpkin Pie
Punkin's Pies Indy | 1220 Waterway Blvd, Indianapolis, IN 46202
Website: Punkin's Pies Sweet Treats
Notable pie flavors: Sweet Potato Pie, Chess Pie
Taylor's Bakery | 8395 E. 116th Street, Fishers, IN 46038
Website: Taylor's Bakery
Notable pie flavors: Pumpkin Pie, Key Lime Pie
Shapiro's Delicatessen | 808 S Meridian St, Indianapolis, IN 46225
Website: Shapiro's
Notable pie flavors: Coconut Cream Pie, Lemon Meringue Pie
My Sugar Pie | 40 E Pine Street, Zionsville, IN 46077
Website: My Sugar Pie
Notable pie flavors: Mom's Original Dutch Apple, Hoosier Sugar Cream
Wilson Farm Market | 1720 E 256th St, Arcadia, IN 46030
Website: Wilson Farm Market
Notable pie flavors: Amish Fried Pie
Rise'n Roll Bakery | Multiple Locations: Broad Ripple, Greenwood, Fishers, Avon, and Coming Soon to Nora
Website: Rise'n Roll Bakery
Notable pie flavors: Blueberry Pie, Cherry Pie
Sucre Baking Company | 5261 N Pennsylvania St, Indianapolis, IN 46220
Website: Sucre Baking Company
Notable pie flavors: Macadamia Key Lime Pie, Chocolate Cream Pie
Cake Bake Shop | Two Locations: Carmel City Center and Broad Ripple
Website: Cake Bake Shop
Notable pie flavors: Peanut Butter Mousse Pie, Butterscotch Pie
---
Where is your favorite place to get pie around Indianapolis?
Share with us and remember to support local!