My favorite season is quickly approaching and with the crisp air and shorter days brings… APPLES. I didn't think that I could love fall any more than I do and then I got to experience fall with my toddler. From apple picking to apple crafts there is so much to do with this fall produce staple. Listed below are a few of our favorites.
Apple Printing
Washable Tempera Paint (We used green, yellow, and red)
2 Apples
White Construction Paper
Paint Palette or plate
Glue
First, get your paint ready on your palette or plate. Next, cut your apples in half. Save the seeds off to the side. You will need one half for each color that you decide to use. The extra half can be sliced and used for a snack while you are doing your activity and to keep them from being tempted to bite into the paint colored apples! The next step is to simply lay the apple half flesh side down into the paint and then stamp on to your white paper. After the paint has dried a touch you can have your toddler glue the seeds on to the middle of the paper to replicate the apple half they saw!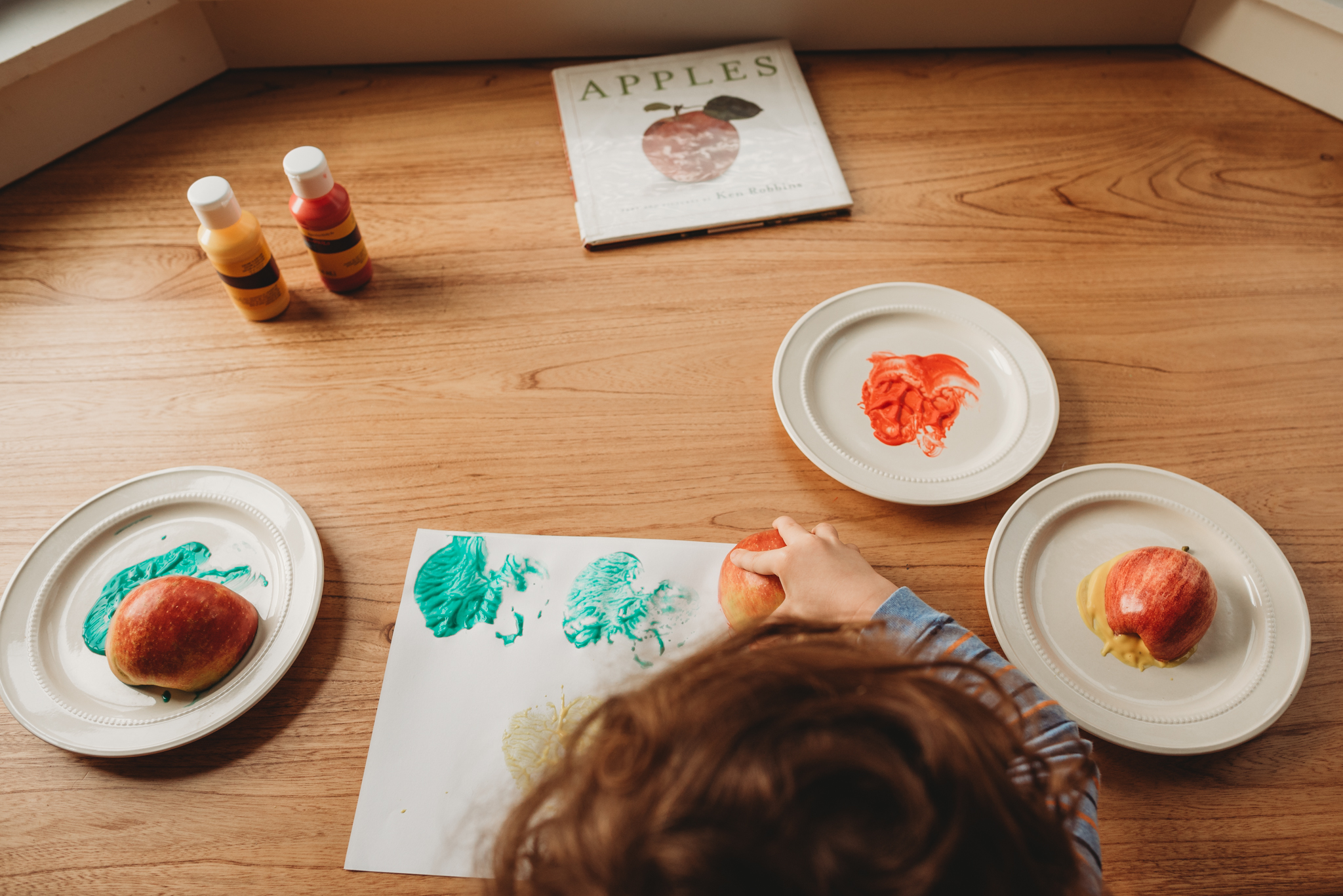 Apple Sorting
15 apples, – 5 green, 5 yellow, and 5 red
Construction Paper, 1 green, 1 yellow, 1 red
This activity is great after a full day at the orchard and you are getting ready to wash and divide up your bounty. Place each sheet of construction of paper out for your child and have them name each color. Next, get out your apples. Ask them to put all of the red apples on the red construction paper, then have them count how many apples are on the construction paper. Next, have them put all of the green apples on the green construction paper. Have them count how many apples are on the green construction paper sheet. Next, have your toddler put all of the yellow apples on the yellow apple construction paper and count how many apples are yellow. There are many ways you can continue to count and sort with your toddler. You can have them sort the yellow apples with stems on to the yellow paper, you can have them sort the smallest red apples on to the red paper, and the biggest green apples on to the green paper. Then count how many apples are left not on the paper and how many are on each sheet of paper. By using different variations my toddler and I enjoyed this activity for quite a while.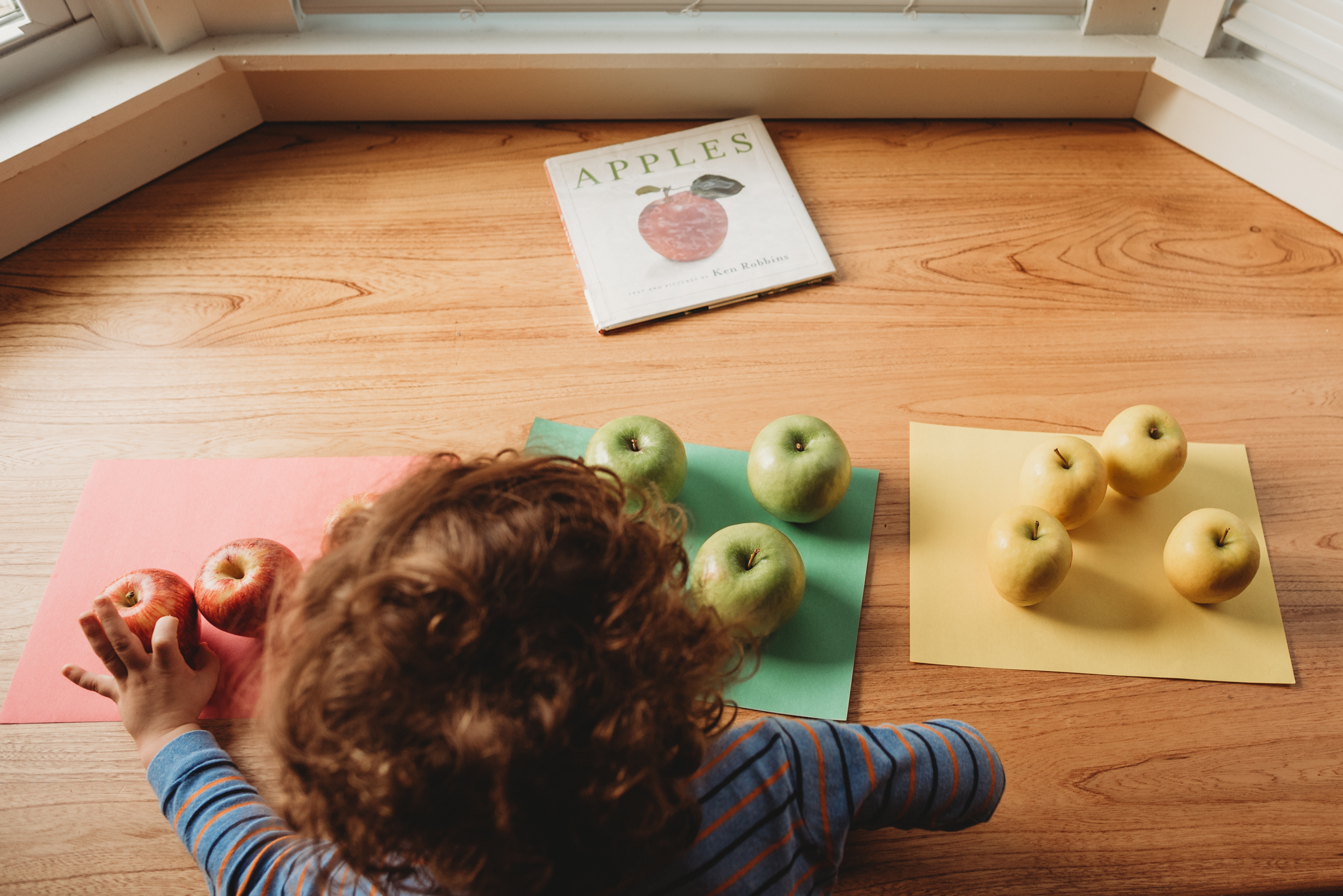 Reading
Before you head off to the orchard (or if you skip the trip and just bring them home from the grocery store) I would suggest gathering a few apple books and exploring them with your toddler. From classics like Ten Apples Up on Top, by Dr. Seuss to a new favorite of ours Hello World! How Do Apples Grow? By Jill McDonald we had endless picks (pun intended) available to us at our local library! My toddler has had me read Fall Apples: Crisp and Juicy by Martha E. H. Rustard no less than a half a dozen times and I find it a perfect book for before you visit your local orchard. It's a great way to begin to introduce seasons and science and all of the things that help make fruit grow!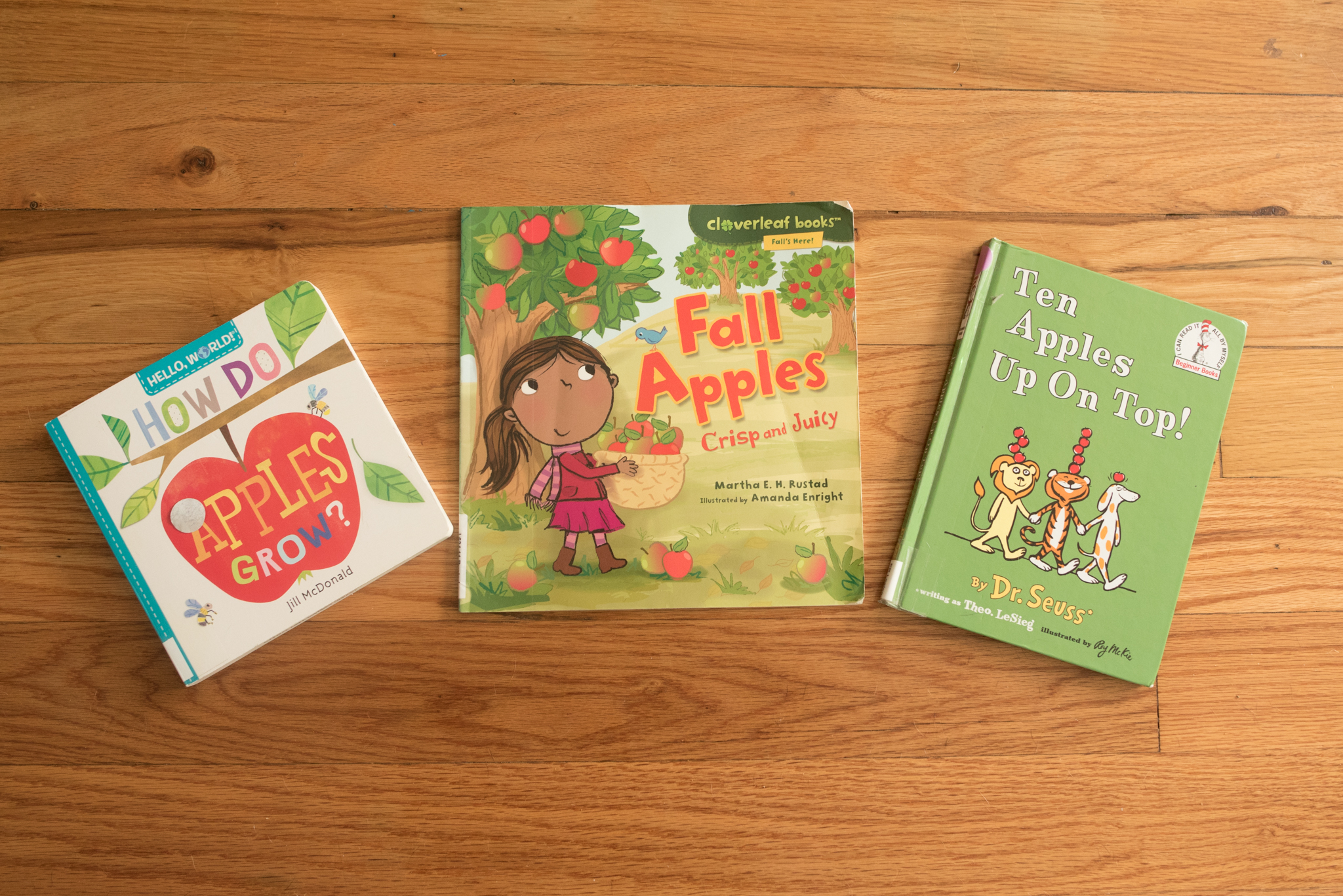 Cooking with Apples
Next and probably one of our favorites is incorporating the apples into something delicious! There is no shortage of fun ways to have your child help you make apple snacks or baked goods with just a quick internet search and just recently we tried this recipe from Pillsbury with great success. If your toddler is anything like mine they will love all the dumping, mixing, and scooping they get to do! And if you are anything like me you'll love that the recipe only has 6 ingredients that you most likely have in the house already!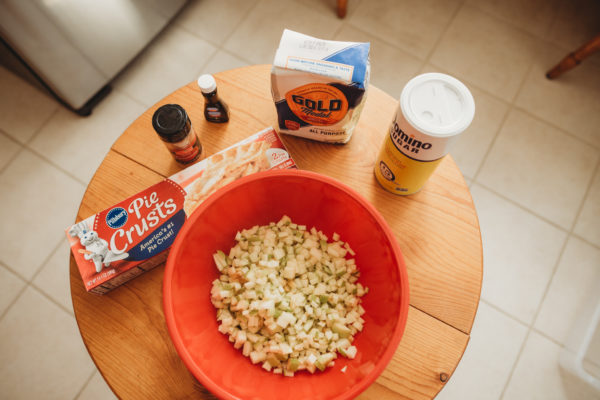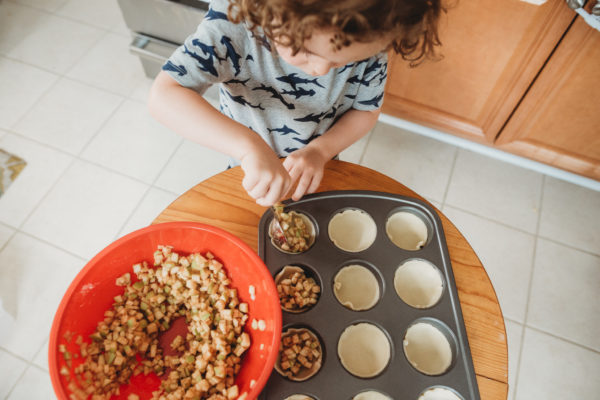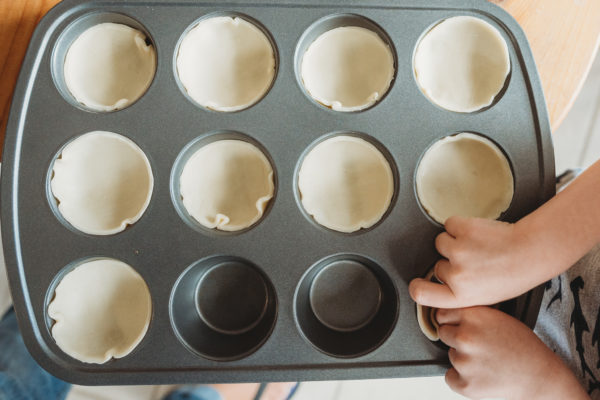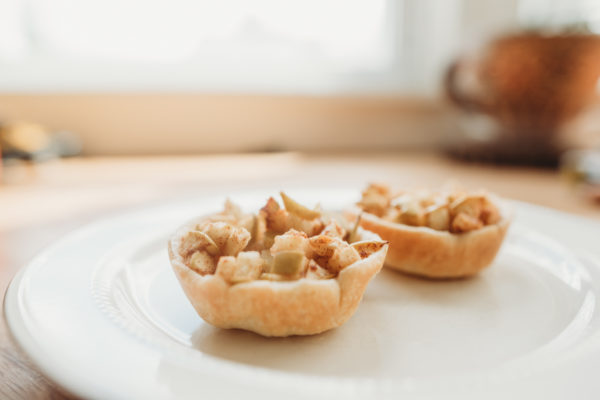 Visiting an Apple Orchard
And what better way to end then to leave you with our Guide to Indianapolis Area Apple Orchards. It is a guide carefully curated to give you the best local apple orchards to explore with your family around the Indianapolis area!