If you are planning to move to Indianapolis or relocate to a different side of town, Indianapolis Moms has got you covered! We are excited for Part Two of our four-part series with Miranda Tworek, Real Estate Broker with Ever Indy Realty Group. Miranda is going to take you through the Northside of Indianapolis, introducing you to the most sought-after suburbs and highlighting reasons why you and your family should consider moving there. And don't forget to check out Part One of our series: Central and Downtown Indianapolis.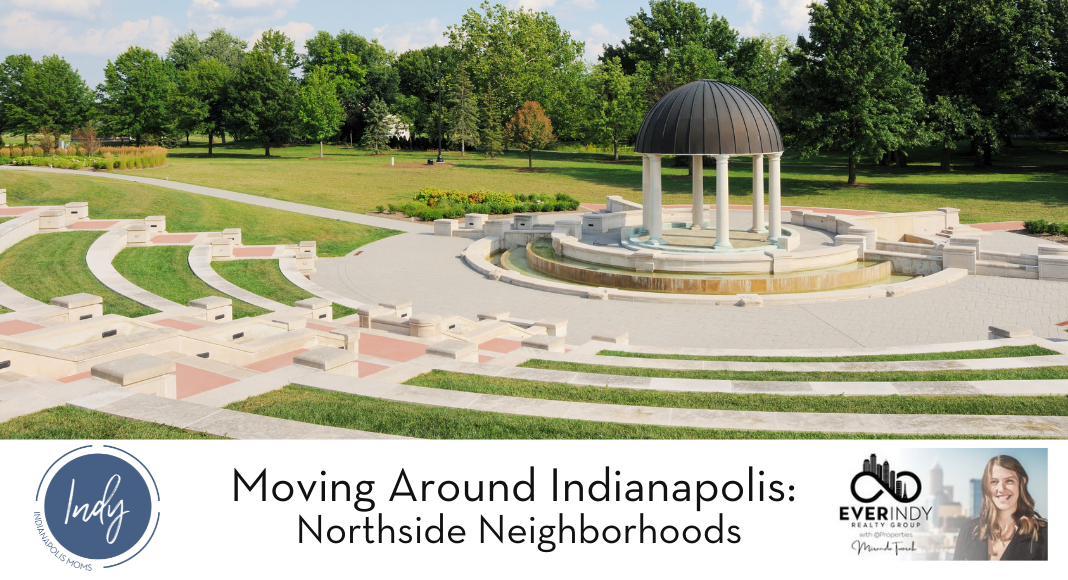 ---
Why do families love the Northside of Indianapolis? Families love the small-town feel but the close proximity to the city, according to Miranda. One of the most important factors to families when moving is how schools rank up, and some Northside schools are nationally ranked. Also, there is a lot of greenspace to explore while also being able to enjoy fine dining and shopping nearby. Miranda highlights the five popular Northside suburbs below, known for their established close-knit communities: Zionsville, Westfield, Carmel, Noblesville, and Fishers.
Parks and Trails
Museums/Things to Do
Notable Schools
---
Zionsville
Website: Town of Zionsville
Price point: $400,000-$600,000 (highest average price point of the Northside)
Known for: the Salty Cowboy, Moon Town Brewing Company, Black Dog Books, the Zionsville Farmers' Market, Books and Brews, Traders Point Creamery, The Big-4 Rail Trail, Rosie's Place, My Sugar Pie
Miranda's take: "With a population of about ⅓ of most other Northside suburbs, families love the historic and small town feel of Zionsville, while still staying close to the interstate and downtown Indianapolis. Hundreds of acres of parks are to be enjoyed, fine dining options, walkability/bikeability, and great schools make Zionsville one of the most popular places to live in Indiana.
---
Westfield
Website: City of Westfield
Price point: $300,000-$600,000
Known for: Big Hoffa's Smokehouse, Urban Vines Winery & Brewery, Birdies, Field Brewing, Westfield Playhouse, Turn the Page Books & Gifts, Grand Park Sports Campus, Grand Junction Brewing Co.
Miranda's take: "A rapidly growing suburb, families love the smaller feel, nationally ranked schools, lots of new construction home options, greenspace and parks to enjoy, and locally owned food and drink options. If you have kids interested in sports, know that Westfield has an amazing indoor and outdoor facility for sports at the Grand Park Sports Campus."
---
Carmel
Website: City of Carmel
Price point: $300,000-$600,000
Known for: Bub's Burgers & Ice Cream, The Little Gym of Carmel, the Center for Performing Arts, Midtown Plaza, BRU Burger Bar, Goldfish Swim School, the Cake Bake Shop, the Monon Community Center & Waterpark, Pies & Pints, Rose & Lois
Miranda's take: "Carmel is an established suburb with lots of older and newer neighborhoods to choose from. One of the most populated Northside suburbs, families enjoy a large offering of fine dining and shopping options, top rated schools, close-knit communities, and a wide array of family focused activities."
---
Noblesville
Website: City of Noblesville
Price point: $200,000-$500,000
Known for: Alexander's on the Square, Spencer Farm & Spencer Farm Winery, Livery, Strawtown Koteewi Park, Ruoff Music Center, Chuy's, Rebellion Donuts, Morse Reservoir, Noble Coffee & Tea Company, Nickel Plate Express
Miranda's take: "History is preserved in Noblesville. Families enjoy walking Noblesville Square for shopping and dining options, close proximity to Morse Reservoir, and a variety of public and private school options. The unique and more remote feel of Noblesville appeals to many families, but there's no lack of activities and things to do!"
---
Fishers
Website: City of Fishers 
Price point: $300,000-$600,000
Known for: Nickel Plate District Amphitheater, Wolfie's Grill, Four Day Ray Brewing, My Gym Fishers, Conner Prairie, Symphony on the Prairie, The Roost, Fishers Test Kitchen, Topgolf
Miranda's take: "Families love close proximity to Geist Reservoir, easy access to downtown Indianapolis, live music and activities at the Nickel Plate District and Symphony on the Prairie, connected neighborhoods, great dining and shopping options, and top rated schools."
---
Thank you for joining us for our four-part series about Moving Around Indianapolis! We hope you enjoyed Part Two, featuring the Northside of Indianapolis. Part Three of our series covers the East and South sides of Indianapolis. Stay tuned!
About Miranda Tworek, Real Estate Broker
Miranda is an Indianapolis native and an Indianapolis Moms contributor. She lives in downtown Indianapolis with her husband and four-year-old son, Avett. The three, along with lots of family help, are renovating their 100-year-old home. Her love for real estate began as a young adult, growing up with parents in the renovation/rental industry, and she has carried that love and experience into her career today. Miranda has excellent communication skills. She stays calm under pressure, is an active listener, and is an advocate for her clients. She believes a win-win situation exists for every buy/sell and has built her business on honesty and integrity. Miranda utilizes the power of social media to connect clients to needs. She's a big fan of neighbors helping neighbors and is active in her local community. When she's not working with buyers/sellers or completing a renovation project on her own home, Miranda enjoys spending time with family, being outdoors, hiking, biking, traveling, camping, and eating good food.