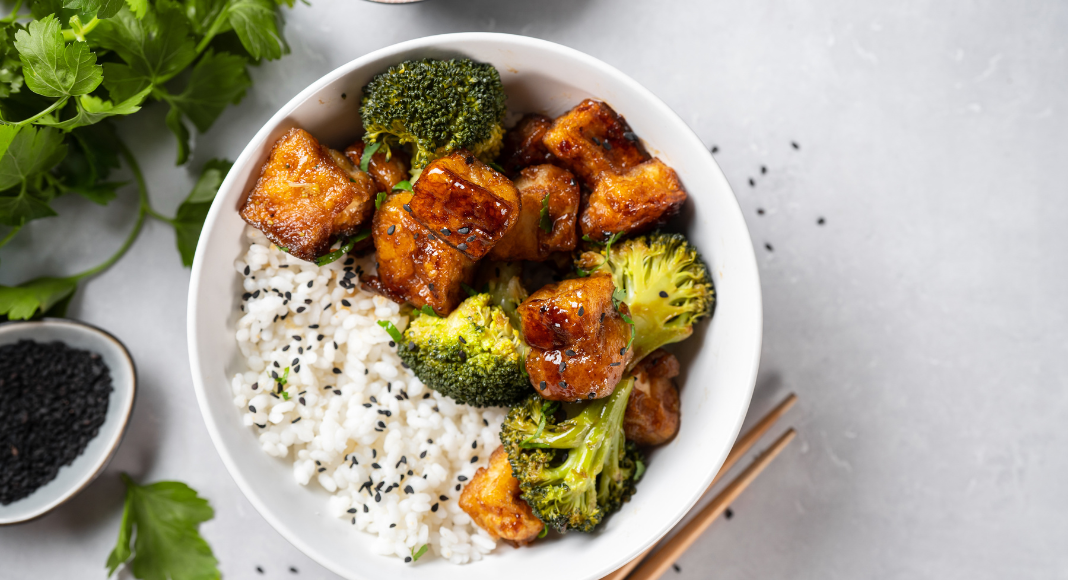 With my husband being a vegan, we eat a LOT of tofu and rice based dishes in our house. But, I have a confession to make. Majority of the time, I think tofu is gross. It's a texture thing, and no matter how long I press my tofu, if I freeze it beforehand, or marinade it, it still kind of grosses me out. Let's just say I don't really look forward to eating tofu…until the air fryer. I got an air fryer for Christmas and fell in love for how quickly it cooks veggies, how well it heats up leftovers and how delicious it makes those store bought french fries. I hadn't even thought about cooking tofu in it until one of my late night Pinterest scrolls. So making tofu in the air fryer was the first time I actually looked forward to eating leftovers! If you're on the fence about tofu too, I encourage you to try this method. Here's a simple tofu and veggie recipe that features a delicious orange-y, peanut butter-y sauce that is sure to be a crowd pleaser with your little ones! I introduce you to Peanut Orange Air Fried Tofu.
Ingredients for Peanut Orange Air Fried Tofu:
1/2 c orange juice
1/4 c soy sauce
1/3 c apple cider vinegar
1/4 c nut butter (we used PB)
one block of firm tofu
1.5 tbsp rice flour (or all purpose flour should work just fine!)
1 bag of frozen veggies (we used edamame and green beans)
seasonings: salt, garlic powder, onion powder
Steps for this Air Fried Tofu Recipe:
About an hour before you want to start cooking, press your tofu to remove as much water as possible.
Using your hands, tear the tofu into pieces (about 1-1.5″ in length) and put into a bowl. Add rice flour and seasonings, toss to coat.
Dump tofu into air fryer tray, trying to not overcrowd as much as possible. Air fry at 400 degrees for 14 minutes. About half way into the cooking process, pause the air fryer and give the basket a good shake.
While the tofu is air frying, make your sauce. Whisk all the remaining ingredients together until combined. Pour into a skillet and bring to a simmer over medium heat. Stir until the sauce thickens up. Add your frozen veg and stir to make sure everything is coated. Cook on low for 5-7 minutes.
Once your tofu is done air frying, add to the sauce and veggie mixture. Cook for 1 minute until everything is combined.
Serve over rice and enjoy with your favorite sides!
We LOVE the vegetable spring rolls from Costco as a side, and trust me when I say you HAVE to cook them in the air fryer too! This air fried tofu recipe is truly so simple and perfect for a night that you need a quick and delicious meal for the family.