In recent years, I've often heard young couples who live in the Broad Ripple area make a similar statement: "We absolutely love living here, but once we have kids, we're moving to Fishers/Carmel/Noblesville/Avon/Greenwood."
I can certainly understand how Broad Ripple acquired its less-than-family-friendly reputation, and a drive down Broad Ripple Avenue at 2 a.m. on a Saturday night would likely do little to dissuade people of that opinion. But aside from late nights on weekends, this area has lots to offer families; and as of now, my husband and I have every intention of putting down roots and raising our family here. Here's a short list of reasons why.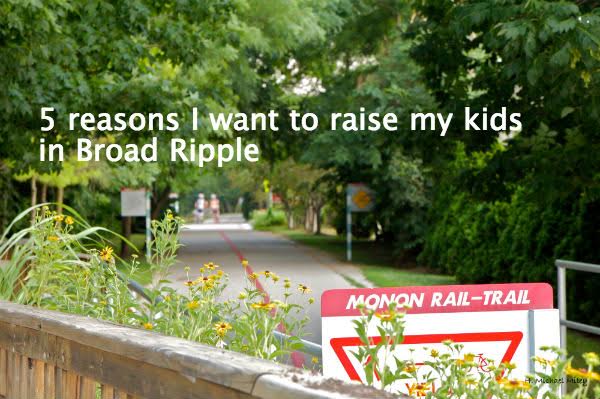 Walkability. Yesterday, I loaded up my eight-week-old daughter in the stroller, hopped on the Monon (which is one block from my house), picked up a prescription for our dog at Broad Ripple Animal Clinic, stopped by the post office on Carrollton, grabbed an iced coffee from Hubbard & Cravens, and walked home. I covered 2.5 miles, getting some good exercise while running my errands for the day and keeping my daughter happy. There aren't many other areas of Indianapolis in which you could run all your errands on foot. During the past nine weeks of maternity leave, I have only filled my SUV with gas two times, and once was after visiting a friend in Terre Haute.
Culture. Broad Ripple's selection of excellent restaurants and trendy bars goes without mentioning. The Vogue and Crackers Comedy Club offer great line-ups for fun date nights. Additionally, we have amenities such as Broad Ripple Park and the Indianapolis Arts Center, and the IMA and Clowes Hall are just a quick drive down Meridian. We live just south of the Broad Ripple strip in a neighborhood of around 300 houses called Canterbury, and our neighborhood association frequently sponsors fun events for kids and parents in our nearby park.
Short Commutes. My husband works downtown, and I work near The Pyramids. Our drives to and from work are around 20 minutes max with very little exception. If we hit a little traffic, it adds five minutes at the most. Can you say the same, Northsiders? We're looking forward to never missing out on quality family time because of a back-up on I-69.
Diversity. I was raised in the Geist area and attended Belzer Middle School, at which I studied and socialized with students of every race. When my family moved to the south side before my freshman year, I walked into Center Grove High School on my first day and immediately noticed the absence of diversity. My panic rose throughout the day as I realized the entire black student population could be counted on one hand. I loved growing up around kids who came from a different background than my own, and I want the same for my own children.
Character. We live in a 65-year-old brick ranch, its construction reflecting an early '50s architectural identity crisis as mid-century modern trends crept into traditional blueprints. Its original owners, Virgil and Ona, lived here for 41 years, with Ona's painted flowers still gracing the side of our shed. I love the history of our home and the fact that every house in this neighborhood is different and has a story. I love that I can walk two blocks blocks to grab some fresh pasta for dinner at Nicole Taylor's. I love that on a beautiful afternoon, I can walk down the Monon and pass a flamboyantly-dressed man on a bicycle shamelessly belting Gloria Gaynor's disco classic "I Will Survive." Nowhere else in the city feels like this, and I want my children to feel the privilege of living here, too.
This area fills me with life, and I picture a unique, energizing childhood for my kids here. I'm not saying other parts of the city don't have lots to offer–there's a reason Carmel frequently tops lists of the best places in the country to raise a family. I'm just saying I wholeheartedly reject the idea that Broad Ripple is no place for kids. And furthermore, I think more parents need to question the notion that becoming a parent means shedding your previous identity and resigning yourself to suburbia.

Thanks for sharing!