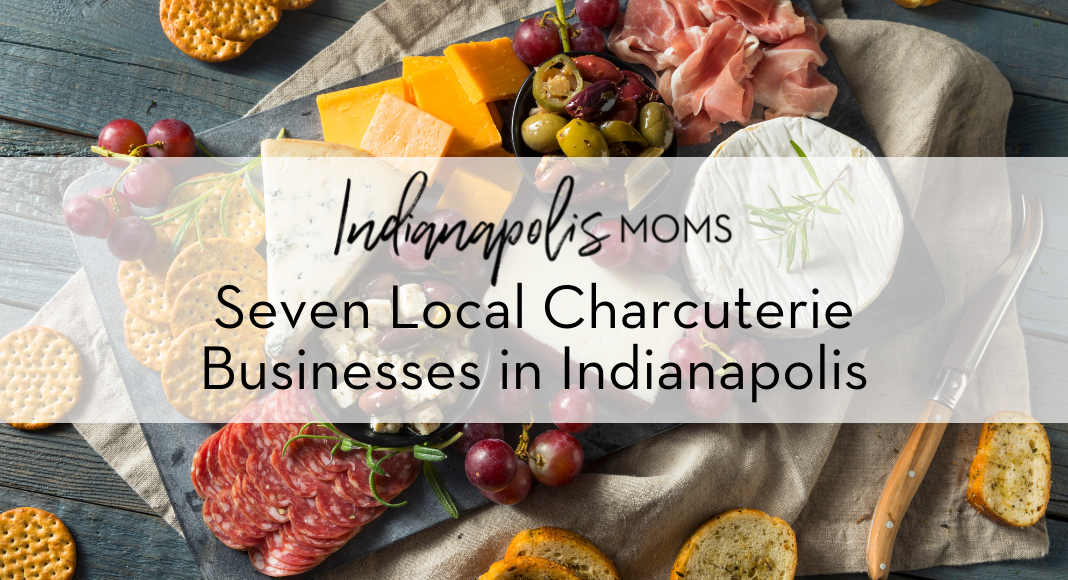 Meats. Cheeses. Fresh Fruits. Oh my! Is your mouth watering yet? If you have not tried charcuterie, what are you waiting for? Now is the time to add a charcuterie board to your life, whether you are planning a party or want a unique at-home date night with your significant other. I also wouldn't judge if you ate one of these by yourself – I have! Check out our round-up of seven local businesses that specialize in charcuterie boards, boxes, and grazing tables in Indianapolis.
---
Goose the Market
Website for ordering: Goose the Market
About: Goose the Market has five different charcuterie board options depending on how many people you want to serve. You can get a small board that serves two people for a fun date night, and you can order a board for 4-5, 6-8, 8-10, and even 12-14 for a fun party. They are all called "the Tour," and described on their website as "a curated selection of farmstead cheeses and handcrafted charcuterie arranged on a leafware presentation platter and ready to serve." The boards also include pickles, nuts, olives, preserves, and artisan crackers.
---
The Board Ladies
Website for ordering: The Board Ladies
About: If you were able to join us at our Bloom event in 2021, then you got to sample from our friends at The Board Ladies! They offer multiple board types – from a $10 charcuterie cone to a party tray that serves 25 people. You can personalize your board for a specific occasion and add fun treats for an extra cost. Dates are released at the beginning of the month, so make sure to leave plenty of time to get in an order!
---
317 Charcuterie
Website for ordering: 317 Charcuterie
About: Available for delivery, pick-up, and event catering – 317 Charcuterie's menu looks absolutely amazing. Located in Carmel, this small business not only offers the usual small, medium, and large gathering boxes, they offer a celebration board, a veggie board, and a breakfast board. Both are perfect for bridal parties and holiday celebrations with family. Also, they can create boards and gathering boxes that are nut-free and gluten-free.
---
Boards & Barrel
Website for ordering: Boards and Barrel
About: With a "board for every budget," Boards and Barrel is based in Zionsville. They are available for delivery in surrounding areas with a minimum order of $40. I would recommend not looking at their menu while you're hungry because they have a large array of board options from a date night board to a large grazing table that will make your stomach grumble. They also offer dessert and breakfast boards!
---
A Spot of Nosh
Website for ordering: A Spot of Nosh
About: A Spot of Nosh started as a love for creating fun charcuterie boards and has grown into a local business. Once she is back from her maternity leave, you can order from her by sending a direct message through Instagram. And while you're there, scroll through all the beautiful pics of the charcuterie boards and grazing tables, with personalized touches and delicious food combinations! I have ordered from her in the past, and I still daydream about it.
---
Pig's Tale Charcuterie
Website for ordering: Pigs Tale Charcuterie
About: Pigs Tale Charcuterie was created "with the mission of making the best cured meats from the best ingredients," according to their website. Not only do they sell European-style salami, but they also create custom charcuterie boards for you to enjoy. When you are ordering for delivery or pickup, you can customize if you have any dietary restrictions or if you are celebrating anything special. They also provide free shipping with any $35 purchase!
---
The Bountiful Board
Website for ordering: The Bountiful Board
About: The Bountiful Board was created by a local Indianapolis mother and her business has thrived since opening in 2018. She offers a large menu, including cup-sized snacks to disposable trays, portable boxes, and the well-known charcuterie boards from two feet to more than six feet wide!
Share with us! Who is your favorite charcuterie business in Indianapolis?