Folks from out of state might be surprised to see how beautiful Indiana is during the fall season. What seems like normal foliage during spring and summer comes alive during the fall, and driving down our main Meridian Street in Indianapolis, it makes me so happy to see vibrant reds, oranges, and yellows. And it's not just in your neighborhood – you can find these colors all over Indiana and our team at Indianapolis Moms has a round up for you. Most of these locations are a quick drive away. Enjoy our list of the twelve best places to find fall colors in Indianapolis and surrounding areas!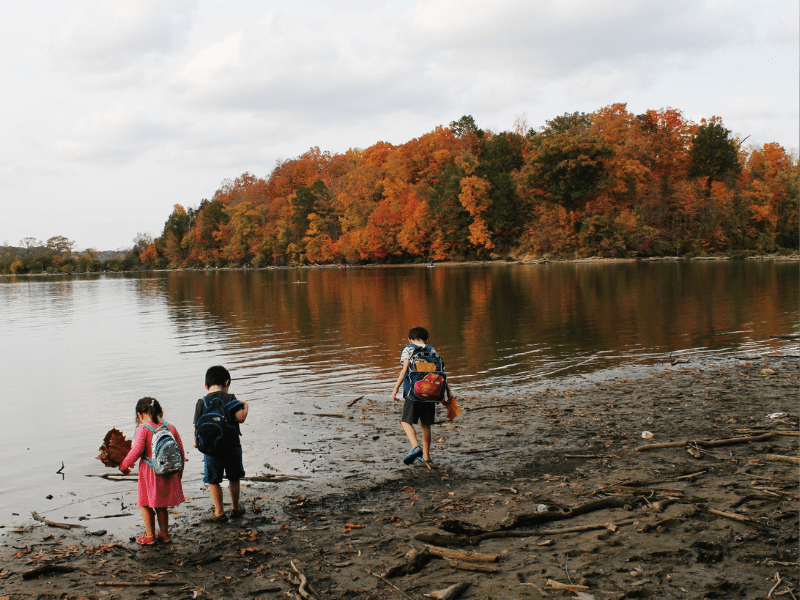 ---
Eagle Creek Park – Indianapolis
Website: Eagle Creek Park
About: First on our list of where to find fall colors around Indianapolis is of course, Eagle Creek. Eagle Creek Park is one of my family's favorite places to hike. With more than 3,900 acres of forest and endless views of beautiful foliage, we haven't explored the full breadth of the area yet, and we're excited to check more. One of these times, we'd love to spot a bald Eagle!
---
Indiana University – Bloomington
Website: Indiana University Bloomington
About: When you visit Bloomington, you have to stop and walk around Indiana University's campus during the fall. As someone who fortunately got to attend this university, I will always remember how beautiful it was on campus and off. It made walking to class very easy, and tailgate season sweetened the deal. I can't wait to bring my kids back and show off this gorgeous campus and city!
---
Parke County – Rockville
Website: Parke County
About: The Parke County Covered Bridge Festival, home to Indiana's largest festival, always starts on the second Friday of October. The festival features their 31 historic covered bridges to walk through and celebrate all things fall. Even if you can't make it to the festival this year, you can still make a trip to Rockville with your family for some fall fun. It looks so charming!
---
Brown County State Park – Nashville, IN
Website: Brown County State Park
About: When I think of fall, I think of Brown County. Brown County State Park, nicknamed "The Little Smokies," has to be on everybody's Indiana fall bucket list, because it's just so beautiful this time of year. When you visit the website, you'll see a fun list of to-dos while you're in the area, including the nature center, climbing the fire tower, and watching the sunrise or sunset.
---
The Monon Trail – Downtown Indianapolis to Sheridan
Website: Bike the Monon
About: Stretching more than 25 miles, the Monon Trail is an easy way to immerse yourself in fall foliage. Take a walk or ride your bike, breathe in the fresh air, and see for yourself how beautiful the trees are this time of year. And check out the website for some beautiful pictures!
---
Hard Truth Hills – Nashville, IN
Website: Visit Hard Truth
About: You can take a break from the hiking in Brown County and enjoy dinner at Hard Truth Distilling Co., Indiana's largest destination craft distillery. And take in the beautiful views from their terrace while you're there! Hard Truth is a full-service restaurant with a tours and tastings center nestled in 325 wooded acres in Nashville, IN. I need someone to host their wedding here, please and thank you.
---
Fort Harrison State Park  – Indianapolis
Website: Fort Harrison State Park
About: Fort Harrison is popular for its sledding hill during winter, but you'd be missing out if you didn't catch their beautiful trees during fall. Located on the northeast side of Indianapolis, there are 1,700 acres to explore. This large park features walking and jogging trails, picnic sites, fishing access to Fall Creek, and two national historic districts. You can also check out Camp Glenn, the former Citizen's Military Training Camp, which is preserved around the park office.
---
Ritchey Woods Nature Preserve – Fishers
Website: Ritchey Woods Nature Preserve
About: Unplug for a day at the Ritchey Woods Nature Preserve, located in Fishers. With 127 acres, nine nature trails over 2.25 miles long, you and your family can have a fun excursion while taking in the fall sights. And here's a fun fact for you – Ritchey Woods is one of only two state designated nature preserves in Hamilton County.
---
Holliday Park – Indianapolis
Website: Holliday Park
About: Who doesn't love Holliday Park?! It's got a lot of the amenities that large state parks have but is conveniently located just south of Meridian Hills in Indianapolis. Their nature center is impressive, as well as their trails, the Ruins, and their playgrounds for all ages. And while you're out enjoying the fall views and scents, stop at their new Pavilion for lunch!
---
The Apple Works – Trafalgar
Website: The Apple Works
About: In between Indianapolis and Brown County is another gem to visit during fall – The Apple Works. This place looks like a great location to take your annual family photos! After you visit their store to pick out from their over 50 varieties of apples, take a walk on their nature trail and explore their 135 acre farm. Check out their website and download their brochure to plan your visit.
---
Bean Blossom Overlook – Nashville, IN
Website: Bean Blossom Overlook
About: Another great place to visit in the fall is the Bean Blossom Overlook, located in Nashville. Preserved in 1932, it is a popular tourist attraction for those passing through Brown County. Located along State Road 135 North between Bean Blossom and Nashville, the panoramic views are perfect to take in while you and your family enjoy a picnic lunch together. Check out the link above to read more about the history of the Overlook.
---
McCloud Nature Park – North Salem
Website: McCloud Nature Park
About: Last but certainly not least on our list of places to find fall colors around Indianapolis is the McCloud Nature Park. I'm excited to add this park to my list of places to visit. With 232 acres of woods, and 6.5 miles of trails to explore, this park is fairly new compared to others. It opened in 2003, and offers year-round programming at their nature center. They also have a bird-viewing room and a restored iron truss bridge that is over 100 years old!
---
Share with us! Where is your favorite place to find all the fall colors in Indianapolis and surrounding areas?