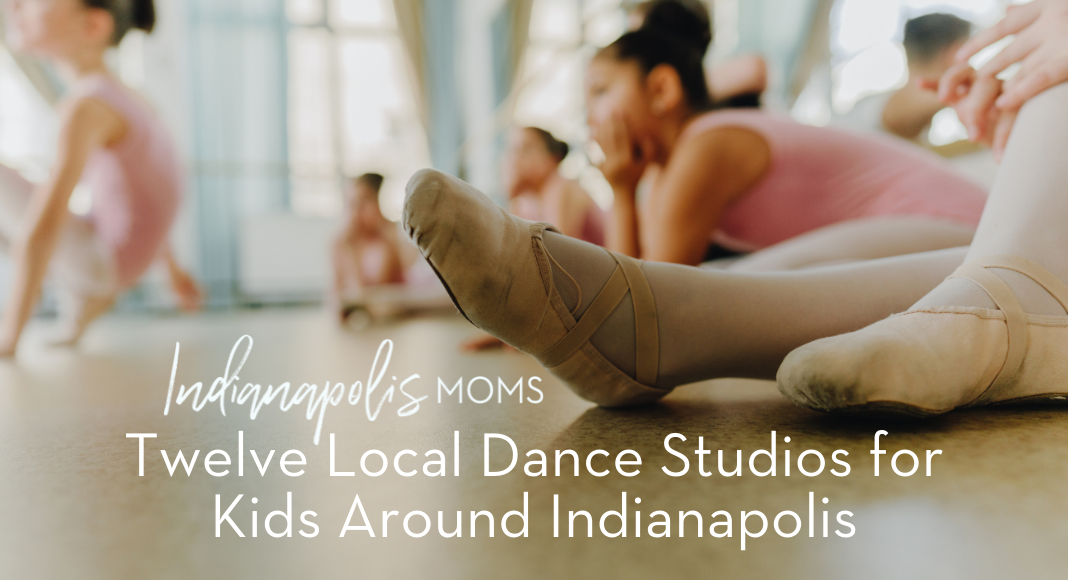 As someone who took ballet classes when I was a little girl, I get a lot of joy watching my three-year-old don ballet shoes and learn how to plie. If you're like me, new to the dance mom world, and looking around for dance studio recommendations, look no further! Check out our round-up of local dance studios for kids around Indianapolis, all approved by the Indianapolis Moms writing team. And make sure to see our map feature below for locations!
---
Dance Unlimited – Brownsburg
Website: Dance Unlimited 
Class Offerings: Preschool ballet, Pre-K to Kindergarten dance (ballet, tap and tumbling), 6+ Combo (ballet and tap), 7+ Jazz, 7+ Tap, and 6+ Ballet
About: Dance Unlimited in Brownsburg is a hidden gem, and a lot of moms know this place by word-of-mouth. Moms on our team love it because it is affordable and is known for a good, non-competitive environment. They also get a thumbs up for how well they handle COVID precautions.
---
The Dance Refinery – Indianapolis
Website: The Dance Refinery
Class Offerings: Creative Movement (18mo-3yo), Ballet (3–teen), Jazz (3–teen), Tap (3–teen), Hip Hop (5–teen), Lyrical/Contemporary (7-teen), Triple Threat (5-teen), and Competitive Dance
About: The Dance Refinery, located on the southside of Indianapolis, is a major dance, gymnastics, and cheer facility that has been open since 1976. Not only do they offer recreational and competitive dance, but they also offer a program for boys!
---
Performer's Edge – Carmel
Website: Performer's Edge
Class Offerings: Princess Ballerina, Tap, Combo (Jazz and Tap), Jazz, Ballet, and Contemporary
About: Performer's Edge in Carmel is another great option, especially if you want to introduce your child to dance in a laid-back and approachable environment. Our team loves the Princess Ballerina class because the teachers are known to be kind, patient, and structured. It's a great place for young ones just trying dance for the first time!
---
Stage Door Dance Academy – Indianapolis
Website: Stage Door Dance Academy
Class Offerings: Preschool Tap/Ballet, Preschool Tumbling, Tap, Ballet, Pointe, Jazz, Hip Hop, Tumbling
About: The Stage Door Dance Academy is located near 38th and Guion Road with classes running from August to June. Our team is very impressed with how they have handled their COVID precautions, allowing the studio to stay open for the kids to enjoy dancing safely. Nothing but great reviews about this dance studio! They also created a non-profit organization called "Opening Doors" which raises funds to share the gift of dance to children in the community.
---
Talent Factory – Lebanon
Website: Talent Factory
Class Offerings: Ballet, Pointe, Hip Hop, Jazz, Tap, Lyrical/Contemporary, Musical Theatre, Tiny Tots, and Acro (dance and acrobatics)
About: The Talent Factory in Lebanon may be a bit longer of a drive, but according to our team, it is 100% worth it. They have great teachers, opportunities in all levels of dance, and top-notch competition teams. Their Talent Factory Dance Company allows children to audition after enrolling in one of the classes, listed above.
---
Dance Kaleidoscope – Indianapolis
Website: Dance Kaleidoscope
Class Offerings: Creative Movement, Jazz, Ballet, Hip Hop, Jazz, Junior Ensemble, Musical Theatre, and much more
About: Dance Kaleidoscope in Indianapolis is not only home to "Indiana's longest-running professional contemporary dance company," but they also offer classes for your little ones to enjoy! Their class offerings are very extensive, so I encourage you to visit here to check them all out while deciding what classes are best for your child.
---
Wishes Dance Studio – Fishers
Website: Wishes Dance Studio
Class Offerings: Ballet, Contemporary, Hip Hop, Jazz, Modern, Musical Theatre, Parent and Me, Tap, Adult
About: Wishes Dance Studio in Fishers is another studio that comes highly recommended by our team. We are a fan of the Dancing Dolls and Dudes class because the teachers always keep it fun! There are so many different offerings, and if you aren't sure what class to enroll your child in, their website has recommendations for you. New dancers are evaluated in the first few classes as well.
---
Sister Act Dance Academy – Brownsburg
Website: Sister Act Dance Academy
Class Offerings: Twinkle Stars, Tap, Ballet, Hip Hop, and Jazz
About: Another great Brownsburg studio, Sister Act Dance Academy teach every level of dance as well as events, recitals, camps, and competitive dance. They accept dancers as young as two years old! Also, they have won the "Best of Brownsburg" Award multiple years in the past.
---
Studio 7 Talent Center – Fishers
Website: Studio 7 Talent Center 
Class Offerings: Tiny Tots, Discover Dance (Tap and Ballet), Elementary 1 (Ballet, Jazz, and Tap), Elementary 2 (Ballet, Jazz, and Tap), Beginner Hip Hop, Intermediate Hip Hop and Jazz, and Advanced Dance
About: Studio 7 Talent Center is well known for its professional teachers. They guide their students through both their recreational dance classes and in their performing troupe. They offer weekly dance classes throughout the school year and they offer a summer dance camp in June. They also offer private lessons!
---
Indianapolis Ballet – Downtown Indianapolis
Website: Indianapolis Ballet
Class Offerings: Creative Movement and Pre-Ballet
About: The Indianapolis Ballet, located in downtown Indy, offers the Young Children's Program for kids aged 4-7 years old. The Young Children's Program is "designed to spark innate creativity and build a foundation for more in-depth technical training." Classes are once a week during the school year, ending with their annual "May We Dance" showcase in May.
---
Dance Innovations – Westfield
Website: Dance Innovations
Class Offerings: Preschool Classes (Ballet and Tap), Primary Classes (Ballet, Jazz, Tap, and Hip Hop), Open Classes (for 8+), Academy Classes (Ballet, Tap, and Jazz for 8+)
About: We have heard great things about Dance Innovations, located in Westfield. You can request a trial class for your child if they are just starting out in dance. Also, they are offering both in-person and virtual classes, whatever is most convenient for you!
---
Dance Creations Academy – Indianapolis
Website: Dance Creations Academy
Class Offerings: Pre-Ballet, Ballet, Contemporary, Hip Hop, Jazz/Musical Theater, Tap/Musical Theater
About: Last but certainly not least is Dance Creations Academy. The Academy was founded in the early 1990s and has expanded from a traveling dance studio to a large facility in Indianapolis. Not only do they offer regular classes, but they also offer performing opportunities in the community through their Repertory Dance Company. They dance in church services, Riley Hospital for Children, retirement facilities, and at other community events!
Share with us! Where do you take your child for dance lessons?